The Liverpool right-back has the world at his feet, but only for his club
08:00, 12 Apr 2022
Trent Alexander-Arnold is the most gifted attacking right-back in the world, but he shouldn't be in England's plans this winter. That sentence may appear oxymoronic, but Sunday's title showdown against Manchester City showed the very best, and worst of the 23-year-old.
For Man City's second goal, he was completely caught on his heels by Joao Cancelo's cross. Gabriel Jesus made a run in behind him and Alexander-Arnold wasn't even in the same postcode by the time the Brazilian put the ball in off Alisson's crossbar.
Time and time again in that first period, City put balls in behind the Englishman, and enjoyed a huge amount of success. Pep Guardiola's side should have put the game to bed before the break and they had clearly targeted that space in behind Alexander-Arnold, but that was partly down to Liverpool's aggressive high press.
And yet, there were a handful of moments throughout the match where he produced moments that almost took our breath away. He found a ball into Mo Salah for Sadio Mane's equaliser that changed the balance of the game. He then curved a near-impossible pass into the Senegalese to spark another Liverpool attack, while his attempt to lob Ederson from the half-way line was outragous from a player brimming with confidence.
At times he was jinking down the right wing - at other times he was caught up the pitch or beaten by diagonal balls. As Liverpool grew into the game in that second period, on no less than three occasions, their right-back was their furthest player forward. He's one of the world's best, but he plays in a system that gives him absolutely everything he needs. In return for their high risk football, Liverpool get a major return on their investment.
No player has more assists than him in the Premier League this term (12), but Andy Robertson's return of 10 gives some inclination on just how attacking Jurgen Klopp's full-backs are. They are the key creators in this team, and they have the defensive solidity to cover for their bombarding runs forward. Fabinho, Virgil van Dijk and Jordan Henderson are strictly instructed to fill the gaps their full-backs leave and England simply do not have the defensive quality to compensate for him.
Gareth Southgate is often criticised for his pragmatic style of play, but all international football is pragmatic. It's how the Three Lions reached the Euro 2020 final conceding just one goal, while their strong set pieces took them all the way to the World Cup semi-final in 2018. Alexander-Arnold is the complete antithesis of pragmatic.
⚽️Since the start of 2018-19,Trent Alexander-Arnold has assisted 44 Premier League goals more than any other player.
🔝Generational Talent
#LFC
|
#Liverpool
|
#LiverpoolFC
|
#UCL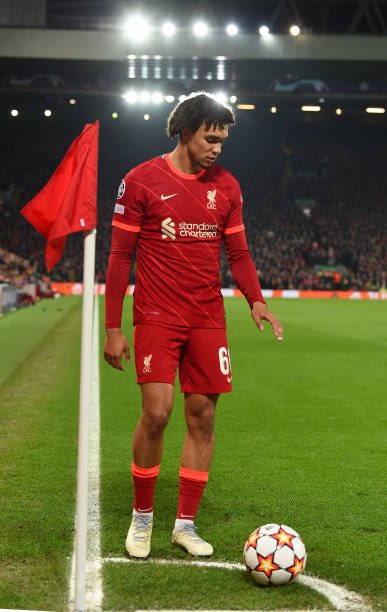 More to the point, he doesn't remotely fit whatever system Southgate chooses to play. Given the weak point at centre-back, England could well line up in a back three with wing-backs in Qatar. The Liverpool man has never played in a wing-back formation and even though he has the attributes on paper to fill that role, the positioning and responsibilities are different to the role he plays at Anfield. When Reece James, who plays as a wing-back in a back five every single week for Chelsea, is in the squad, he is the sensible choice, while Kieran Trippier has never let his country down, and has played that role to perfection over the last two tournaments.
If England go with a four at the back, Kyle Walker is still the best in the business. He's England's most important defensive player, given the amount of covering work he does for both John Stones and Harry Maguire, who both lack pace at the heart of the back line. He was at fault for Liverpool's equaliser, but for England he is much more defensive, and that suits his attribute set.
Alexander-Arnold at a push could be tried in a back four against Iran in the opening game, where England are expected to dominate, but in a knockout game against one of the big boys, he simply cannot be trusted. One defensive lapse could cost England their place in the tournament, and Southgate cannot afford to take that risk.
Don't even begin to mention the possibility of him playing in midfield either.
He's the best right-back in the world and his time will come. Trippier and Walker are now both in their 30s and this could be their final tournament, and then it will be down to James and Alexander-Arnold to battle it out for a starting spot.
He has a big role to play in England's future and was unfortunate to have missed out on Euro 2020 through injury, but the Three Lions are onto a good thing, and now is not the time to take risks.