Football /
The Underrated Importance Of World Cup Winner Blaise Matuidi To Juventus
An unsung hero? Matuidi in action
In the days and weeks that have passed since France won the World Cup, there is little doubt that N'Golo Kante has become something of an icon for both fans of Les Bleus and his team-mates in the national team. Just this past weekend, he was serenaded by both as his role in their summer glory was lauded, the Stade de France loudly singing a song in honour of the Chelsea midfielder's understated performances.
But Kante was far from the only member of that team to quietly get on with his job, Benjamin Pavard, Raphaël Varane and Lucas Hernández also essential as Didier Deschamps' men reached the final. The same can be said of Blaise Matuidi, who worked tirelessly for France but saw Antoine Griezmann, Kylian Mbappé and of course Paul Pogba dominate the headlines thanks to their high profile performances.
Toiling in their shadow, Matuidi made four starts in Russia and five appearances overall, averaging 2.8 tackles and 1.6 interceptions per 90 minutes according to WhoScored.com. He did not register a goal or an assist but, after being left out of the first game against Australia, immediately brought balance to a team that had sorely lacked it in that opening encounter.
Providing experience, intelligence and energy, the 31-year-old was able to shield a defence that had previously been left exposed, while his tactical acumen allowed France to overcome talented opponents like Argentina, Belgium and Croatia to lift the trophy.
He does much the same for his club side too, garnering none of the attention that Cristiano Ronaldo, Paulo Dybala or even Leonardo Bonucci attract, but Juventus always look much more comfortable with him on the field than they ever do in his absence. Often fielded alongside Miralem Pjanic, Matuidi supports the attack and protects those behind him, hardly the most technically gifted player but clearly one who understands his own limitations and strives to play within them.
Last term he made 32 appearances in Serie A, nine in the Champions League and a further five in the Coppa Italia, helping the Bianconeri to win another domestic double and a memorable European campaign. They ultimately fell short, eliminated in the quarterfinals by Real Madrid, but the Toulouse native believes things could be very different this term thanks to their newest signing.
"Ronaldo has something different, we're talking about someone who has won five Ballons d'Or," Matuidi told La Gazzetta dello Sport this week. "We can say that he's the best in the world, and having him with us can only make us happy. He'll definitely bring his experience, he's someone who has won a lot, particularly in the Champions League, and he'll help us a lot in the crucial moments of the season. We'll see him at work, but this time he'll be on our side!"
That echoes comments made by various others at Juve, most expressing their belief that the presence of CR7 could prove to be crucial in ending the Old Lady's 22-year wait for European glory. But Matuidi will need to play his part too, providing the energy and drive in midfield to win back the ball and supply it to the Portuguese star, particularly as the options around him could be considered somewhat confusing.
Claudio Marchisio has been shunted off to Zenit St Petersburg, while Stefano Sturaro has (thankfully) departed for Sporting. Sami Khedira looks worse every week, leaving Pjanic, Rodrigo Bentancur and Emre Can as the only midfield alternatives available to Coach Max Allegri as he looks to build the best possible side.
Blaise Matuidi vs Parma: 2 tackles, 1 clearance, 1 blocked cross, 46/50 passes completed (92%), 1 match winning goal
#Juventus
[via
@StatsZone
]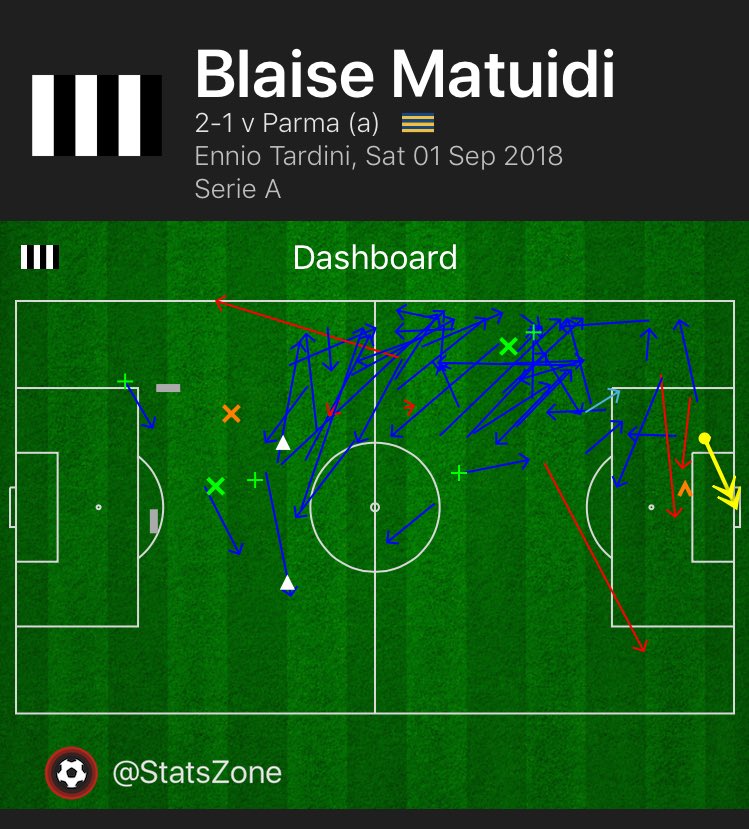 Currently, it is hard to imagine a successful unit being put together from those players that does not include Matuidi, who has already underlined his importance during a difficult win at Parma just before the international break. While many of his team-mates struggled to match the desire shown by the newly promoted outfit, the Frenchman was in his element at the vociferous Stadio Tardini, the graphic in the tweet above highlighting his contribution.
There was nothing flashy about his display, no stepovers, tricks or flicks. It was a typical Blaise Matuidi performance; gritty and strong, but sprinkled with quality in areas where he knows he can deliver. Never trying to do too much, the World Cup winner serves as both a useful player in his own right and a perfect example to Can and Bentancur, showing the duo that if they do their best, they can become important to Allegri's plans.
Both have more skill than the veteran midfielder, and they might well provide Juventus with the best chance at winning the trophy they so desperately covet. But in order to do so, they will need to display the same consistency and dedication that the Coach knows his no.14 brings every time he steps on the field. To displace Matuidi from the team, Can and Bentancur are going to have to provide the same guaranteed effort, matching the former PSG man's reliability undoubtedly as important as being a better passer or creator.
Opponents find it tough to get past him, now his team-mates will undoubtedly discover the same. He's Blaise Matuidi, that's job, it's what he does.