Things are looking highly likely to get even better for Jurgen Klopp and the Reds
13:12, 02 Jan 2020
2019 will live long in the memory for Liverpool fans. It was the year when Jürgen Klopp's men truly certified themselves as having returned to the summit as one of Europe's best.
After over thirty years of jostling to be considered amongst the Premier League's finest, they are now leading the pack. Their previous 21st-century 'successes', which comprised mainly of consistent top-four finishes, now pale in comparison. That 2005 Champions League comeback may never be replicated in the sheer drama of victory, but the cup treble of 2001 being a poor imitation of what Liverpool could be about to achieve.
They ended 2019 undefeated in 35 Premier League matches, their only league defeat coming at the start of the year to Manchester City, the side they pushed all the way for the title. The Reds recorded a points total that would have won the league in 25 of 27 Premier League seasons, registering 97 to champions City's 98. The Reds did, however, win their sixth European Cup, avenging the disappointment of the previous year at the hands of Real Madrid.
But for all of the Barcelona comeback, and the Champions League, UEFA Super Cup and Club World Cup triumphs of 2019, 2020 could be the year in which Liverpool fans finally get the one prize they have been missing for the last three decades.
Liverpool find themselves at the top of the Premier League table. Ahead of the clash with Sheffield United at Anfield on Thursday they sit 10 points clear of nearest contenders Leicester City, and 11 ahead last year's champions Manchester City. And that's with two games in hand.
The long drought to taste their 19th title, exacerbated by the gluttony of fierce rivals Manchester United's 13 Premier League trophies since 1993, that has existed for exactly 30 years seems finally ready to be ended.
BOSS 🤩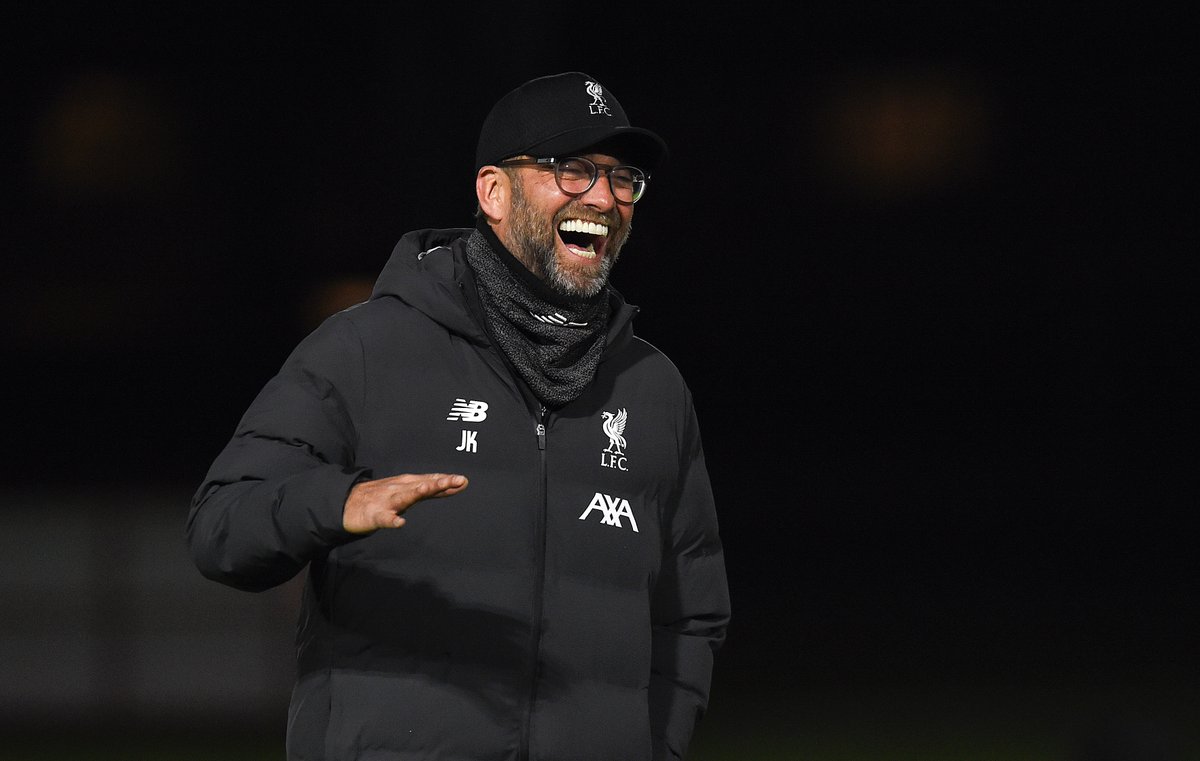 No other recent success will likely come close to the euphoria for the die-hard and on-the-street Liverpool fan when that three-decade wait is finally brought to an end. This isn't even to mention the potential of defending their Champions League trophy. In the last 16 of the Champions League Liverpool face Atlético Madrid, and Klopp & co. are again among the front-runners to make a third straight final on the continent having marginally avoided a scare to escape the group stages.
They have not tasted defeat at Anfield in official competition since September 26, 2018, in a League Cup loss to Watford. In the Premier League you have to look back even further - a good 17 months earlier to be exact - when Crystal Palace produced a shock 2-1 victory in April 2017. They have dropped points on just one occasion in the 2019/20 season, and while their performances have not always been glamorous they are almost unendingly effective. For reference, Man Utd have already recorded as many Premier League defeats in 2020 as Liverpool did in 2019.
Exciting new arrivals may well be forthcoming in the summer, with Liverpool advertising themselves better than most and able to compete with any of Europe's behemoth. Few will be able to compete with arguably the most important signing of all - with Klopp's extra Christmas present of having signed a new contract keeping him at the club until 2024.
But first and foremost, there's that long-awaited league title. Liverpool's holy grail. Thought 2019 was good? It's 2020 when the greatest of memories look likely to be made.
From everyone at
#LFC
, we wish you a Happy New Year! 🎉🔴🎉
2019 was some ride. Bring on 2020! ✊