Canelo isn't motivated for a third fight with Gennady Golovkin
10:45, 20 Sep 2019
A third showdown between Saul 'Canelo' Alvarez and Gennady Golovkin looks to be off the cards according to the Mexican great.
Canelo is currently on press duties, as he gets ready for his first tilt at the light-heavyweight division in November when he takes on fearsome Russian Sergei Kovalev in Las Vegas. It's his chance to pick up the WBO title and become a four-weight world champion.
It's a tantalising showdown on paper but fight fans have been openly wary about Canelo taking on Kovalev because in recent outings he's shown he's clearly not the same beast that carried the WBA (Super), IBF and WBO belts between 2014 and 2016.
Despite picking up a controversial victory and draw in his two fights with Golovkin, a third fight between Canelo and the equally-talented Kazakh boxer would send the boxing world into overdrive - sadly, it appears we're further away than ever from, arguably, the biggest fight out there right now.
Canelo yesterday admitted that he's not exactly motivated for a third run-in with Golovkin, despite contrary claims from his promoter, Oscar De La Hoya.
Oscar De La Hoya says Gennadiy Golovkin has to be one of Canelo Alvarez's opponents in 2020. 👀
#WatchOnDAZN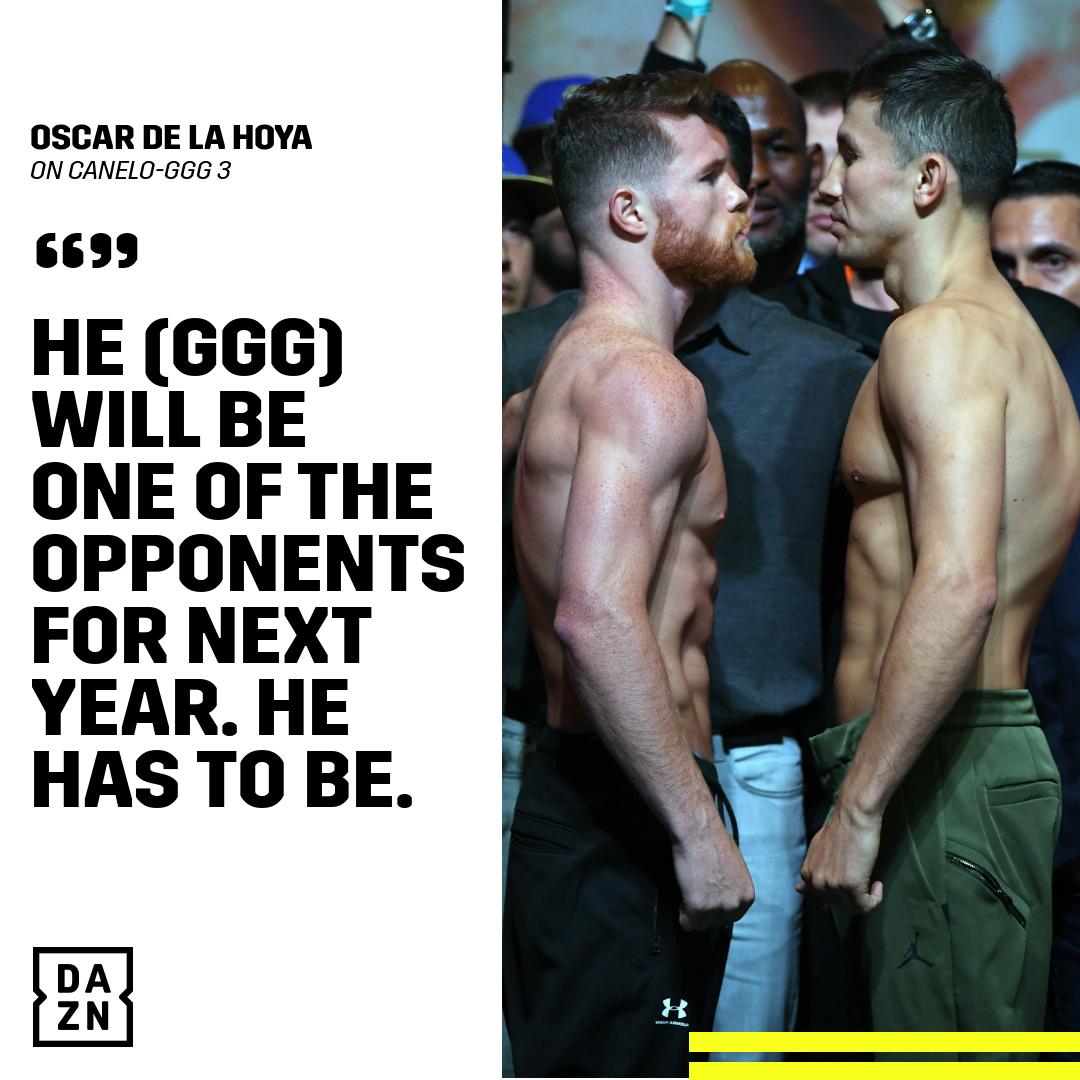 Earlier in the week, De La Hoya insisted to DAZN USA that "He [Golovkin] will be one of the opponents for next year. He has to be."
When asked about De La Hoya suggesting that the third bout will happen next year at yesterday's conference, Canelo bluntly replied:
Oscar says many things that make no sense.
"The truth is that I did not visualize that fight [with Golovkin] right now. I am taking these risks, these fights for my career, and right now he does not represent anything to me. I beat him twice and he does not represent a greater challenge for me to have a fight with him," Canelo said to ESPN Deportes.
"I am taking these challenges, I think he should take these challenges in his career, but he has not taken any risks... it really does not represent any challenge to fight him again, so I am doing this [fight with Kovalev], big fights, big challenges for my career and the love of boxing.
"This is making history, it motivates me to make history, climb two divisions, win four titles, it represents more to me, adds more motivation and more risks... it represents much more to me than the other fight. I am taking the risks of this magnitude to make history."
Meanwhile, Golovkin is getting prepped for his showdown with Ukrainian Sergiy Derevyanchenko for the vacant IBF world middleweight title at Madison Square Gardens on October 5.
Should we miss out on a third fight between two of the best fighters on the planet, it would be a crying shame - boxing needs another great trilogy, something we've not seen since Erik Morales and Marco Antonio Barrera went toe-to-toe in the three brutal clashes in the 2000s.
Give the fans what they want, lads!