The German top flight could be the most unpredictable major league in Europe
12:01, 12 Oct 2019
Between 2007 and 2011, four different clubs got their hands on the Bundesliga title. The German top flight earned itself a reputation for being the most unpredictable major league in Europe, with Bayern Munich, Borussia Dortmund, Stuttgart and Wolfsburg taking it in turns to sit atop the table. That, however, was another era for the Bundesliga.
Bayern are now German football's predominant force, winning each of the last seven Bundesliga titles. In recent years, the Bavarians have become untouchable. Even when they suffered a poor start to the campaign last season, with Niko Kovac's future as manager questioned, Bayern managed to catch Dortmund to keep their run of consecutive championships going.
This season has witnessed another dynamic shift, though. With seven games of the 2019/20 Bundesliga campaign played, just four points separate the top eight teams. In fact, just 10 points divide Mainz in 13th place with current table-toppers Borussia Monchengladbach. Things could barely be any more competitive.
Gladbach, Wolfsburg, Bayern, Freiburg, RB Leipzig, Schalke, Bayer Leverkusen and Dortmund are all in the mix near the top of the Bundesliga, with one taking points off the other several times. Hoffenheim have beaten Bayern, Schalke have beaten RB Leipzig, Dortmund have beaten Leverkusen… it's been almost impossible to accurately predict a top-level Bundesliga match this season.
Of course, it's likely that Bayern will at one point or another stretch their legs and make the top spot their own. The Bavarians showed just how potent they can be in the 7-2 demolition of Tottenham Hotspur in the Champions League before the international break. That's the sort of damage they can cause when they find top form.
tHe BuNdEsLiGa iS bOrInG 🤪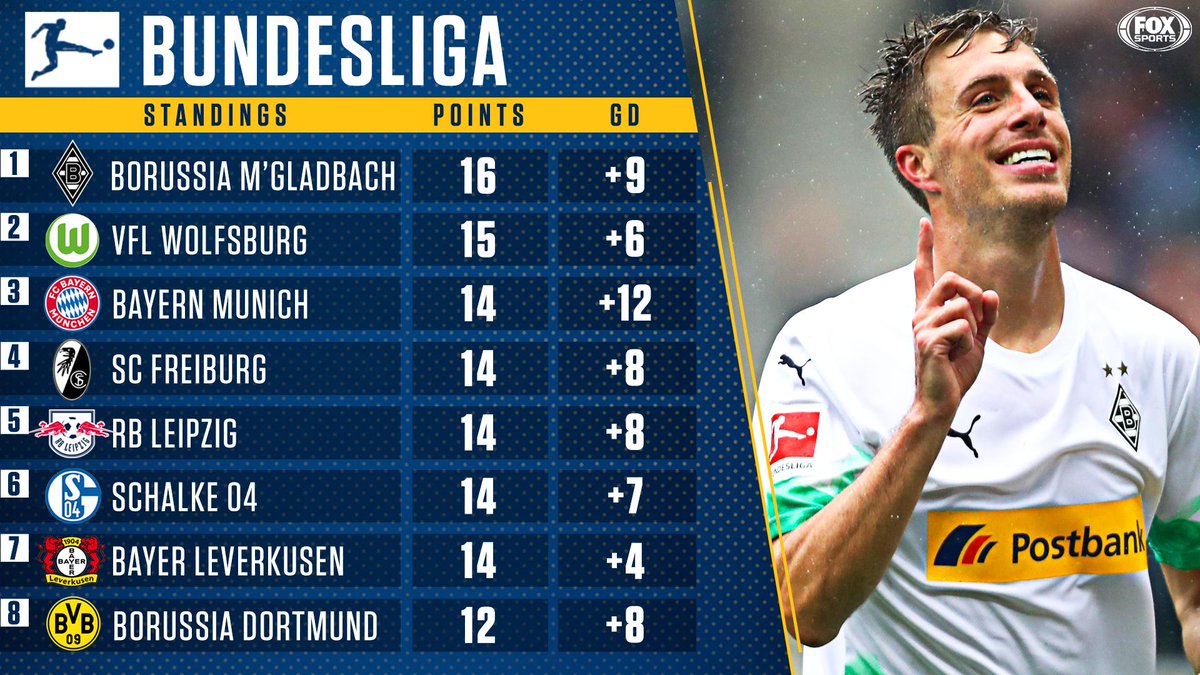 Of all the teams hoping to challenge the defending champions this season, RB Leipzig look to stand the best chance of actually pulling it off. Julian Nagelsmann has long been seen as Germany's best young coach and now he has been given a platform to truly make a mark at the top of the Bundesliga.
The early signs have been positive. RB Leipzig had been the pace-setters until a shock defeat to Schalke and have demonstrated their ability to stick with Bayern Munich by recording a draw against them. Behind them, Borussia Dortmund and David Wagner's Schalke cannot be discounted entirely.
Whether or not the Bundesliga produces an open title race this season depends, as it always does, on the strength of Bayern Munich. Unlike in recent years, though, there appears to be rival teams equipped to make the most of any dip from the Bavarians. This is shaping up to be a classic Bundesliga campaign.