Will Hossein Vafaei qualify as expected?
20:00, 03 Apr 2022
The challenging, gruelling and at times brutal qualifying event for the Betfred World Championships begins on Monday at the English Institute of Sport, and over 10 days of fierce competition and almost unbearable tension 16 players will emerge to take on the elite of the game, the top 16 seeds, whose place at the Crucible Theatre was guaranteed from their elevated world rankings.
Trying to pick the 16 to emerge successfully from the 128 – professionals, with a sprinkling of amateurs – is a favourite game of Crucible aficionados. Get eight of them, selected before a ball has been potted (or missed) in anger, and you could be pretty pleased with yourself. Get all 16 and clairvoyancy credentials have been well and truly established.
Those involved must win between two and four matches with the higher-ranked players just outside the 16 with the least to do, but usually the harder hurdles to overcome and over a longer distance. The earlier games are just best-of-11 frames, the vital later ones the traditional best-of-19.
So who have I gone for this year? Ricky Walden has had his best and most consistent season since terrible back problems almost cost him his career a few years ago. Four ranking event finals tell a story, and he was within a few frames of gate-crashing the seeded group at the Gibraltar Open, as well as snatching a £150,000 series bonus from John Higgins.
The next section would have featured Liang Wenbo, and he might have been favourite to come through. But with the former English Open winner suspended over a conviction for assault and domestic abuse he is – unless there is a very quick and successful appeal – going to be missing. The nod goes to Xu Si, starting in the first round and one of the young Chinese prospects.
A 'Judgment Day' face-off between Stephen Maguire and Zhou Yuelong looks a strong possibility. Both are more than good enough to have been there automatically, but I'll go with Zhou to emerge from this group. And Jordan Brown, the former Northern Ireland Open winner, seems to have been reasonably treated. He may have to beat Fergal O'Brien and Mark King to get to the final stages.
Matt Selt played very well to get to the final at the inaugural Turkish Masters but I'm just going to take Jak Jones in the next section. The 28-year-old Welshman is a private and understated figure on the circuit, but despite all efforts to keep his light hidden under the nearest bushel, he is quietly improving year on year and up to No44 in the rankings.
𝗝𝗢𝗡𝗘𝗦 𝗕𝗥𝗘𝗔𝗞𝗦 𝗡𝗘𝗪 𝗚𝗥𝗢𝗨𝗡𝗗 🏴󠁧󠁢󠁷󠁬󠁳󠁿
Stuart Bingham 0⃣-4⃣ Jak Jones
A top break of 81 sends the 🏴󠁧󠁢󠁷󠁬󠁳󠁿 through to the first ranking SF of his career. 👏
#GibraltarOpen
•
#BVEuroSeries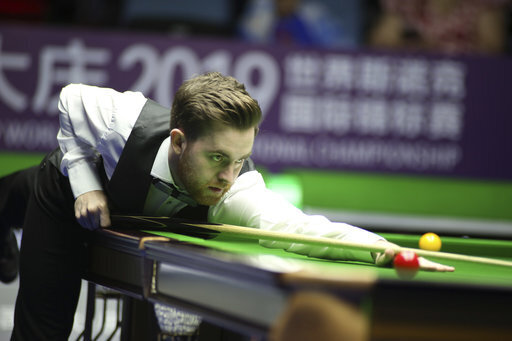 And Jamie Jones will be looking to join him. The 34-year-old from Neath suffered the shame of being banned for a year in 2019 for failing to report an illegal approach, which effectively became two as the lack of prize money ensured he fell off the tour. But he qualified last year, and up to No38 in the world, may well fancy it again.
Arguably the pick of the final-round, Judgment Day ties could be Ding Junhui v Kurt Maflin if both come through their first games. This would grace almost any round at the Crucible itself, but I'll side with Ding to emerge intact. And Martin Gould is the selection in the next group. The Pinner potter is in his element at this stage of proceedings and has come through qualifying nine times.
David Gilbert claimed his first ranking title at the low-key Championship League last summer, a monkey off his back. There have been quarter-finals since, and he looks too good not to make it. And unless Fan Zhengyi can repeat his European Masters heroics in this setting my preference would be for the improving Jimmy Robertson to come through.
The next section looks trappy, but maybe Rob Milkins can surf back to the Crucible on a wave of relief after finally winning his first ever ranking title recently at the Gibraltar Open. And Ryan Day, with eight successful qualifications to his name, could join him. Dangers could be Yuan Sijun from round one, and Mark Davis – who has managed this a record 11 times.
And for the final four Ali Carter, a two-time world finalist, will be confident of getting back to the biggest stage, as will the 47-year-old Joe Perry who claimed an emotional triumph at the recent Welsh Open. In the penultimate section Graeme Dott v Gary Wilson is a potential epic waiting to happen, with the vote just going to the Scot. And it would be a big surprise if Iran's Hossein Vafaei did not win the final group.
Hector Nunns' 16 picks:
Ricky Walden, Xu Si, Zhou Yuelong, Jordan Brown, Jak Jones, Jamie Jones, Ding Junhui, Martin Gould, David Gilbert, Jimmy Robertson, Robert Milkins, Ryan Day, Ali Carter, Joe Perry, Graeme Dott, Hossein Vafaei.
*18+, terms and conditions apply.