Spurs secured a 3-0 win which takes them within a point of their rivals
21:41, 12 May 2022
Tottenham Hotspur humiliated their North London rivals with a 3-0 win that takes them within a point of Arsenal and the Champions League places, with two games to play. It was a relentless performance from Antonio Conte's side, who battered Arsenal into submission, as Rob Holding was sent off in the first half and Harry Kane scored twice.
If this was a battle between two gladiators then the Tottenham Hotspur Stadium lived up to its billing as the Colosseum. As Arsenal got on top early on in the early moments, nerves and frustration swept through the crowd that were baying for blood from minute one. This was a night which meant so much, and the home side needed the win.
Heung-min Son and Rob Holding grappled on the floor like two Roman wrestlers which only poured fuel onto the fire in this cauldron of noise. In such scenarios, it's important for the away team to silence the home crowd but instead they were eager to make an impact of their own. Too eager.
As Spurs went on the front foot, Dejan Kulusevski whipped the ball into the box and as Son went for the header, he was pushed in the back by Cedric, and Paul Tierney pointed to the spot. Harry Kane stepped up from twelve yards and placed the ball into the bottom right corner, the opposite side to his preferred penalty.
The volume went up another notch as Spurs bloodied the nose of Arsenal by landing the first blow. It seemed Holding wanted to get even closer to Son as he was booked after another late challenge, as the South Korean continuously gave him the run-around.
32 minutes in, he stepped over the line. Arsenal were in the middle of a ferocious battle, and Holding lost his head. A long ball came over the top and he collided with Son, seemingly with his elbow. Tierney showed him his second yellow of the match and Mikel Arteta's men were in all sorts of trouble.
Arsenal were on shaky legs, like a fighter that had just beaten the count, and Spurs soon had their second. Son's corner was flicked on by Bentancur, and Kane snuck in at the far post to turn the ball in from close range. The Gunners were defensively disorganised and Tottenham took full advantage. .
Eddie Nketiah curled a shot towards goal which Hugo Lloris tipped over, but it was a glancing strike from a side that were up against the ropes. They limped to half-time, but any plan they had to make an unlikely comeback unravelled less than 90 seconds into the second period.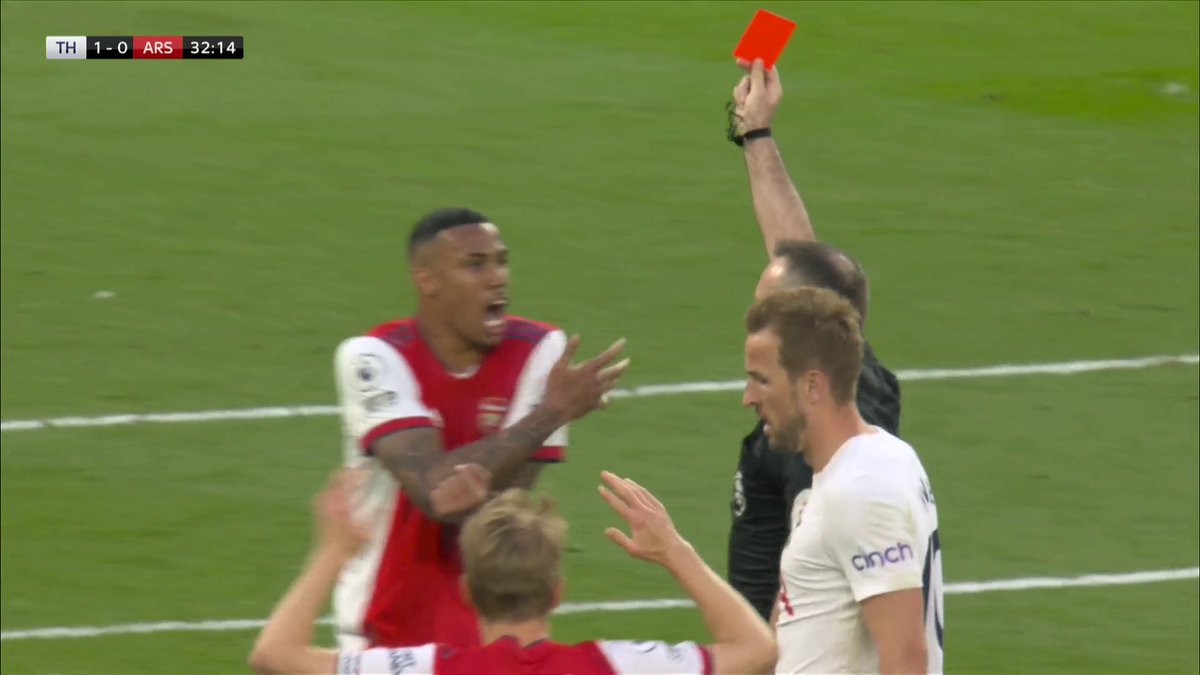 Kane spun Gabriel in the box and the defender managed to get his toe to the ball, but he could only divert it into the path of Son, who swept home his 21st goal of the season, one behind Golden Boot leader Mo Salah. It was a knockout blow in terms of the contest, but Arsenal couldn't throw in the towel.
Instead they had to stand and take their punishment, which was unrelenting. Kane had one tipped over before Son missed a sitter after good work from Ryan Sessegnon. Spurs were toying with their closest rivals like a cat playing with an injured mouse. They could've killed them off, but it was more fun to watch them struggle.
Arsenal couldn't get a touch as Tottenham fans enjoyed every single second in a wonderful north London atmosphere. Son's frustration at being substituted was the only touch of unhappiness Spurs had to endure, while Arteta's night got worse as Gabriel was forced off with an injury.
If this was a battle played out in the Colosseum in Ancient Rome, the crowd would have given their pollice verso to judge what they had just seen. Arsenal may not have been sentenced to death on derby day, but this could be a terminal defeat when it comes to their Champions League hopes.
Two games to go, one point between the two teams. The fight goes on.