The Birmingham City captain sent an open letter to the secretary of state for education, Nadim Zahawi about a new curriculum
13:30, 23 Feb 2022
Birmingham City captain Troy Deeney has sent an open letter to the Secretary of State for Education, Nadhim Zahawi about bringing in the teaching of black, Asian, and ethnic minority history at schools, with experiences to be made compulsory across the curriculum.
The striker is an active anti-racism campaigner and is using his platform to try and initiate change. He was a driving force in getting Premier League players to take the knee before matches in their fight against racism. He has said that the change is needed to inform, identify and combat discriminatory stereotypes from an early age. The Birmingham-born footballer has launched a petition as well as releasing his open letter which reveals the results of a YouGov survey he commissioned. Deeney had grown frustrated at the lack of progress in tackling racism which still remains a prominent issue within society, two years after George Floyd was killed in the United States.
"I believe the current system is failing children from ethnic minorities," Deeney told Zahawi in the open letter. "I urge you…to review this topic again."
"Twenty months ago, I was kneeling alongside my colleagues in the centre of a football pitch. Now, nearly two years on from the death of George Floyd and the tidal wave of outrage that followed, an eerie quiet seems to have descended on national cultural debate and the issues raised have receded from the news agenda."
The next step forward. An Open Letter to the Secretary of State for Education
@nadhimzahawi
Hit the link to sign the petition
#HistoryUntold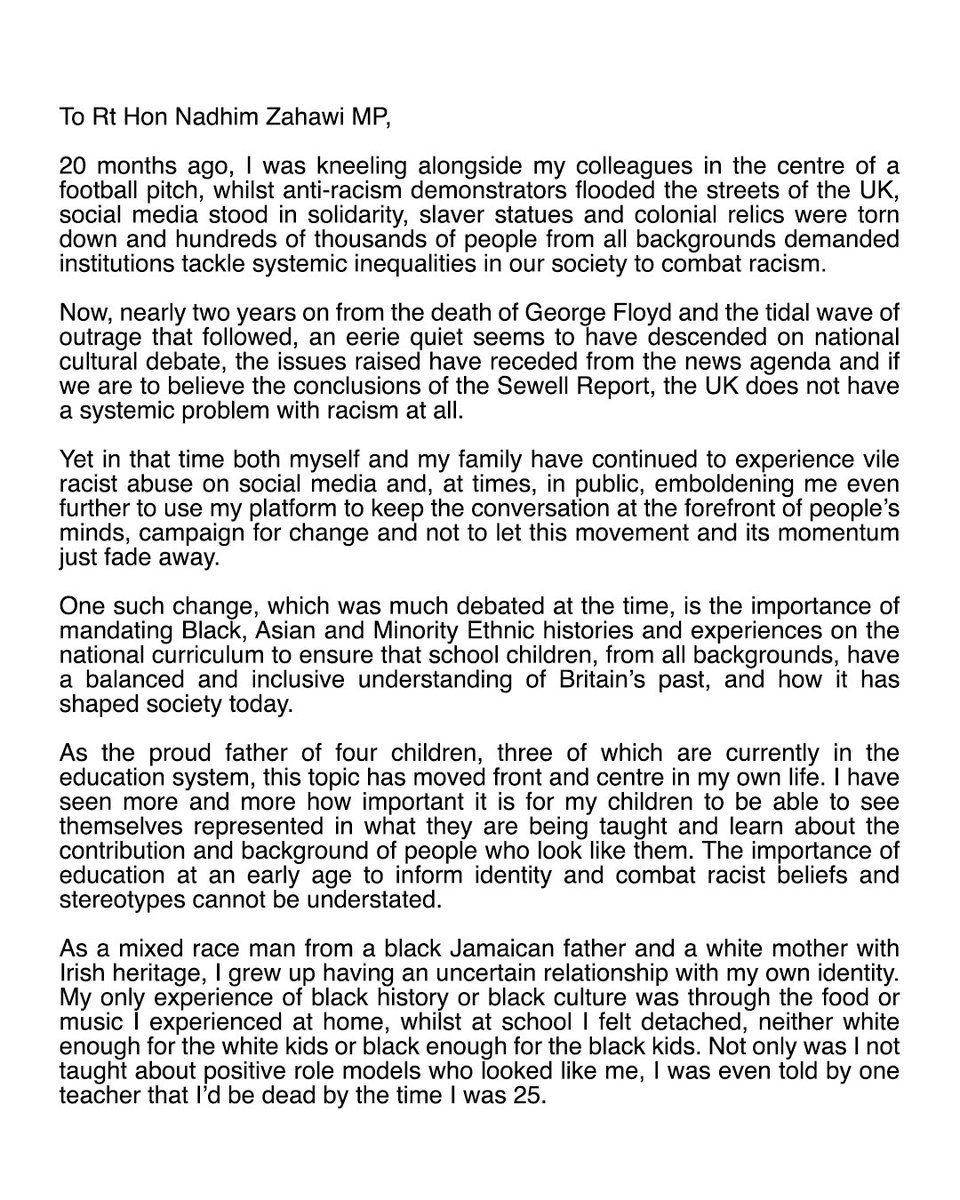 He then revealed that he is still subjected to online abuse through social media as well as in person. With three of his four children in the education system, he decided that change was needed, sooner rather than later as he feels the current system is failing children of ethnic minority backgrounds. His survey found that 54% of British teachers think that the school system has a racial bias with just 12% feeling empowered to teach diverse topics.
"I have seen more and more how important it is for my children to be able to see themselves represented in what they are being taught, and learn about the contribution and background of people who look like them," he said. "The importance of education at an early age to inform identity and combat racist beliefs and stereotypes cannot be understated."
Deeney also detailed his own struggles, in which he was expelled from school at the age of 15 and told he would die before his 26th birthday by one teacher. The 33-year-old has been encouraged by the actions of the Welsh government, who in September will have a new curriculum in place where the stories of black, Asian and ethnic minorities will be taught.
A Department for Education spokesperson said the curriculum "offers pupils the opportunity to study significant figures from black and ethnic minority backgrounds and the contributions they have made to the nation".
Zahawi then responded by tweeting, "Troy, thank you for raising this important issue. It would be good to discuss this with you and I will ask my team to reach out."
It is a credit to Deeney using his status as a role model with a huge platform to try and instigate change, and hopefully this kick-starts a significant transformation in education so that ethnic minority history is taught from a young age in a bid to bring an end to discrimination.