Anthony Taylor has been under the spotlight since the Stamford Bridge chaos
12:00, 15 Aug 2022
At the time of writing, 87,000 people have signed an online petition to ban Anthony Taylor from refereeing Chelsea matches. Manager Thomas Tuchel has ignited the fury by suggesting that 'it would be better' if he was not in charge of his team's games in the future, doubling down in his press conference.
"Not only the fans," Chelsea's head coach said when asked about the club's supporters' long-standing problems with Taylor. "I can assure you that the whole dressing room, every single person thinks that. You know the players, they know what's going on and they're on the pitch and they know it and again it is like this."
This sets a dangerous precedent for football, whose fans are already on the brink of implosion before a ball has even been kicked. But the fact of the matter is that referees, no matter their name, are not biased against your club. They make mistakes, yes, but they don't intentionally set out to make your team lose. Especially in the days of VAR and goal line technology, they simply can't.
READ MORE:
The two decisions that Chelsea fans have issues with are exaggerated because they led to two goals. 44 seconds before Pierre-Emile Hojbjerg struck the equaliser, the home crowd were certain that Rodrigo Bentancur had fouled Kai Havertz. But, replays showed he got a slight touch on the ball and in this new Premier League era where referees are encouraged to let things go, he got the decision spot on.
The goal didn't come as a result of that decision. Chelsea had plenty of time to regroup and even had possession in their own box before Jorginho tried a silly scoop and gave the ball away in a dangerous area. If fans want to point fingers, they should be pointed at their Italian midfielder rather than the referee - but we know that just isn't how football fanaticism works. 'It's anybody's fault but our own.'
SPURS ARE LEVEL! 😲
And it's KICKING OFF on the bench... TUCHEL VS CONTE 😤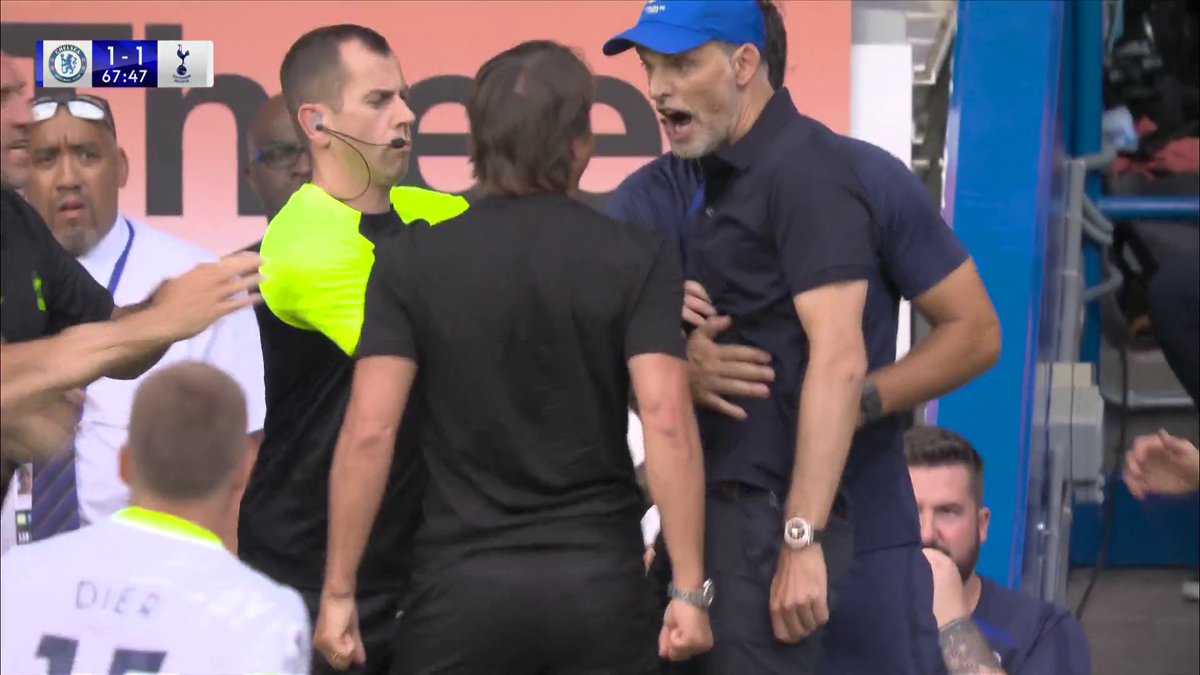 Marc Cucurella having his hair pulled by Cristian Romero in the box late on is clearly something Taylor missed, but he had so much to look at from that corner kick that he should have got support from VAR. However, once they have looked at that incident and decided it is not a red card offence, there is nothing they can do. The goal itself was completely fair as Harry Kane headed in an Ivan Perisic corner. Refereeing mistake, yes, agenda against Chelsea Football Club from the FA, no.
Tuchel's comments have sent the conspiracy theorists into overdrive. A compilation of 'mistakes' Taylor has made against Chelsea has been posted on YouTube and now has 30,000 views - but it includes a series of correct decisions such as Reece James' red card for handball against Liverpool. Fans are blinded by loyalty.
On Taylor specifically, whether Chelsea fans believe it or not, he is one of the top referees in the Premier League. It's why he referees such big games, usually between top six sides. Diving down into the statistics, since 2011, he's refereed 44 Chelsea matches, and the Blues have won 21 of those. By comparison, Michael Oliver has also officiated 44 Chelsea matches, ending in 23 wins. Hardly a ground-beaking difference when you consider all of the variables. Recently, the London club's record when Taylor has been in the middle is even stronger.
Since the start of the 2020/21 campaign, they have only lost to Man City across nine matches, with draws to Manchester United, Liverpool home and away, Southampton and Spurs yesterday. Wins against Brentford, Crystal Palace and Leeds make for a completely normal set of Premier League results.
This isn't just a Chelsea problem, but their Taylor obsession points to a wider issue in football. Fans can disagree with individual decisions, of course they can, but claiming that there is an agenda against your club from a certain official just makes you another one of the Twitter users raging at the world for no reason.