The 16-year-old from Kyiv moved into the second round of the Welsh Open on Monday
20:05, 28 Feb 2022
Iulian Boiko admits that the terrifying situation back home in Ukraine makes it impossible to focus on snooker.
The 16-year-old from Kyiv moved into the second round of the Welsh Open on Monday after a fine 4-3 comeback victory over Welsh wildcard amateur Liam Davies at Celtic Manor in Newport.
And world No112 Boiko, based in Sheffield during the season and away from family and friends, has now been joined by fellow countrymen over in Britain for recent tournaments but then unable to get home.
WPBSA chairman Jason Ferguson has intervened to fund accommodation until whenever necessary for Anton Kazakov, 17, on the tour next season, and Petro Sydorenko and his father.
But the blanket news coverage worldwide, including in the UK, means there is no respite for Boiko and all those deeply concerned over the well-being of their loved ones.
Boiko said: "It is very difficult to concentrate with the terrifying things that are going on at home – and I am spending most of the days on the phone to family and friends.
"I have been very worried about them, they are mostly in Kyiv, but also other parts of Ukraine that are under attack. Fortunately my family are all okay, I am here with my coach and a friend.
"Even during the match today when I was 3-0 down I was thinking of all the people back home that are supporting me even with what is happening. How can you ever give up knowing that?
"It is such a difficult time for our country and of course it reminds you there are things that are so much more important than snooker.
"There have been other Ukrainian players over here for the big recent World Snooker Federation amateur championships.
Iulian Boiko came from 3-0 behind to secure a 4-3 win over fellow teen Liam Davies 👏
His prize is a second round meeting against Mark Allen or Ken Doherty.
#HomeNations
#BVEuroSeries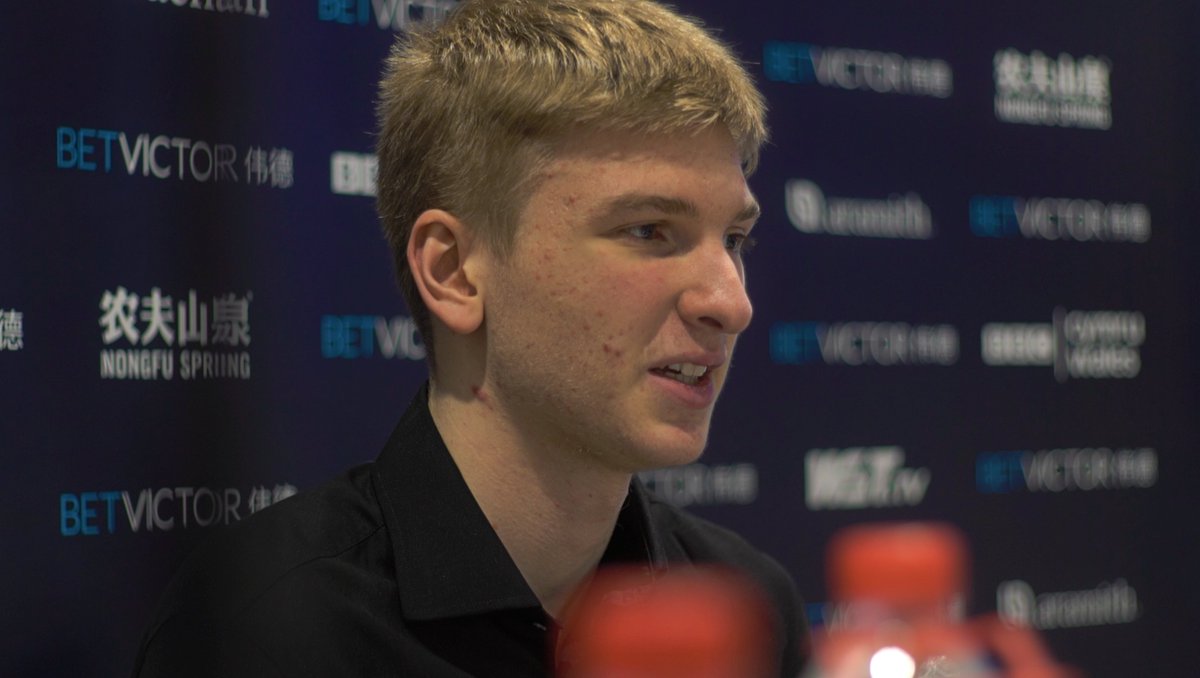 "Some went back to neighbouring countries including Matvei Lagodzinschii who is only 11, but some have stayed in the UK and Jason Ferguson at the WPBSA has helped them get places to live and practice, we are very thankful to him.
"They include Anton Kazakov who will be on tour next season, and the support from snooker has been incredible.
"Also the show of support for Ukraine at Premier League football matches has been amazing, and it helps you knowing that – people understand our situation.
"I am based in Sheffield during the season and practice at the Victoria Academy – and I will be here until the World Championships in April at least in the current situation.
"But I have not seen my family for a long time now, and although I cannot go home to Ukraine, maybe they can get to Turkey for the event next week, or somehow get over to the UK.
"In the match today I thought I had no chance at 3-0 down, in fact I was thinking that maybe I should give up snooker and stop completely. I was playing so badly, but I had to fight.
"It was very tough and I was just trying to give everything and my very best. I managed to grab the win somehow."
In the circumstances, Boiko's recovery from 3-0 behind to win 4-3 was a near-miracle, but both results and his struggle to remain on tour this season have taken on a new and very relative perspective.
Davies, a big prospect for Wales from Tredegar and a year younger than Boiko at 15, rattled in a break of 127 on his way to the 3-0 lead, but then the nerves started to show and it was Boiko that came through the decider.
WPBSA chairman Ferguson said: "The first thing we did was to locate every single Ukrainian player, because with the events here effectively a Ukraine national team had recently come over to compete in the WSF tournaments.
"The youngest was 11 years old. Some were leaving, some have gone back to Poland to be reunited with their family, and some have gone to Moldova but obviously none to Ukraine.
"Where we ended up was with three people still in Sheffield that needed help – Anton Kazakov here on his own who has just won a place on tour for next season, Petro Sydorenko who is 14, and his father.
"They had all planned to return to Ukraine and clearly that was impossible. I spoke to the families concerned and they gave me approval to keep them here and look after them.
"So we have housed them in Sheffield and made arrangements for them to stay until better times and circumstances permit otherwise. Then we have Iulian who is already on the tour who has a friend Sergei with him, they have their own arrangements in the UK.
"He would have gone back to Ukraine but now may try and meet up with his family after the Turkish Masters. But many of these players who came over were minors, some without family with them, and so there was a clear duty of care and responsibility for us to ensure they were taken care of."