Seven-time world champion Hendry was blown off the table in his first-round match at the UK Championship
16:25, 25 Nov 2021
Stephen Hendry got a brief moment of déjà vu during his first-round match at the UK Championship – but the moment didn't last long. The seven-time world champion was blown off the table 6-1 in just 72 minutes by Thailand speedster Thepchaiya Un-Nooh, who deservedly rejoices in the reputation of being snooker's fastest and most fluent exponent.
Un-Nooh rattled in a record-equalling five century breaks plus two more breaks of over 50, outscoring the Scot by 715 points to 65 and averaging just 14 seconds per shot throughout the contest at York's Barbican.
Hendry, still waiting for his comeback to catch fire, admitted that he ended up just sitting silently applauding Un-Nooh after being given a quickfire lesson. And the experience reminded Hendry of another rival from the early years of his career – Malta's Tony Drago, often considered the fastest player of all time. And even there the 52-year-old thinks the Thai could have the edge.
Hendry said: "When someone is playing that well there isn't really a whole lot you can do. You just sit and applaud. I told him at the end he is a fantastic snooker player, he really is. He plays beautifully. Someone told me he is fighting for his place on the tour, which I find absolutely bizarre.
"I just sat and admired him all night. I was lucky to get one, he got a break of 59 in that one too.
"It was an absolute clinic in break-building. There are similarities to Tony Drago from a few years back. I think he has more touch than Tony, though both are ultra-talented and play at the same very fast speed. These tables are so difficult to play on if you don't play on them often as I don't, because the cloths are so slick. His touch was just impeccable."
World Snooker started to publish the average shot times of all professional tour players a few years ago, with a couple of motives behind the move. One was to create stories and interest – there is always an easy piece to write or TV/radio feature to be had on who is the quickest, and indeed who is the tardiest snail of the circuit.
And a glance at the top of the leaderboard in those same last few seasons has usually thrown up the same names – Ronnie O'Sullivan, Un-Nooh, Jack Lisowski, Zhao Xintong and this term Hammad Miah, with Rob Milkins often not too far away.
𝗧𝗢𝗡 𝗠𝗔𝗖𝗛𝗜𝗡𝗘 𝗨𝗡-𝗡𝗢𝗢𝗛 𝗛𝗔𝗠𝗠𝗘𝗥𝗦 𝗛𝗘𝗡𝗗𝗥𝗬 🇹🇭
Thepchaiya Un-Nooh produces a fantastic 5️⃣ century breaks on his way to a crushing 6-1 victory over Stephen Hendry in Round One!
#UKChampionship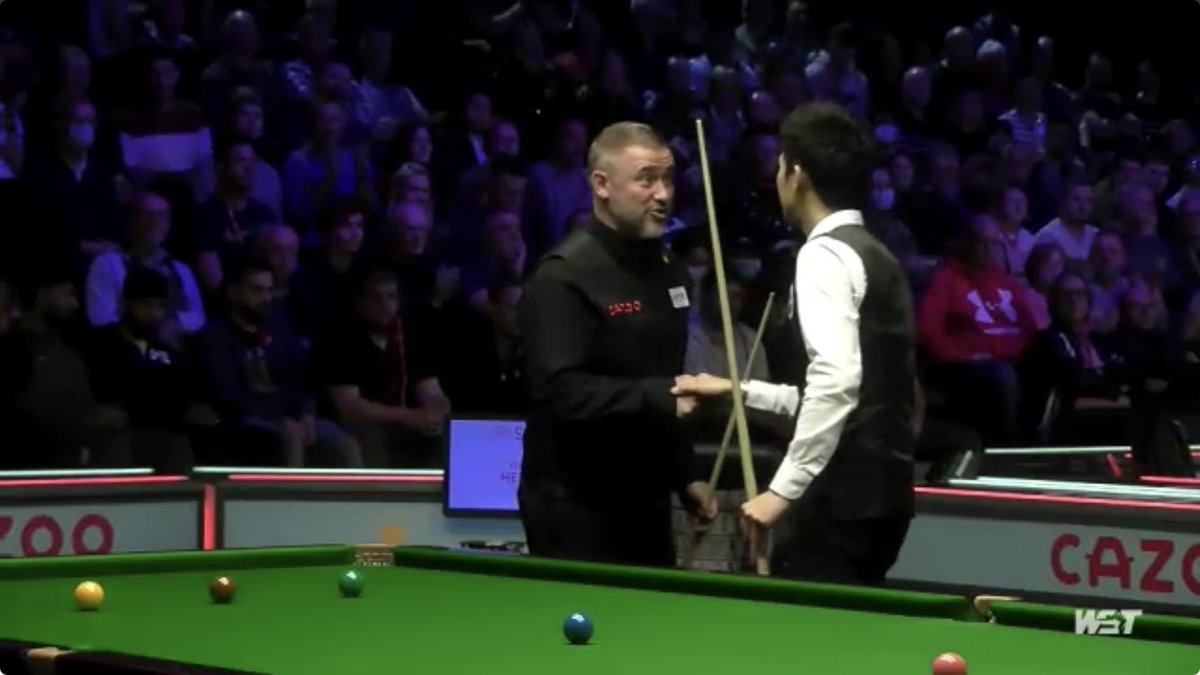 ASTs for both the season and the tournament in progress can be found on the official website and as at Thursday lunchtime O'Sullivan, following his 6-3 win over Michael White in York, was the fastest player of the season at 16.87 secs a shot.
Though other players have occasionally contributed to feats of speed on the green baize, the vast majority of related records are still held by Drago and O'Sullivan.
The man from Malta, whose lapses in concentration and occasional suspect temperament prevented him from winning more and translating an incredible natural talent into serious silverware, still holds the game's fastest frame, winning 62-0 in just three minutes at the 1988 International against Danny Fowler.
To that can be added the fastest century break made in not much longer, three minutes and 31 seconds against John Higgins at the 1996 UK Championship. Though the statistics were not recorded as religiously as now, Drago regularly used to average somewhere between 11 and 14 seconds a shot.
That took him also to a record for the fastest ever best-of-nine frames match, a 5-0 win over Sean Lanigan at the Strachan Challenge in only 34 minutes – and also the fastest best-of-17 match, a 9-0 victory over Joe O'Boye at the 1990 UK Championship.
And Drago also took part in another match yielding a speed record against the man who would soon start raising the bar himself – none other than the Rocket. Their best-of-25 frame clash at the Crucible in 1996 took just two hours and 47 minutes, a new low mark for a contest of that length averaging nine minutes a frame throughout.
Perhaps O'Sullivan's most famous record is his fastest ever 147 maximum break, made against Mick Price at the Betfred World Championship in 1997. It was already pretty quick at five minutes and 20 seconds, the time that stood for more than two decades. But even that was revised down recently to five minutes and just eight seconds.
O'Sullivan, who turns 46 on the last day of the 2021 UK Championship, also has the fastest best-of-11 match time of just 53 minutes against Dominic Dale at the 2006 Northern Ireland Trophy. And just last year in 2020 he thrashed Un-Nooh 10-1 in only 108 minutes to set a new record for the fastest ever Crucible match, or any match of that length – averaging 14 seconds per shot.
O'Sullivan of course, unlike some of the other players mentioned here like Drago and Lisowski, has somehow managed to combine the effortless speed, fluency, rhythm and entertainment with a trophy collection that would comfortably fill a double garage. Therein lies the challenge for 'Jackpot' Lisowski and Zhao in the years ahead.