United clinch the Premier League unbeaten away record, but Wolves caused them the sort of problems Ronaldo won't fix.
18:31, 29 Aug 2021
Manchester United have never been far from the headlines in recent days. However, precious few column inches have been devoted to the game of football they were due to play. Opponents Wolverhampton Wanderers found themselves overlooked in favour of the news that Cristiano Ronaldo would be returning to Manchester United after 12 years away. In spite of their absence from most media and fan radars, or perhaps because of it, Bruno Lage's men put up an excellent display despite suffering a 1-0 defeat. United have clinched the longest unbeaten away record in Premier League history, but there was cause for concern at Molineux.
The sort of problems United encountered in the first half at Molineux were not the sort that can be solved by the signing of an illustrious centre forward, even one that is a returning club legend. As the Red Devils saw their midfield constantly over-ran by the superb Adama Traore and Francisco Trincao, it became clear their engine room is still not fit for purpose. Fred struggled once again, after his travails last week at Southampton. The Brazilian was dumped to the floor as Trincao saw a shot cleared off the line by Aaron Wan-Bissaka, and gave the ball away far too frequently for a midfielder at a side with title ambitions.
Raphael Varane made his club debut, while Jadon Sancho notched his first Premier League start. Neither shone in the first period, as Sancho struggled for sustained possession and Varane was given a harsh lesson in the physical demands of his new league. Along with Wan-Bissaka, Varane was charged with marshalling Traore, and could do little to keep the Spaniard quiet. He also gave the ball away poorly when a long-range pass to Luke Shaw was intercepted, triggering one of a seemingly endless stream of Wolves counters.
Paul Pogba, so influential against Southampton last weekend, found himself frustrated in the first half. He threw his arms up in indignation as moves broke down around him, and at one point was closed down by three Wolves players at once and no passing option was offered to him. The Frenchman managed to exert more control over proceedings in the second half, finding Fernandes with an elegant ball into the box. Bruno had his centre deflected, and Fred drove a powerful shot from outside the box directly at Jose Sa. Pogba also played a brilliant ball to Mason Greenwood in a wide-right position, but the young forward could not control his run to make the most of the chance.
Wolves continued to enjoy their fair share of success in the second half. Adding to their total of over 50 shots in the Premier League this season without a goal, Trincao saw a gilt-edged chance bobble hopelessly wide from a great Traore cross. The game was more open at this point, as United began to find their feet. Edinson Cavani replaced Dan James just after half time, Solskjaer aiming to give his side a focal point after Greenwood spent the first half chasing the ball in wide areas.
David De Gea was spectacularly called into action from a corner, as Joao Moutinho's cross was headed at the Spanish stopper by Roman Saiss. De Gea made a fine stop, then recovered to prevent Saiss' shot from the rebound with a truly world class save. De Gea's lightning reactions served as a reminder of the goalkeeper's best years in a United jersey, keeping them in the tie at a crucial juncture.
Pogba tested Sa with a powerful drive from a tricky angle, but Cavani could not take advantage at the resulting corner. United would not have to wait much longer to finally make the breakthrough. Mason Greenwood put the Manchester club into the lead with a powerful drive from wide on the right. Sa got a hand to the ball, but could not stop it from ending up in his net. VAR was checked for a clash between Pogba and Ruben Neves in the build-up, but upon review it was clear no contact had been made and the goal was given.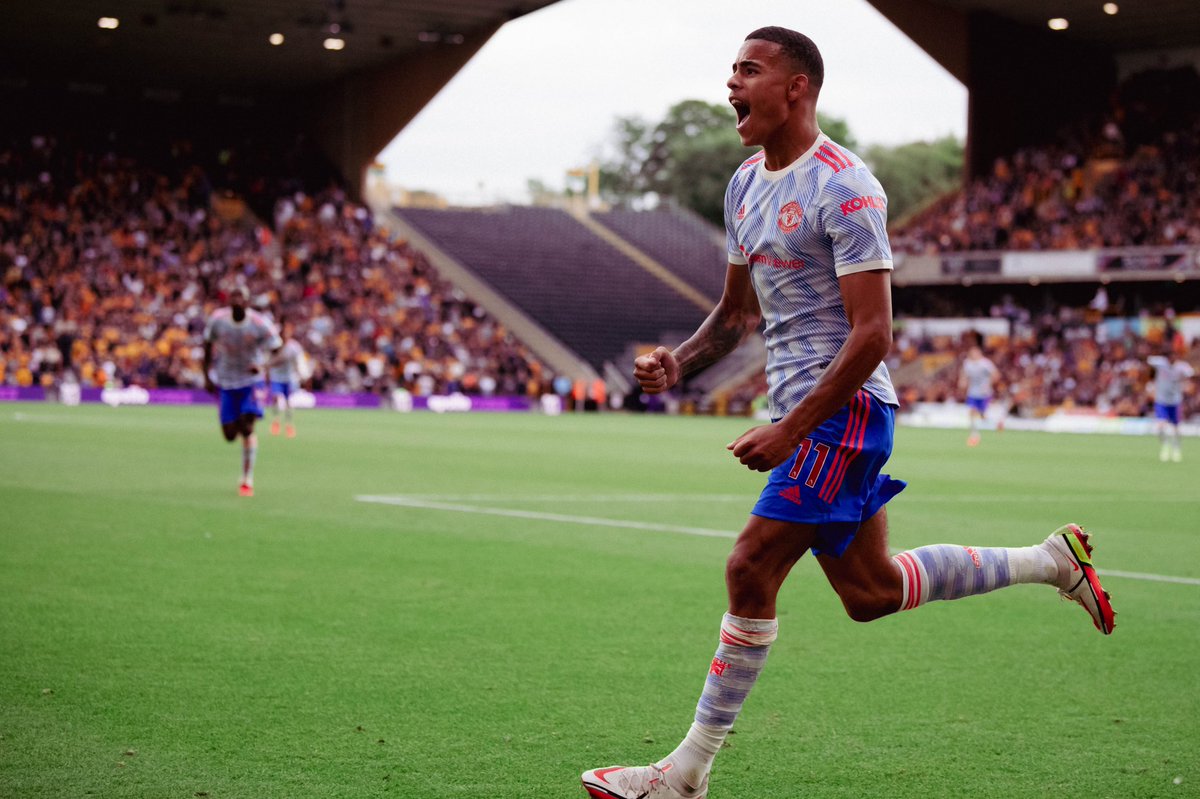 After a weekend punctuated by the joyous nostalgia of a returning icon, United received a mild wake-up call in the West Midlands. The result went their way, and the longest unbeaten away run in Premier League history is theirs. But the failings that Wolves exposed are not the sort that Cristiano Ronaldo will address. Wanderers enjoyed more chances than United, and it was the inability to prevent these chances that will be the real worry. Zinedine Zidane once said of Real Madrid's decision to sell Claude Makelele and buy David Beckham, "Why put another layer of gold paint on the Bentley when you are losing the entire engine?". Is Manchester United's latest signing merely a coating of 24-carat on a car that lacks the engine to win a title race?