Uruguay Displayed In Win Over Portugal That They Are Keeping Defensive Traditions Alive
12:55, 01 Jul 2018
After a pulsating 4-3 win for France against Argentina in the day's earlier game, it could have been construed as an anti-climax. Even though Edinson Cavani scored two splendid goals, as is so often the case it was Uruguay's defence who took centre stage. Their victory over Portugal might not have got the heart racing in the same way but it didn't need to. The job was done all the same.
Coming into the match on the back of six consecutive clean sheets, they fell short of a seventh. Shockingly, a rare lapse in concentration let Pepe in for a free header to equalise not long after half-time. It will have been a cause of much frustration for a team that prides itself on not giving away cheap goals. This was the first they'd conceded in the World Cup.
In the modern game, defenders are no longer picked primarily for their staunchness, physical bravery or utter commitment to keeping the ball out of their net, but Uruguay's back four keep that tradition alive. That isn't to say that they're lacking in technical ability, but in an age where outfield players are increasingly indistinguishable, there's still a gleeful specialism to Diego Godin and the rest. They relish defending like few others.
Led by their inspirational captain, together with his centre back partner and Atletico Madrid teammate Jose Gimenez, the Uruguay defence has a tremendous understanding. They work tirelessly as a collective and, in a football culture where attacking players so often receive the majority of the plaudits, their dogged efforts deserve more acclaim.
Defending is an underappreciated art. While undoubtedly less exciting to watch than scintillating attacking football, it's no less impressive in its own way. It might not be pretty but that isn't the point, and in tournament football, where the margins between success and failure are so fine, such diligence and discipline can carry teams a long way.
Uruguay defend from the front and with complete conviction. Each player has a clear grasp of their individual role and how it connects to the rest of the team. Tenaciously sticking to their task at all times, Oscar Tabarez has created an incredibly efficient machine. On top of three shut-outs in pre-tournament friendlies, they didn't concede a single goal during the group stages.
Uruguay noma!!!💪💪💪🇺🇾🇺🇾🇺🇾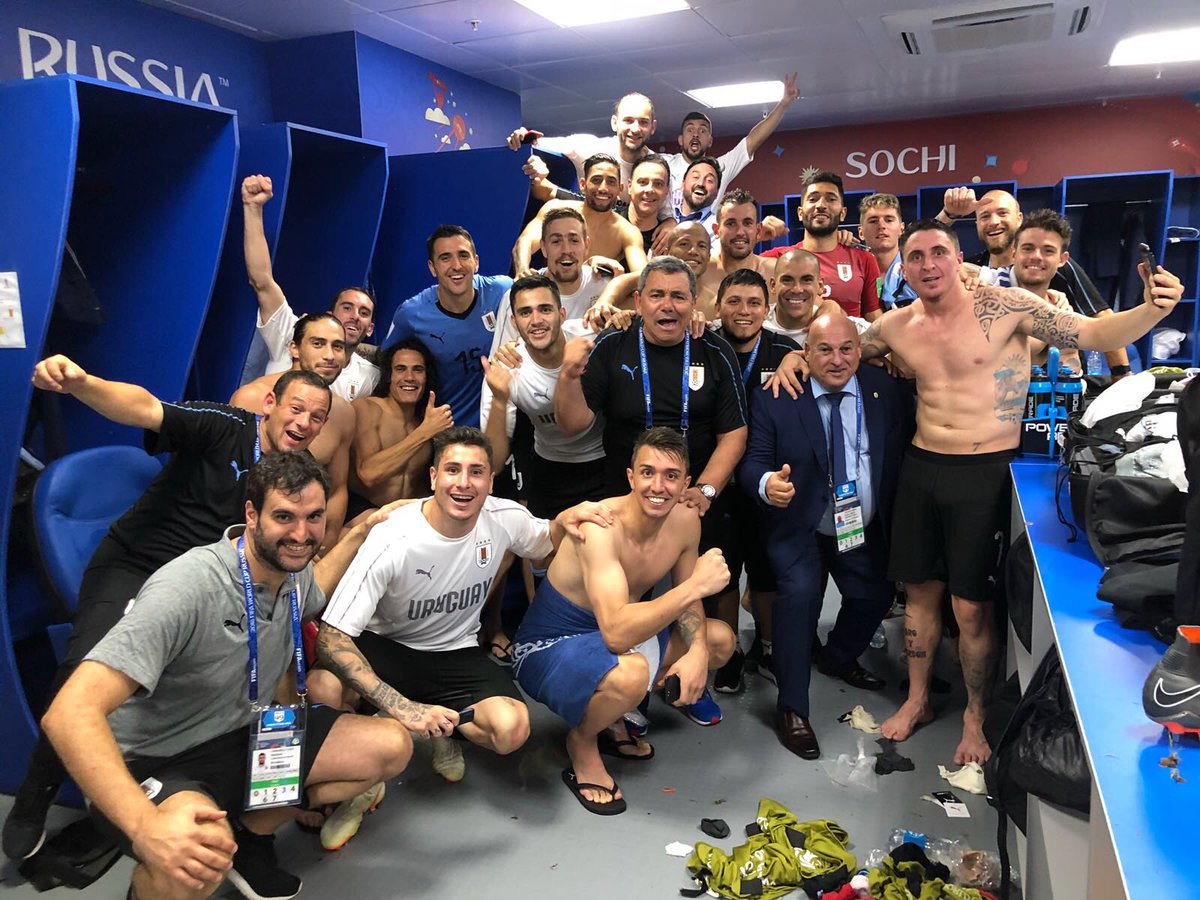 Against Portugal they had just 33% of possession but that was no problem. They're willing to let the opposition have the ball and strike when the chance arises. With two excellent strikers in Edinson Cavani and Luis Suarez, Uruguay are always capable of creating something out of nothing. The work rate of their industrious front two sets the tone, while those at the back are disciplined, diligent and committed to denying their opponents the space in which to operate.
A superb link-up between Suarez and Cavani gave Uruguay an early lead which they were content to hold onto for as long as possible. Despite Pepe temporarily pegging them back, another fine goal soon restored their advantage. Once back in front, they hunkered down again, determined to hold on to what they had. Camped in their own half for much of the game's final stages, Uruguay reduced Portugal to crosses and hopeful efforts from distance. They ran the clock down superbly.
Behind the back four, Fernando Muslera has been first-choice goalkeeper for a long time, winning his 101st cap against Portugal. This experience is spread throughout the team and helps to make all the difference. Six players in the Uruguay squad have more than a century of caps and have been playing together for many years now. Together with Tabarez, who has been manager since 2006, they make for an incredibly wily and well-drilled unit.
Given their shared personnel, comparisons with the defensive zeal and organisation of Atletico Madrid are unavoidable. Diego Godin, and to a lesser extent Jose Gimenez, are key components in the meanest defence of any of Europe's top leagues by a considerable margin. In each of the last six seasons, Diego Simeone's side have conceded less than a goal a game, and the Uruguayan defence is similarly miserly.
Like Atletico Madrid, they are rugged and willing to bend the rules. The way Uruguay go about their business might not be to everyone's tastes but you can't argue with the results. For a country with a population of just 3.5million, they consistently punch well above their weight. Reaching the quarter-finals of the World Cup already represents a sizeable achievement but, with their defence on this kind of form, they'll be confident of going even further.