Valverde, Enrique Or Guardiola? Which Barcelona Manager Has Got The Best Out Of Lionel Messi In Their First 100 Games?
12:50, 01 May 2019
Lionel Messi will stroll out at the Nou Camp tonight to play in the Champions League semi-final against Liverpool in a landmark game.
The Argentinian will be playing his 100th game under Barcelona manager Ernesto Valverde, a manager who has overseen an incredible season with the Catalan giants, who are on course to win the treble in his second season in charge.
Messi is clearly a dream player for any manager to work with, a man who can win games with a swift flick of his left foot but some managers have found it difficult to get the very best out of him. He has been used mainly in a free role off the right under Valverde but as he has become Barcelona's key playmaker, he has often dropped back into midfield and threaded passes through to Luis Suarez and Philippe Coutinho.
Despite this deeper role, he has scored a whopping 91 goals in his first 99 appearances under Valverde, winning two La Liga titles along the way. As well as scoring 91 goals he got 37 assists for his teammates carrying the weight of creative expectation now that both Andres Iniesta and Xavi have left the club.
Of course, he has got tonight's game against Liverpool to improve those statistics before he officially reaches his century of games under Valverde, but that is one hell of a record. During that time Barcelona have won 71, drawn 22 and lost just six times and the Blaugrana will be desperate for another win tonight as they look to win the Champions League for the first time since 2015.
Barcelona's UCL semi-final against Liverpool will be Messi's 1️⃣0️⃣0️⃣th official game under coach Ernesto Valverde 💯
🔵 99 appearances
🔴 91 goals
🔵 37 assists
🎭 W71 D22 L6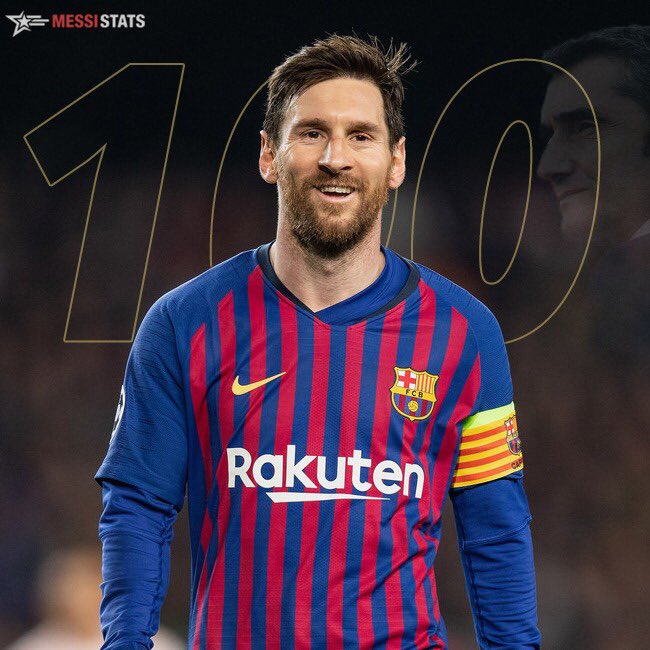 Before Valverde came Luis Enrique who joined in 2014 and led them on a remarkable run of success. During his three years at the helm of the club, Barca won two league titles, three Copa del Reys, one Champions League, one UEFA Super Cup and one FIFA Club World Cup. Of course, Messi was at the centre of it all.
In his first 100 games under the Spanish manager, he scored an outrageous 95 goals and registered 35 assists. That is almost one goal per game and a goal involvement rate of 1.3 goals per game. To put up those sort of numbers when playing for a new manager is just outrageous and Messi would have to score four tonight to match his record under Enrique. Unlikely.
Messi worked with two successive managers who did not make it to 100 games before Enrique. Countryman Gerardo Martino failed to win a trophy in his only season in charge while the late Tito Vilanova sadly resigned due to his health issues.
Pep Guardiola was the other man who reached a century of games with Messi, often praised building his Barcelona team around the young talent, as he transformed Barca into one of the best teams we have ever seen.
In 2008, Messi was made Guardiola's go-to man, taking the famous number 10 shirt after the departure of Ronaldinho. The manager also gave Messi the belief and advice to fulfil his huge potential. Although back then he was not putting up the huge numbers we see today, regularly switching with Samuel Eto'o from the right wing to the number nine position.
At 20-years-old he scored 78 goals in his first 100 appearances for Guardiola and registered 28 assists. That season Barcelona would go on to win the Champions League with Messi scoring in the final, La Liga, the Copa del Rey, the Spanish Super Cup, the FIFA Club World Cup and the UEFA Super Cup. Six trophies in one year. This side were certainly one of the greatest teams of all time and Messi was a key part of it.
Fast forward to today and Valverde will be staying with Barcelona until the end of next season at least. His playing style may not be pleasing all the fans but you simply cannot argue with the success he is having on the pitch.
The Champions League trophy is the be all and end all for Barca this season and he will need some inspiration from the great Messi to lift that trophy in May.
Managers must love Lionel Messi