It's been a turbulent year for the England winger
06:55, 22 May 2022
Jack Grealish's meeting with Aston Villa on the final day at the Etihad Stadium could see Manchester City win their fourth title in five years, but it also brings to a close an indifferent first season for the £100m man.
He hasn't hit the heights that many expected of him when he made the move to Manchester but given the weight of the tag - Britain's most expensive footballer - his slight underperformance can be explained. This is a lad from Birmingham who has never moved away from his home comforts.
He wasn't just part of the furniture at Villa Park, he was the glistening chandelier dangling from the ceiling of their ballroom. He was everything to that football club, and they were everything to him. Grealish had become accustomed to being the star man at a football club that had made their way up from the Championship, and then stayed up in the Premier League.
Everything was built to function around him in Aston, and Dean Smith had built a side in his image. He was free to do as he pleased, and the rest of the team knew they had to give him the ball when they needed something to be created.
Even then, he has never been a prolific goalscorer. Eight league goals in 2019/20 and six in 2020/21 are decent numbers but hardly ground-breaking stuff and while his three goals this term is a reduction on that figure, it isn't disastrous as some are keen to make out.
It's a completely different scenario playing under Pep Guardiola and for Man City. If Villa needed a goal they'd give him the ball, while City have Kevin De Bruyne, Bernardo Silva, Riyad Mahrez, Ilkay Gundogan and Gabriel Jesus to mention just a few. Grealish is the same chandelier, but in a room full of diamonds it's difficult to stand out.
He's made just 22 starts in the Premier League this term, his fewest league appearances since the 2015/16 season, when he was just a teenager. His start to life at Man City doesn't mean he is a flop, just because he cost £100m. In fact, other City stars haven't had easy starts to life in East Manchester.
It's all in our hands..Looking forward to the game next weekend 💙⚽️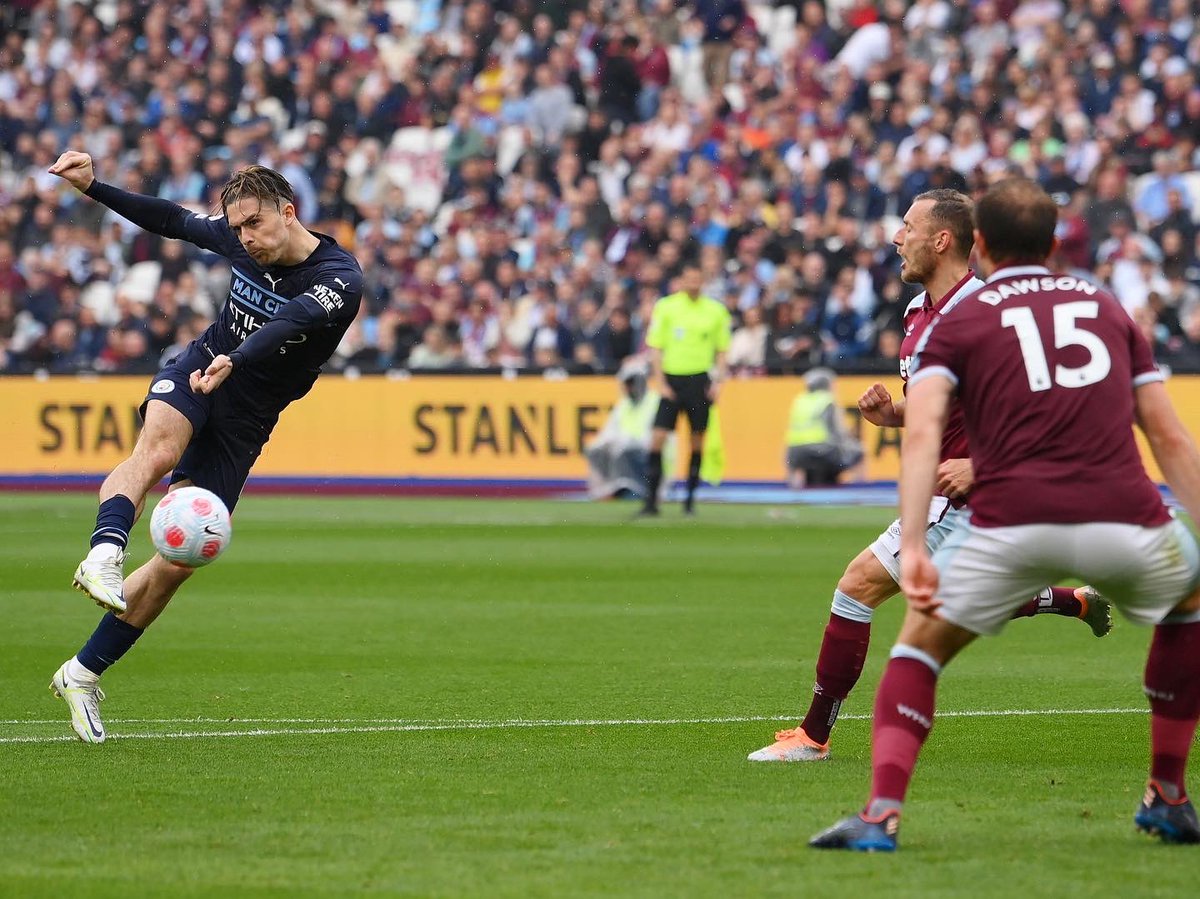 Gundogan, so reliable every time he plays these days, suffered a cruciate ligament rupture during his first season and could only play 10 league games. Since then he's been a key fixture in Guardiola's success and even hit 13 goals as City won the title last term. Mahrez is another, having taken some flak in his early days at Eastlands following his move from Leicester City.
Pep himself was mocked relentlessly by pundits after his disappointing first season with Stan Collymore taking aim at the Spanish boss.
"If he thinks he's going to turn up and outplay everybody in the Premier League, and that teams like Watford, Leicester, Bournemouth, Southampton and Crystal Palace are going to let his Manchester City side have the ball for 90 per cent of the time and pass pretty patterns around them so they can get a result, then he is absolutely deluded.
"In fact, he is beyond deluded. And if he thinks he doesn't need to teach tackling or one-on-one combat in training then he'll be going back to Spain with his tail between his legs."
An upcoming fourth Premier League title in five years has seen Collymore as the one with his tail between his legs, but Grealish can follow his manager's blueprint. He's had a year to get used to his training methods, a new role and a new city, and next season he can reach new heights.
Aston Villa also have a lot to thank Grealish for. Not only did he help them get back into the top flight, but his sale has allowed the club to propel themselves forward. They've essentially replaced him with Coutinho for just £17m, while Danny Ings, Leon Bailey and Emi Buendia were also purchased with the money.
Villa are no longer relegation candidates and Grealish has played a big part in that. But his role for Manchester City and England in the future could be even more crucial. This weekend, he's likely to get his hands on the Premier League trophy for the first time and that will justify the move for him, but there's plenty more to come.