Are football fans being short-changed by their clubs with Covid on the rise again?
Well, Watford fans packed into coaches and made the gruelling four-hour journey to Burnley on Tuesday night. And at 5pm - and after nearly 220 miles on the motorway – the club's loyal supporters were shocked to learn their club's Premier League fixture with the Clarets had been called off – just over two hours before the scheduled kick-off due to a Covid outbreak in the Hornets squad.
It wasn't long before disgruntled Hornets fans took to social media to vent their anger at the late curtailment, wondering in particular why results of Covid-19 tests for their players had been received so late in the day.
Watford revealed that they had "an insufficient number of first-team players available to fulfil the match" and that the decision was taken "following guidance from medical advisers" due to an ongoing Covid-19 outbreak within their squad.
For their part, the Premier League issued a statement, which both clubs shared on their own club websites and social media channels.
"The Premier League understands this decision will disappoint and frustrate fans who were due to attend this evening's game and apologises for the inconvenience and disruption caused at such short notice," said the statement.
"In considering any application to postpone, the Board considers a range of sporting and medical factors. Each decision is taken on a case-by-case basis with everyone's health of utmost importance
"In light of the recent rise in Covid-19 cases across the country, the Premier League has reintroduced Emergency Measures. These include protocols such as more frequent testing, wearing face coverings while indoors, observing social distancing and limiting treatment time."
The measures will be little consolation to the Hornets' fans who made the long trip north and many whom had forked a pretty penny for tickets, travel and overnight accommodation.
The Premier League has confirmed that this evening's game against Burnley has been postponed due to a COVID-19 outbreak within the squad.
#BURWAT
Not nice, not fair and extremely frustrating. And arguably the club's supporters could have been let know well in advance to spare them plenty of unwanted time and expense.
Brighton's clash with Tottenham was called off last week with a Covid outbreak in the Spurs camp, before Manchester United suffered a similar fate, which led to their home match with Brentford also being postponed on Tuesday night. The Delta strain of coronavirus played havoc with football fixtures last season - and now the worrying Omicron variant is really beginning to have its say on the sporting schedule.
Health and well-being is clearly the most important factor going forward, especially with infection and death rates rising at an alarming rate. But football fans are hardly helped when decisions are made so late in the day, especially for football fixtures at the other end of the country.
However, these are unprecedented times still and fans also need to have some tolerance for ever-changing circumstances moving forward. Watford fans were especially unlucky on Tuesday night at Turf Moor, but going forward all football fans will need to be flexible. Their clubs have a big part to play in trying to fulfil as many fixtures as possible, but ultimately the Premier League have the final say on whether games go ahead given varying circumstances.
And the government, of course, have their say when matters reach such a serious level that intervention is needed. Judging by the string of cancellations in this weekend's decimated football schedule, the next few months are going to be far from plain sailing.
At the time of publishing, four of Saturday's Premier League matches have been postponed because of Covid outbreaks, as well as Everton versus Leicester City on Sunday. That's half of the 10 scheduled matches, along with 18 games called off in the English Football League, from the Championship down to League Two,
The postponements have led to calls for a January circuit-breaker to give clubs the chance to recover and the season to be rescheduled. t's a sensible idea and one which is expected to be discussed at a Premier League Board meeting on Monday.
Brentford boss Thomas Frank has called for Premier League matches to be called off until Boxing Day, but Liverpool manager Jurgen Klopp wants the season to continue, although mindful of the pandemic and people's health. One of the issues on the table will likely include re-arranging matches and how long the season would need to be extended for.
It's a minefield for everyone concerned, but is football helping itself?
It emerged this week that, as of last month, 31% of EFL players had not received a first dose of the Covid vaccination. It's little surprise, then, that positive Covid tests are on the rise – and more games are being called off than previously.
The future is very uncertain, but right now everyone needs to pull together and think about the bigger picture. Even the most die-hard footie fans.
Jurgen Klopp on the COVID-19 vaccine 👊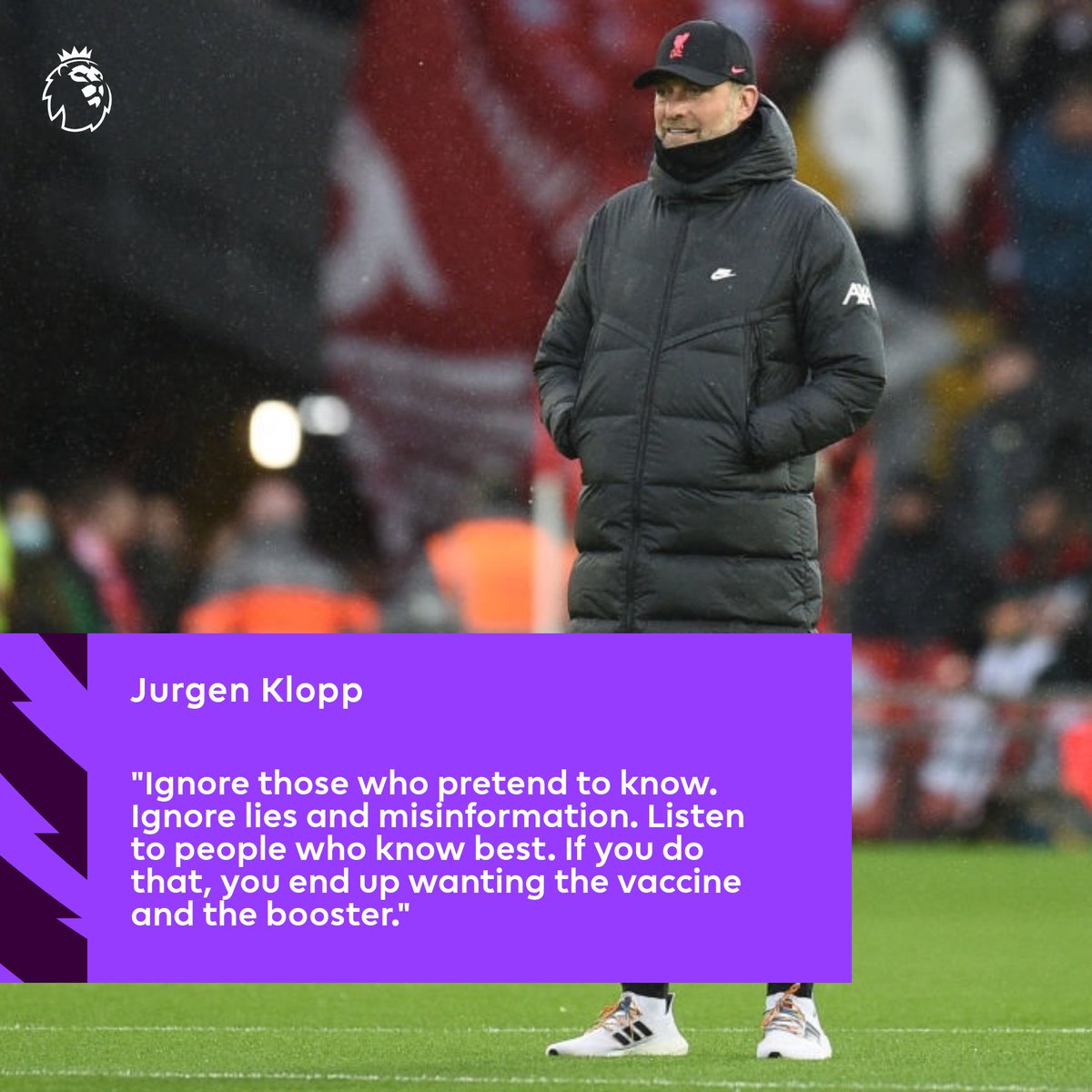 Saturday's postponed Premier League and EFL matches so far….
Premier League
Manchester United v Brighton & Hove Albion
Southampton v Brentford
Watford v Crystal Palace
West Ham United v Norwich City
Championship
Cardiff City v Derby County
Coventry City v Stoke City
Millwall v Preston North End
Queens Park Rangers v Swansea City
Reading v Luton Town
League One
Bolton Wanderers v Wycombe Wanderers
Burton Albion v Milton Keynes
Gillingham v Crewe Alexandra
Lincoln City v Doncaster Rovers
Sheffield Wednesday v Accrington Stanley
League Two
Colchester United v Hartlepool United
Carlisle United v Bradford City
Crawley Town v Oldham Athletic
Forest Green Rovers v Mansfield Town
Northampton Town v Barrow
Port Vale v Exeter City
Scunthorpe United v Bristol Rovers
Swindon Town v Walsall
Sunday
Everton v Leicester City