The Sportsman spoke to the WWE Women's Tag Team Champions about the evolution of women in WWE
20:35, 06 May 2022
When WWE Women's Tag Team champions Sasha Banks and Naomi first joined WWE, the landscape was almost unrecognisable. There had never been an all-female WWE pay-per-view, there was no women's tag team division, there had never been a women's match in Saudi Arabia and the main title was called the WWE Divas Championship. Women's wrestling in both WWE and the wider scene has completely changed, thanks in no small part to the efforts of Banks and Naomi. 'The Boss' competed in the very first post-Divas era title match, for the newly-renamed WWE Women's Championship. Naomi has competed in many WWE firsts, including the inaugural Women's Royal Rumble.
When The Sportsman caught up with the title-holding team, they were passionate about how far the women's game has come, and how much further it can go. Naomi told us, "I think it's gonna keep elevating. And I feel like the roster we have now in the women we have now everyone wants more, and everyone's pushing for more". The 34-year-old sees no reason women's wrestling cannot continue on an upward trajectory, adding, "As long as we continue to do that, and not take no for an answer and keep challenging them with these new ideas and these new visions, I think it'll just continue to grow. It may take longer. It may happen sooner, we don't know. But I think as long as we keep going and stay focused, things will continue to change."
After initially teaming together with Tamina as Team B.A.D., before splitting in 2016, Naomi and Sasha have carved out superb singles careers. Naomi is a former two-time SmackDown Women's Champion while Banks has become only the third Women's Grand Slam Champion in history. The duo have now pooled their talents to take over the tag team division.
It is an adjustment Naomi and Sasha have taken in their stride. As Naomi told us, "I think it is easier in a way when you are a singles competitor. because all you have to worry about and focus on is yourself. You don't have to ask the other person 'What's our style?'. I think that's what's so special about Sasha and I teaming up. It's so organic and natural and easy."
Believe this time
That I'm taking it personal ⭐️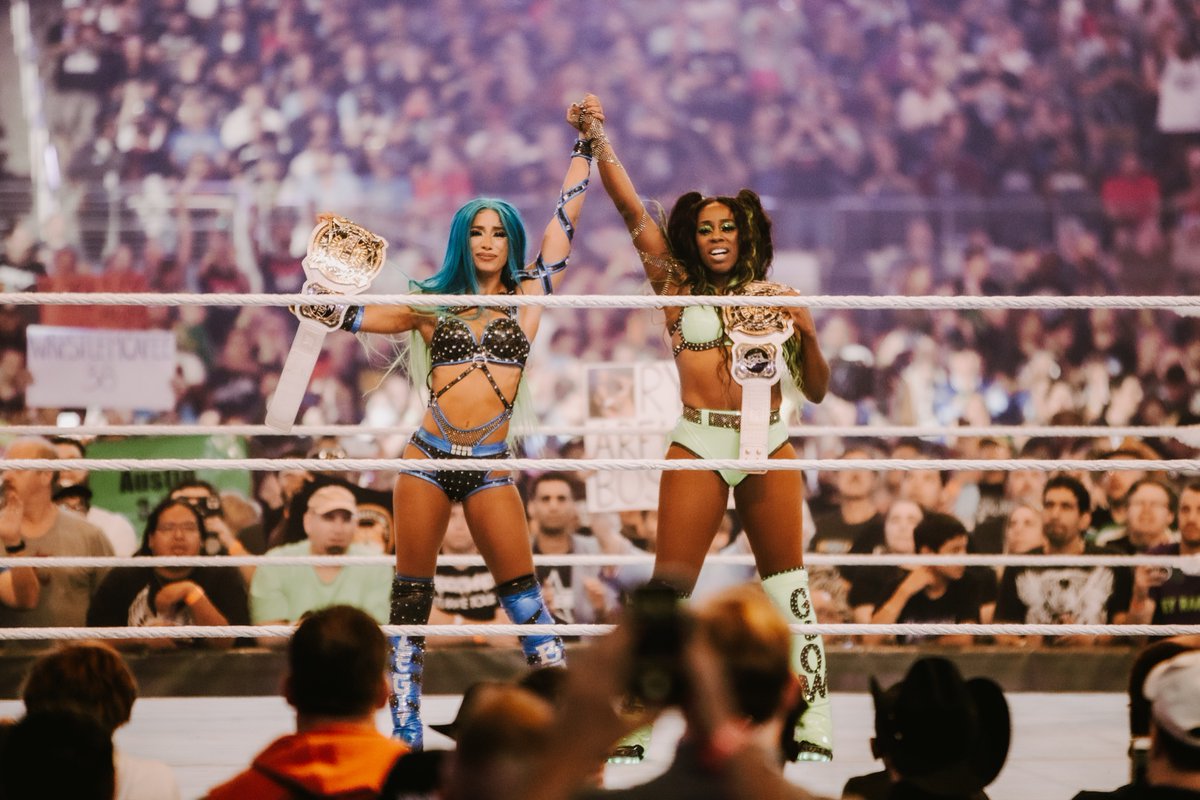 So what makes their chemistry so natural? Naomi continues, "We kind of think the same way. We collaborate so easily and I love that. And it's not always easy in a tag team, because you don't always have that flow and that vibe with each other. It's not always easy. You bump heads a lot, but I don't have that with her. I've never had that with her. That's why I knew that this would work."
Work it has, with the two superstars wasting no time in becoming the team to beat in their division. But as Naomi told the assembled press at the WWE press event ahead of their O2 Arena show in London last week, there are teams outside their division who they'd love to face. "We want RK-Bro! We want the Usos!". Sasha Banks was quick to point out her partner was not joking about these intergender dream matches. "We do want them, for real. I feel like we are the best tag team in the world. We have no competition. So we're looking for everybody. If there's any women in NXT:UK that want to come out tonight we will accept any challenge. We're just looking for anybody. So it's up to the competitors out there. We're looking for a fight so it's up to you."
Sasha might get her wish this coming September, when WWE stages Clash At The Castle. The event at Principality Stadium in Cardiff will be the biggest show the company has put on in the UK in 30 years. Naturally, the WWE Women's Tag Team Champions are excited by the prospect. Banks' passion shone through as she spoke, "I mean, I want to have a stadium show everywhere. I love travelling the world. But to hear that we're coming to Cardiff and we haven't been there in over 30 years. That is so exciting. I can't believe we're having multiple for me like mini-WrestleManias. It feels like from Saudi to Cardiff, WWE just keeps growing and getting bigger and bigger. I'm beyond excited, I can't wait for you know, for the show."
Considering their success since these two singles superstars formed their dream team, you wouldn't bet against the team of Naomi and Sasha Banks still going strong when Cardiff rolls around. RK-Bro and the Usos better watch their backs.