Football /
What Can Tottenham Expect From Juventus On Tuesday Evening?
The Turin side have lost in two of the last three finals of the competition
Juventus boss Massimiliano Allegri has become somewhat of a specialist when it comes to the Champions League. With a round of 16 tie versus Tottenham Hotspur on Tuesday evening, the 50-year-old has reached the knockout stages of the competition during the last eight consecutive seasons – four with AC Milan and four with the Bianconeri – becoming part of an elite group of bosses to have achieved a similar feat.
Indeed, only Arsene Wenger has notched up more consecutive entries into the latter stages of the competition with a staggering 14 between 2003/04 and 2016/17, with Jose Mourinho (2008/09-2014/15 with Chelsea), Carlo Ancelotti (2003/04-2007/08 with Milan), Alex Ferguson (2006/07-2010/11 with Manchester United) and Rafael Benitez (2003/04-2008/09 with Liverpool) lagging behind the current Juve boss.
That Allegri has reached the final twice in the last three seasons should give Spurs boss Mauricio Pochettino cause for concern ahead of the first leg in Turin on Tuesday evening, both Juventus and her Coach holding exactly the right pedigree to take the side forward in the competition. But what should Tottenham fans expect from Juve on Tuesday evening?
The first thing – as you may expect – is defence. Despite losing key man Leonardo Bonucci from the backline last summer, Juve have taken some time to regroup and now look as solid as ever. Thanks to improved performances from Medhi Benatia and the addition of full-back Mattia De Sciglio to the squad, along with the ever-reliable Giorgio Chiellini and Andrea Barzagli, Juve have conceded just one goal in the past 16 outings.
Buffon's game stats against Fiorentina:
Minutes played: 90
Shots faced: 2
Saves: 2
Passes: 27
PA%: 75%
Clearances: 1
Touches: 34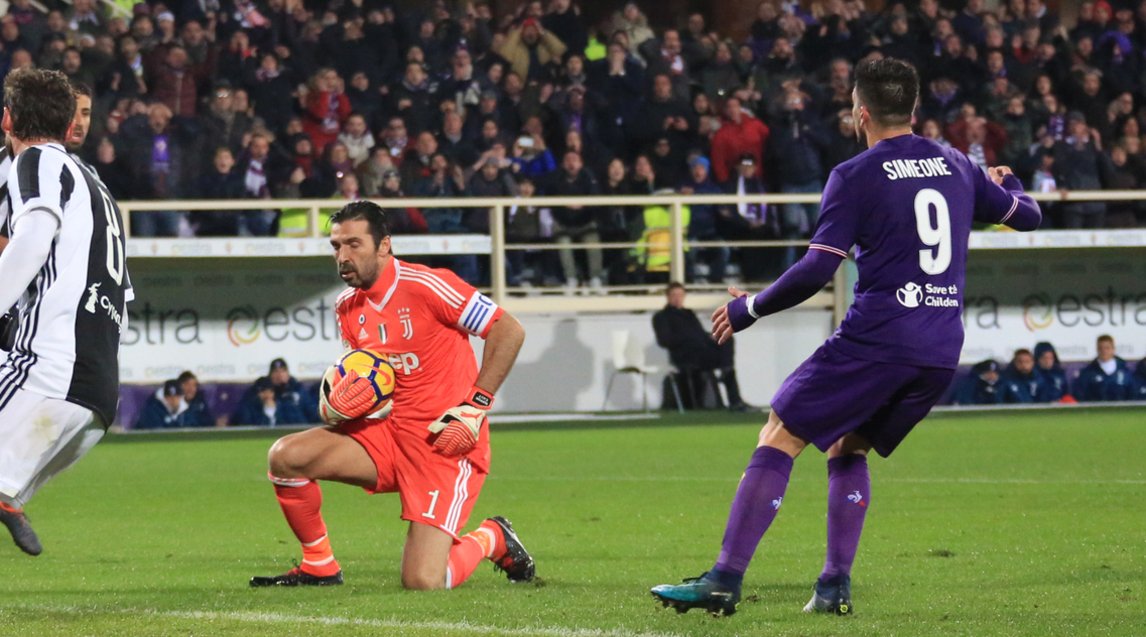 To rely on the old catenaccio stereotype would be a mistake, however, as the Old Lady have even outscored free-flowing Napoli in the league this term, trailing them by just one point in the league. After a slightly stuttering start to the campaign, Juventus also have the added bonus of an in-form Gonzalo Higuain, the €90 million striker having fired in six goals in his last four outings after a five-match goal drought.
Allegri has proved his tactical intelligence time and time again, something that his opposite number will undoubtedly be all-too-aware of. A switch away from the 3-5-2 formation just over a year ago to a 4-2-3-1 allowed Juve to reach a Champions League final encounter with Real Madrid, sweeping Barcelona aside with ease in the quarter-final.
Yet this season the tactician discovered that the two-man midfield was allowing teams to dominate the middle of the park far too easily, especially with the inclusion of a now pedestrian Sami Khedira in the side. From there he has used a variation of the 4-3-3 system, allowing Miralem Pjanic to showcase his quality in a deep-lying playmaker role.
As their match with Fiorentina showed last Friday, the Bianconeri don't always have to play well or even dominate possession to achieve the victory. That night they stormed to a 2-0 victory over the rivals that despise them the very most, despite only achieving 38% of the play and firing in four shots as opposed to 12 from the home side.
This ruthless efficiency has seen them score more goals (61) than any other side this term, yet have only taken the fifth-highest number of shots per game (16.1 on average) to achieve this mark. Of their total goals scored, a staggering 14 have come from a set piece, with Pjanic in particular expert in this field. 41 have come from open play, while the reigning champions – often accused of courting favour from referees – have only scored two from the penalty spot during 2017/18.
The loss of Paulo Dybala, nicknamed La Joya (the jewel), will be sorely felt as the attacker will likely miss out through injury, however, Juve are always ready with another trick up their sleeves. Winger Douglas Costa signed from Bayern Munich in the summer, and while he has initially been used sparingly by Allegri, his stats show what a true talent he is. The Brazilian leads the league in number of dribbles (3.2 per game), with Max Allegri's side topping the Serie A standings in this regard with an average of 12.8 per match as a team.
Put simply, Tottenham will have to be at their very best to knock out a team with such a strong winning mentality from the Champions League this year. No matter what the strengths of Harry Kane and co., last year's finalists will be extremely tough to beat.