Football /
What Chelsea Boss Maurizio Sarri Must Do Next Season To Reinvigorate A Misfiring Blues And Challenge Liverpool And Manchester City For Glory
Maurizio Sarri will need a strong end to the season to remain as Chelsea boss
Chelsea manager Maurizio Sarri will need a strong end to the season in order to maintain his job at Stamford Bridge. Whether success in the Europa League will be enough to stop Roman Abramovich and the Chelsea board sacking the Italian, one thing is for sure, should Sarri be at the west London club for the opening match next season then he must be willing to alter a few things that have come in for criticism this season.
We pick out some points that could help Sarri improve at the Blues:
Be Willing To Drop Jorginho
Arguably the most frustrating thing for Chelsea fans this season is Sarri's stubbornness. When things haven't been going well, Sarri has stuck with his tried and tested method of pretty much naming the same starting XI and Jorginho has certainly come in for major criticism for his performances at times this season.
Prior to Jorginho's arrival, N'Golo Kante was regarded as the best holding midfielder in world football and probably still is alongside Manchester City's Fernandinho. But, when Sarri arrived Kante was nudged forward in Chelsea's midfield and Jorginho was adopted as the wall ahead of the defence. Now, Jorginho's passing ability is far superior to that of Kante and he is the man that gets Chelsea on the front foot, but his ability to cut out danger isn't in the same stratosphere as Kante, whose innate nature to be in the right place at the right time is sensational, and if Jorginho fails to emulate Kante's defensive qualities then he must be switched.
Jorginho's passing statistics are scary at times, but he needs to improve defensively and if he doesn't then Sarri should give him a break.
A Premier League record has been broken! 🙌
Jorginho's 180 completed passes in Chelsea's draw with West Ham is a new high since records began.
The puppet master 👏
#BTSportScore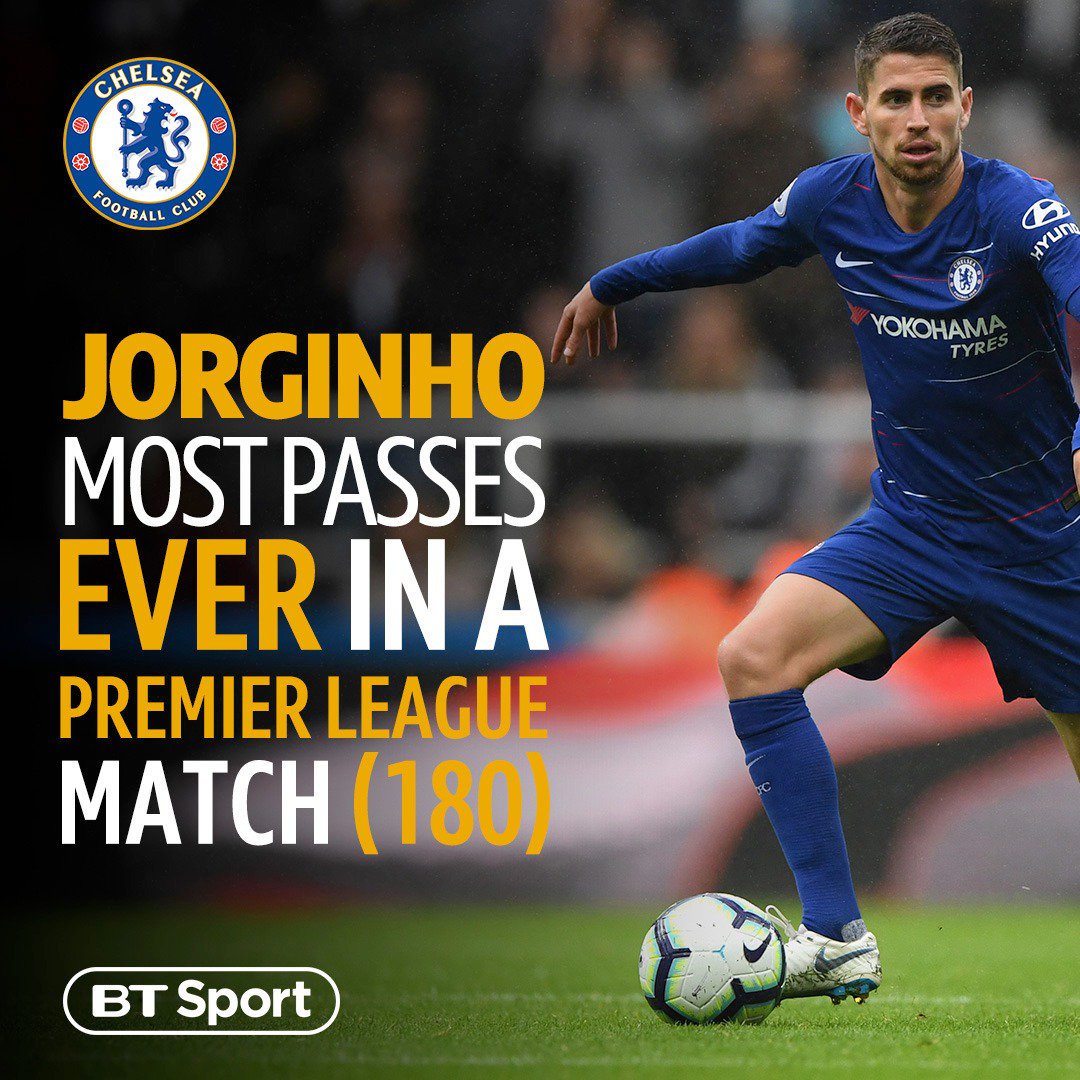 Show The Players Who Is Boss
A running theme at Chelsea in the Abramovich era is that the players have sometimes held more power than the manager. During the times of John Terry, Frank Lampard and Didier Drogba there were players that would help the manager get the players on side, but since the departure of that star triumvirate there have been some dark times and the farcical Carabao Cup final situation with Kepa Arrizabalaga and his unwillingness to come off when supposedly injured highlighted this.
Sarri's inability to stamp his authority on the Blues stopper left the veteran boss irate on the touchline as Arrizabalaga continued the game. If Sarri wants to improve the Blues squad then he must show the players that he is the main man at the club and players should act to his orders and not the other way round. Sarri is the right fit for Chelsea and it was always going to be tough on his first season, but he must spend the summer making sure that the players know he must be obeyed at all time.
Have Confidence In Youth
Chelsea's youth system has often been a feeder for other English football clubs, but it's time now that Sarri trusts some of the Blues youngsters and they have some exciting talents at their disposal.
Callum Hudson-Odoi has already gained a call-up from Gareth Southgate to the full England squad, but he still remains a bit-part player under Sarri, but the 18-year-old midfielder is good enough to be played in the Premier League, while Ethan Ampadu has shone in a Welsh national shirt, so is another that can galvanise a Blues side devoid of youth, and Sarri can next season trigger a new revolution at the Blues.
With a transfer ban running until 2020, Sarri will be forced to tinker with his current squad in order to gain the best results, and while Christian Pulisic will be an excellent addition to the squad, it's the likes of Hudson-Odoi and Ampadu that can help give a static Blues squad the lift it needs to get challenging for titles again.