The WSL champion has dominated the domestic game in recent years
16:03, 11 May 2022
Emma Hayes is one of the greatest football managers on the planet. Her success in the women's game has been remarkable and having lifted her third consecutive Women's Super League title with Chelsea, with an FA Cup final to come this weekend, can reflect on another dominant campaign in west London.
Hayes, who will celebrate her ten year anniversary as Chelsea manager this August, has repeatedly reiterated her desire to stay put given her long-standing affiliation with the club, but some suggest that the WSL, as a competitive division, needs her to leave.
It must be said that Chelsea haven't had things all their own way in recent years, only winning the title by a solitary point in both of the last two seasons, but Hayes' managerial ability has been a major factor behind their success. They are yet to taste Champions League glory, something that the gaffer will be desperate to rectify after their 4-0 defeat to Barcelona in the 2021 final and so there is still plenty of work to be done from a Blues perspective.
The WSL has also come on hugely in recent years and next term, we could see the most competitive title race yet. Chelsea and Arsenal are set to go again after strong campaigns, Manchester City finished the season in excellent form to secure third after an abysmal start and could yet win the FA Cup, while Manchester United had a season of transition under new boss Marc Skinner.
Tottenham Hotspur will be looking to close the gap while Liverpool's promotion from the Championship means that the big six clubs in the Premier League, all now have a stake in the top women's division - which can only be a good thing when it comes to finances.
To our fans, you matter. To our club, we are proud to represent you. To the staff, I am proud to work with you. To the players, I am proud to have the privilege to coach you. I love you Chelsea 💙 We know who we are.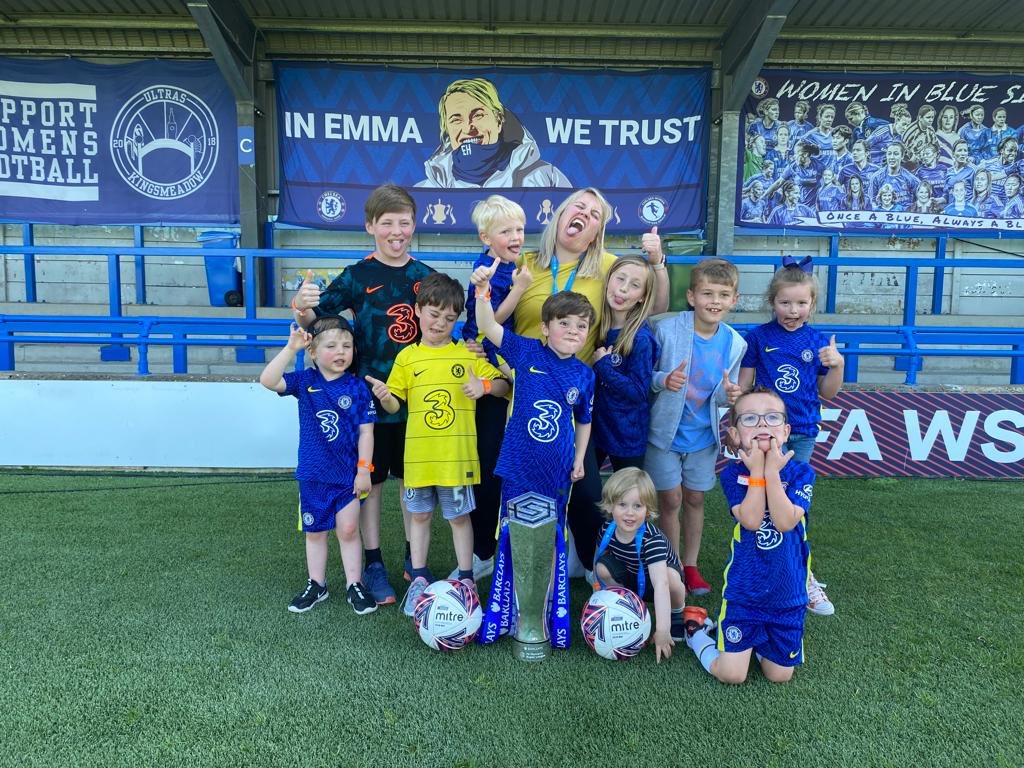 Remaining at the top of the pile is certainly the most favourable challenge for Hayes, but for many, she also has the chance to be a pioneer. She is by far the most likely woman to take on a men's team. She has all the credentials, the experience and the analysis - as we have seen on television - to make a real impact as a manager in the Premier League.
She has absolutely nothing to prove, and would deserve a top flight job based on her achievements with Chelsea, but changing perceptions of women in football from the other side of the fence could be her next challenge. However, she rightly believes that women's football is not a step down from men's football and for these reasons it's unlikely to see her departing in the near-future.
In 2021, she was linked with the AFC Wimbledon job, a League One side at the time, but dismissed the speculation, claiming it was an insult to her and women's sport.
"First of all, I am the manager of Chelsea. I manage and represent elite, world-class players and this for me is an amazing job. I've spent the last nine years cultivating all my energy into it," she told Sky Sports.
"I'm not looking for another job. I'm blessed with working with wonderful humans day in day out, and I think it's important for me to say this: when the football world is ready to adhere to the diversity codes, so that BAME communities plus women get the opportunities in men's football, I will see that as a step forward.
"This is not a conversation about Emma Hayes and AFC Wimbledon. We should be having larger conversations about creating opportunities across a diverse spectrum so that opportunities in the men's game are not limited to those in privileged positions.
"I don't know why anyone would think women's football is a step down [in comparison to men]. The football world needs to wake up. While the game is played by a different gender, it's exactly the same sport."
Thomas Tuchel. Emma Hayes.
Chelsea Football Club are 𝐛𝐥𝐞𝐬𝐬𝐞𝐝. 💙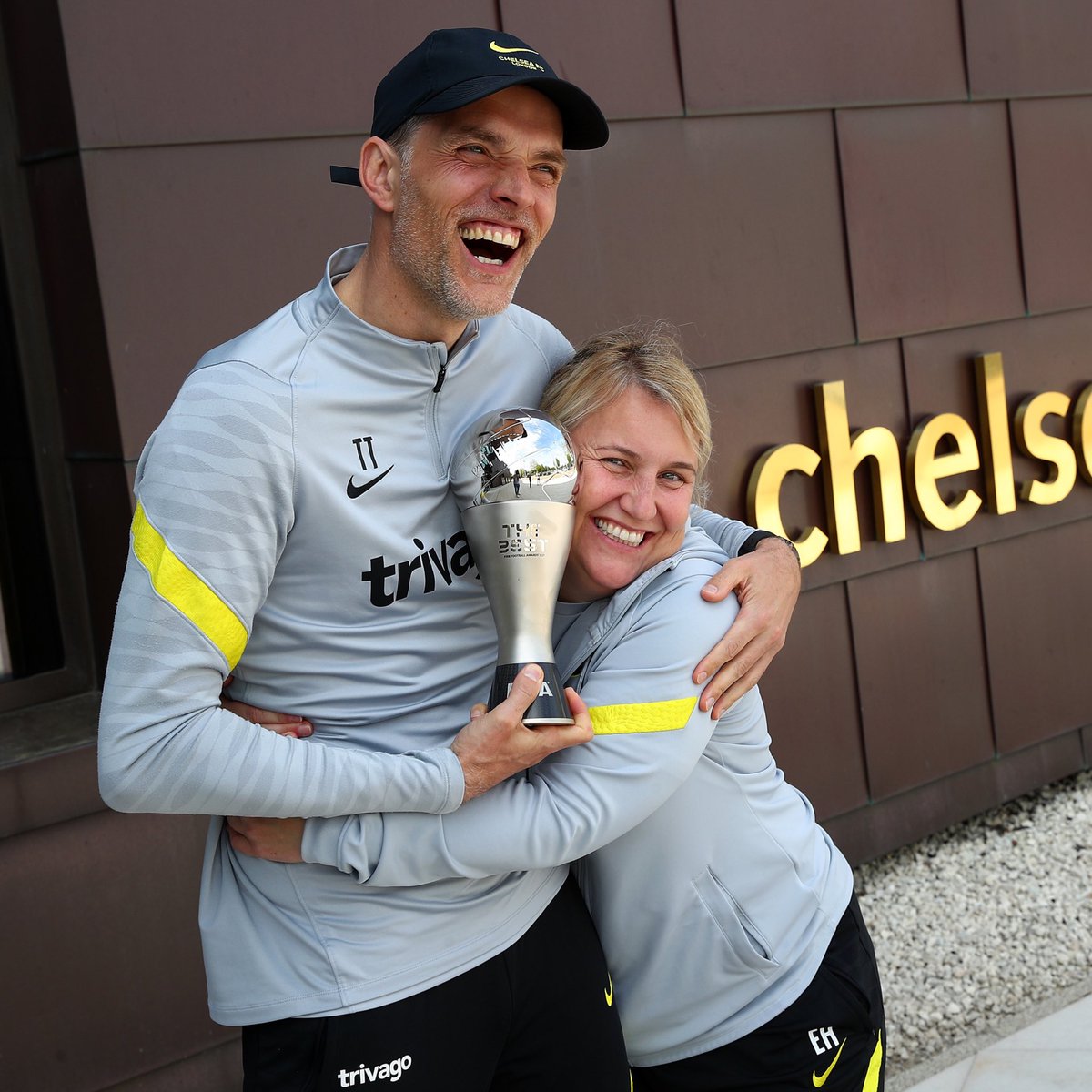 The 45-year-old is Mrs Chelsea. Not only has she carried the women's game forward but she's become part of the fabric of the football club. When you see the connection she has with men's manager Thomas Tuchel, and the chat that Mikel Arteta and Jonas Eidevall had on the pitch at Arsenal, you can begin to see the progress we want to see in the sport.
If you support one of these clubs, you don't just support the men's team. The definitive barriers between the sexes are being slowly broken down and the knowledge and profile of the women's teams is increasing. With Euro 2022 coming this summer, interest is only set to rise and with the big six now all in the WSL, it should grow further domestically too.
So, when should Emma Hayes leave Chelsea and the WSL behind? Simple - she shouldn't.
Her work inside the women's game has been second to none and she doesn't have to manage a men's team to change perceptions of women in football. Instead, she can continue to ply her trade in a division that is growing stronger every season. There will be a female manager in the Premier League one day, but it should be on their terms.