The Reds boss managed Dortmund between 2008 and 2015 and gave Gotze his debut
13:01, 11 Jan 2020
Unless you're talking about football, cats or food, I have the shortest attention spell. Seriously. So when we got given Scrabble for Christmas, my husband had to find a way to make it entertaining to me. We ended up playing a version where you can just make up words with the letters - any word counts, as long as you can define it and it sounds reasonable.
One of my words was 'huggle' a hybrid of a hug and a cuddle, as seen from Jurgen Klopp on football touchlines everywhere. Who wouldn't want one?
Klopp loves his huggles and players love getting them from him. He's a generous guy with the huggles and gives them out regularly, but one guy who shoots to the top of the list for them is Mario Gotze. Klopp and Gotze of course go way back, with Klopp having managed Gotze at Borussia Dortmund and giving him his debut at only 17-years-old.
The pair worked well together - so well that Gotze and Klopp have been linked with a reunion every since parting ways. Gotze speaks glowingly of his former manager, about how he has helped him on and off the field. Giving him a debut was one thing, but offering to save the number of his hair transplant specialist, well that's real dedication to the relationship.
Now, with Gotze set to leave BVB yet again this summer - and on a free no less, it could well be the perfect storm for the duo to reunite. Klopp has previously expressed interest in bringing Gotze to Liverpool, though he decided to rejoin BVB instead. Now, a new challenge is on the horizon and where better than not only the best league in the world but the best team in the world?
Klopp knows that to keep a title-winning team fresh and improve them season on season, you have to bring in new blood. At 27, Gotze isn't a spring chicken, but he's still got plenty left in the tank, and with a manager who knows how he ticks and an incredible challenge on the horizon if he does decide to push for a move to Liverpool, it could be a whole new chapter for him.
Liverpool are thought to be worried about the future of Adam Lallana, with Lallana hinting at a move away in the summer given his lack of playing time, so would Gotze not be an ideal replacement? Someone who is a playmaker but comfortable playing any attacking role in the middle of the park, and who has a penchant for dribbling and trickery?
According to Bild, Mario Gotze will leave Dortmund on a free transfer this summer, opting not to extend his deal despite fresh terms.
We wanted him back in 2016 and he played his best football under Klopp — would you take a punt on the 27-year-old? Or is he not good enough?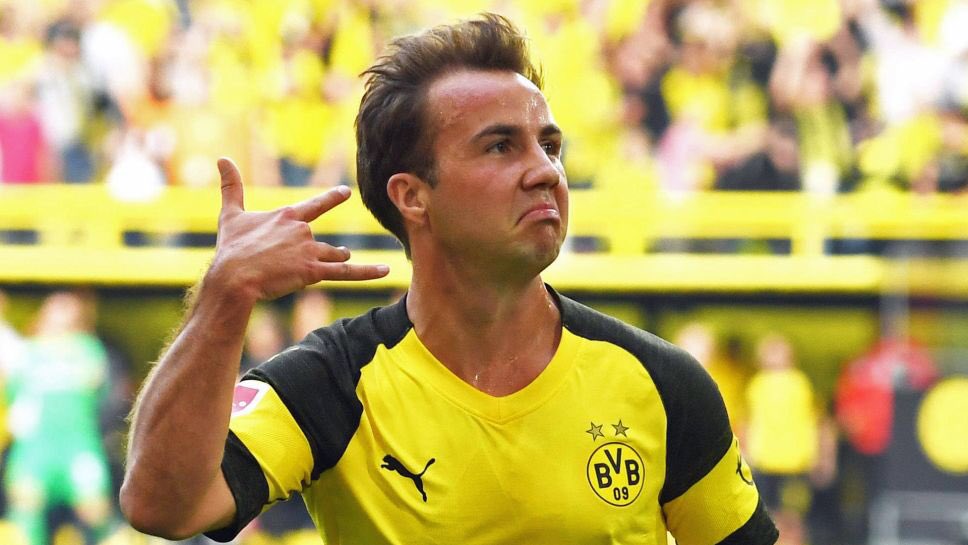 Lallana has been a brilliant servant for Liverpool, there's absolutely no doubt, but there is also the argument that Gotze would be an upgrade, with the player himself aware he won't necessarily be playing 90 minutes per week, every single game, but part of a squad who get rotated and who are competing for trophies on multiple fronts.
Gotze was hailed as one of the great prospects of a generation, yet niggling injury issues have always plagued him and there is a sense that he hasn't lived up to what people expected from him. Someone who was called a "once in a generation" talent by Felix Magath and who turned a World Cup final on its head after being told to "show you are better than Messi" by German coach Joachim Low.
It has, of course, emerged that he suffers from a rare metabolic illness, which impacts his weight gain and loss, not to mention his energy levels - but it can be managed and has been. That's why a role at Liverpool where he can be used sparingly at times and to help the squad is far more ideal for him than going to a club where he's expected to be the main man.
Being one cog of many on a 24-carat gold working wheel is sometimes better than being the main cog on a wheel that needs maintenance monthly - and the fact he will be available on a free makes it even better for Liverpool, who are of course cautious to balance their books.
For a player who promised so much and has won far more than people realise, going to the Premier League and having a shot at that could be the final chapter in an amazing story - and who better to share it with than the huggle master himself, Klopp.
In case you wondered, the 'make up your own Scrabble' game entertained me for about ten minutes and one gin. I suspect the Gotze to Liverpool saga will keep me entertained for far longer.