Lessons must be learnt in wake of fourth test disappointment
14:15, 09 Sep 2019
It might well have been a headline from 2019. That famous obituary we all know so well, written after the mock 'death' of English cricket in 1882 when Australia first triumphed at The Oval: 'The body will be cremated, and the ashes taken to Australia.'
The rivalry, and even the name 'the Ashes', was born. A century and a half on, defeats to no other team prompt the same degree of English soul-searching, as losing to the Baggy Green inspires.
No, it wasn't enough to stop play for bad light, but a darkness started to descend over Old Trafford as the tail-end's resistance crumbled on Sunday evening. There are serious questions for the ECB to answer now that the little urn is staying Down Under.
But here's the good news - England are the newly-crowned specialists at bouncing back from disaster. It's impossible to fully appreciate this summer's World Cup triumph without looking back to 2015 and that most humiliating of defeats against New Zealand.
What followed was a conscious decision to embrace Eoin Morgan's swashbuckling strategy, to prioritise ODI cricket, and to replace Peter Moores with Trevor Bayliss. Is the same possible with the Test format? Can England just 'decide' to become good at Tests again? Well, coincidentally, 2015 also marked a nadir for Australia.
Australia's example
When they suffered yet another embarrassment on English soil – the low point coming as they were sent packing for 60 all out at Trent Bridge – they embarked on a plan to right their own wrongs.
Ashes series aren't won by accident. Australia's problems with the moving ball led to the decision to introduce the Dukes ball for some Sheffield Shield matches, to better prepare players for batting in England.
More recently, Josh Hazlewood was left out of the World Cup squad, despite protesting that he had recovered from the back injury he suffered in the New Year, so he could be well-rested for the start of the Ashes. After missing out at Edgbaston, he took three wickets Lord's, nine at Headingley, and six at Old Trafford.
Instead of rolling over outclassed English counties in meaningless warm-up matches, Australia's full squad played each other so they could all get used to the conditions.
Where do England go from here?
As for England, one of the most obvious problems that could, in theory, be addressed straight away next season is the fact that their players so rarely play more than a day's cricket.
In almost five years, Joe Root has played nine County Championship matches. Since the summer of 2017, Jason Roy, who arguably needs a few four-day games under his belt the most, has featured in seven.
Our Aussies come out on top in another gripping
#Ashes
contest! The urn has been retained, but a series win remains up for grabs at The Oval!
#CmonAussie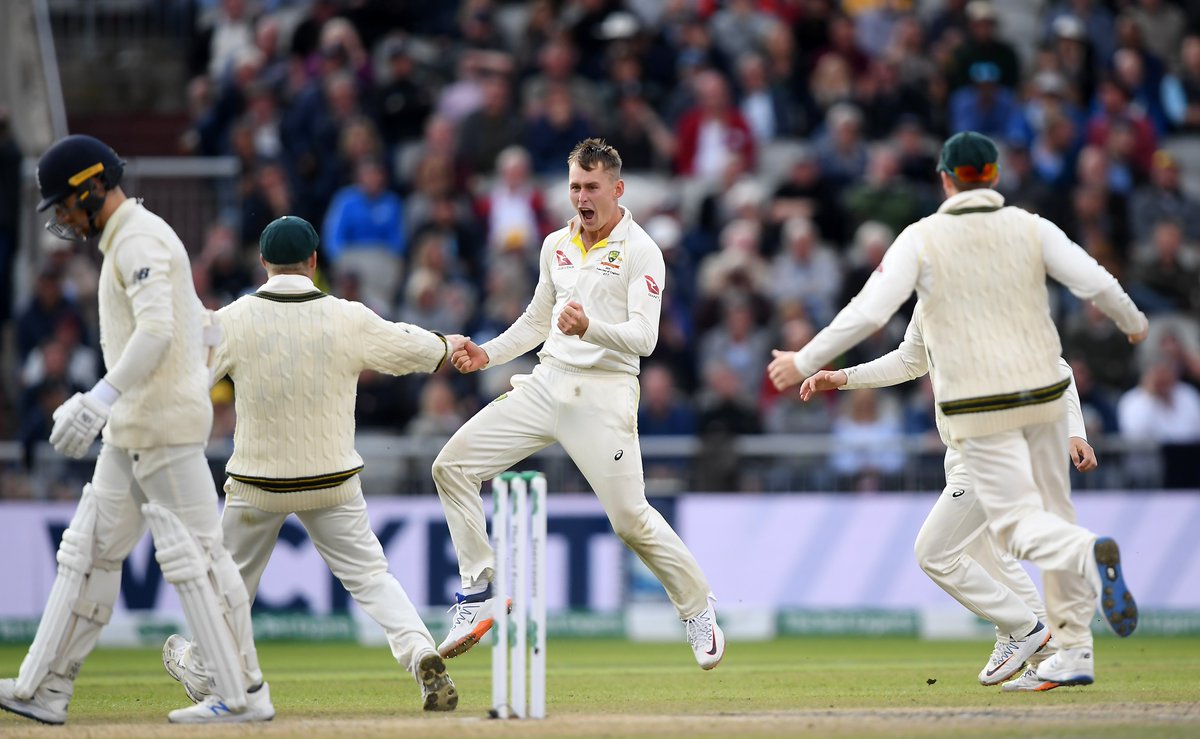 If it is accepted that the Roy experiment has failed, wherever he bats in the order, then Warwickshire's Dom Sibley is no doubt the next candidate to make the step up. The right-hander hit a double century against Kent last month and has a first-class career average of 38.6.
There are no guarantees it will work. Rory Burns, probably the County Championship's best batsman, has found international cricket difficult, bar one or two impressive innings. The Surrey opener has done enough to keep his place, but so had Keaton Jennings in his early days. It is a situation that will continue to be monitored going forward.
Yet England must find another batsman from somewhere. They have been dismissed for double figures twice in six weeks, first against Ireland and latterly against Australia. Their total of 67 was their lowest Ashes score since 1948 and their 10th lowest of all-time against any opponent.
With that in mind, they have to persist with five batsmen, a wicketkeeper-batsman, an all-rounder, and four bowlers. At the same time, that makes it difficult for Ben Foakes to come back into the fold.
The ECB have grown tired of the dilemma regarding who opens, much like the public at large. In the selectors' defence, it looks increasingly like there will be no quick fix and systematic changes will instead be needed.
They intend to appoint another coach who will oversee all formats. That, in itself, will raise eyebrows. They might start by seeking one who firstly, knows which county each player represents. Bayliss' obliviousness in that regard was reportedly met with astonishment by new call-ups.
The departing coach seems non-plussed at the mixed legacy he leaves behind, though a kinder way of putting it would be to say he looks exhausted by a gruelling schedule with no let-ups for the staff.
'Who did we beat? England!' screeched the Aussies as they celebrated on the outfield. 'How did we do it? Easy!'
Thank God it was easy, or else nothing would ever change.