The England U21 international has been in great form for The Toffees
09:01, 26 Oct 2019
All managers need one moment in which the plan crystallises, one match that sets a tactical template for future performances and for their project to get started. That game, after 53 in charge, may finally have come for Marco Silva at Everton.
Silva has many critics, and understandably so. Success has been fleeting for a man sacked by Watford and relegated at Hull City, whose oddly aimless stint in charge of Everton already surpasses the combined total of matches racked up in his two previous jobs in England.
Both Hull and Watford were exciting for short periods at the beginning of his tenure. Initial fast-paced attacks and flowing possession eventually gave way to poor defending, waning energy, and frequent set-piece concession. All that is alarmingly familiar to Everton fans, albeit without the early flurry of good form; the Toffees finished eighth last season and are currently just two points above the drop zone.
But last weekend's 2-0 win over West Ham could be the turning point. For the very first time Everton produced a performance that was indicative of what Silva has been trying to achieve tactically. It could be the start of something significant.
Silva's approach is relatively similar to Mauricio Pochettino's. He prioritises very high pressing with narrow attacking lines; the wingers and forwards are intended to bunch together in the central column of the pitch to create multiple short-passing options. The idea is to pummel through opponents with aggressive and energetic counter-pressing football.
The full-backs are particularly important, just as they are for Pochettino, because the number of bodies in central areas pulls the opposition defence inwards, in turn creating space for full-backs to bomb forward and dominate proceedings. Andy Robertson and Jose Holebas, at Hull and Watford respectively, were Silva's most valuable players just as Lucas Digne now stands out at Goodison Park.
Naturally, such frenetic tactics require a particularly bold, progressive kind of footballer, characteristics that tend to define Silva's signings so far. Moise Kean has a certain rawness to him, while Alex Iwobi, Fabian Delph and Richarlison all constantly look for the quick forward pass rather than the sideways one.
However, Everton haven't taken on Silva's characteristics just yet, primarily because the squad is littered with players unsuited to his methods – a side-effect of the board's erratic managerial record in recent years. Silva, Sam Allardyce and Ronald Koeman could hardly be more stylistically different from one another. In practical terms, it means Silva has had to deal with a Koeman-esque sideways-passer in Morgan Schneiderlin, a one-dimensional Allardyce winger in Theo Walcott, and a Koeman luxury number 10 in Gylfi Sigurdsson.
EPL | 🏴󠁧󠁢󠁥󠁮󠁧󠁿 Tom Davies (21) with his first start Prem start of the season vs. West Ham. ⤵️
✅ 90 minutes
🚫 Clean sheet
💪 13 ball recoveries
🦶 1 blocked shot
🎯 85% pass completion
Coming off wearing the armband for the 🏴󠁧󠁢󠁥󠁮󠁧󠁿 U21s, he helps get a much needed win for the Toffees! 🔵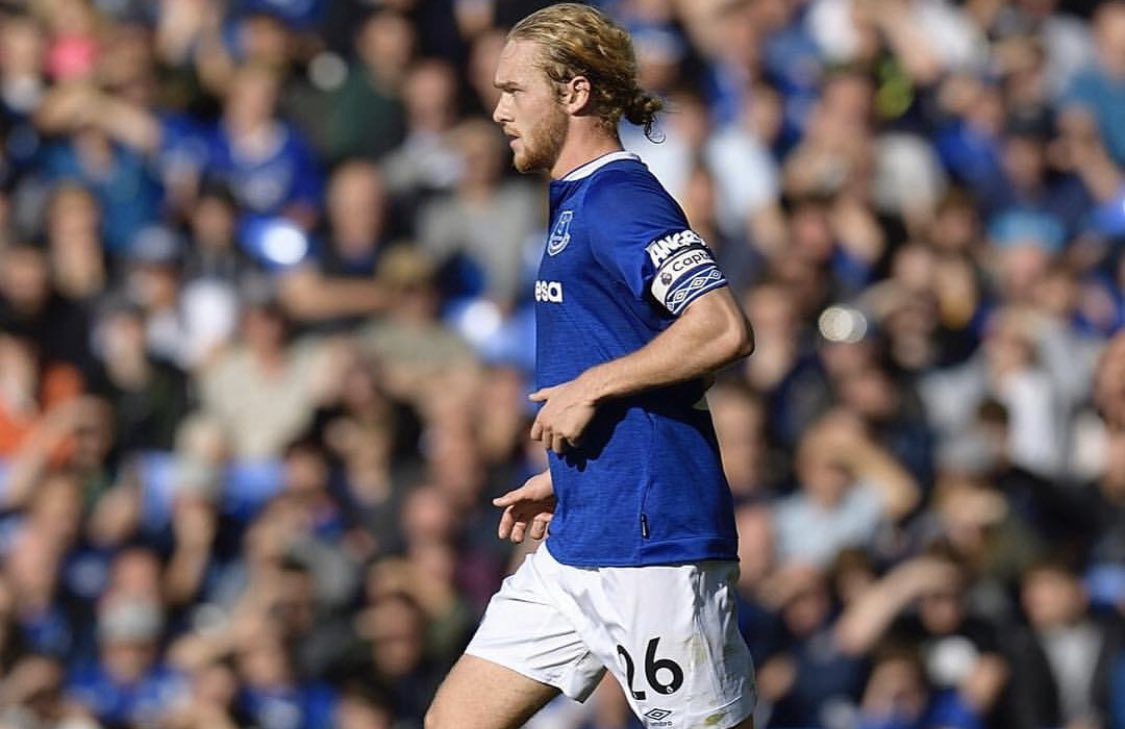 Everton's squad is gradually looking more suited to Silva's philosophy (reason alone to stick with the Portuguese, rather than lurch in a different tactical direction and repeat the cycle) and yet it is an academy product thus far overlooked by Silva who holds the key to getting his tenure up and running.
Tom Davies was exceptional on Saturday. He completed more passes (35) and recovered the ball more times (13) than any other player on the pitch in an all-action midfield performance that built on a strong showing for the England under-21s during the international break.
Behind the numbers, what Davies gave Everton was a constant desire to play a forward pass, to split the opposition lines. He always had his head up, playing with a youthful energy that kept the hosts on the front foot and injected an infectious attacking energy into the side. Richarlison, Iwobi and Walcott were dangerous as a fluid front three precisely because Davies looked to feed them over and over again.
The difference between - when under pressure - playing a simple ten-yard ball back to the centre-half and wriggling free to make a five-yard diagonal forward might look small, but it dramatically reshapes the match. It's the reason Fabinho's introduction at Liverpool has seen them become one of the world's best clubs; it's the reason why Frank Lampard's new instructions to Jorginho have reversed Chelsea fans' perception of the Italian; it's the reason why Fernandinho's presence in the Man City midfield has been the centre-point of the Pep Guardiola era.
Davies plays much higher up the pitch than those three, of course, and indeed the 21-year-old's positional indiscipline is the main reason Silva has overlooked him over the last 15 months. Certainly he needs to learn when to chase the ball down and when to fall back into shape, but a solid defensive performance against West Ham suggests he is learning.
And learning on the job has to be the way forward now. Saturday was evidence he is just the assertive ball-playing midfielder Silva needs to kick-start his high-pressing attacking football. With Djibril Sidibe aggressively overlapping from the right and Richarlison looking the part as a centre-forward, the Everton manager has finally stumbled upon a winning formula. Victory at Brighton this weekend could put them within touching distance of fourth. There is plenty of time for Silva and Everton to work out.