In Salernitana, Ribery has found a club at which he may be able to once again play a key role for​
12:58, 09 Sep 2021
It's Saturday 25 May 2013. Injury time is approaching in the Uefa Champions League final at Wembley. An extra 30 minutes looms, with Borussia Dortmund and Bayern Munich locked at 1-1.
From a chipped ball through the centre, Franck Ribery controls with his thigh and spots Arjen Robben making a run alongside him. The Frenchman's clever backheel takes a deflection off Lukasz Piszczek and runs into Robben's path. Robben takes a couple of touches and then slides home the winner.
For the first time in his career, Ribery is a European champion.
Over in Salerno in southern Italy, Salernitana are celebrating having just been promoted for the second time in successive seasons following their 2011 reformation in the fifth tier. After years of financial troubles, including bankruptcy and eventual expulsion from the Italian football pyramid, the Granata are finally beginning to come out of the other side.
Of course, Ribery's career since then has remained a glittering run of success. Another six league titles, three domestic cups and three Super Cups, a Club World Cup and a whole bunch of personal accolades came the way of the winger after that famous night at Wembley. One thing he didn't win, though, was the Ballon d'Or. And it was a controversial result which denied him.
Ribery was edged into third place in 2013 as the cult of personality around Cristiano Ronaldo and Lionel Messi hit its height. Ronaldo won the golden ball award having scored 55 goals in all competitions for Real Madrid in 2012-13 but won exactly zero trophies with Los Blancos. It was considered that the Portuguese's wonderful hat-trick in a World Cup play-off against Sweden had tipped the scales in his favour, but even then Messi came in second after scoring 60 goals in a Barcelona team which won the league and cup double in Spain.
The Frenchman, though, had been the key man behind Bayern's treble success. He didn't score many goals, but he was involved in all the biggest moments as FC Hollywood pipped a superb Dortmund side to the DFB-Pokal and Champions League and restricted them to second spot in the Bundesliga. This was the peak of his career, and for many watching on, his lack of Ballon d'Or recognition was a robbery.
Ribery and Robben had become a golden double act. Football's on-field power couple. If Ribery didn't get you, Robben would. Their fortunes generally ran in line with Bayern's. They even left the club at the same time. Robben headed back to his roots at FC Groningen in 2019 while Ribery left the Allianz Arena that same summer for Fiorentina.
After two moderately successful seasons at the Artemio Franchi, it was expected that 2021 would bring a retirement announcement from the 38-year-old. But he, and Salernitana, had other things in mind.
You see, while Ribery's career had begun to wind down, Salernitana's rise was gradually continuing. Their third promotion in four years in 2015 had led to them becoming Serie B regulars, and in 2020-21 they had appointed journeyman coach Fabrizio Castori to his 26th career managerial role, and his third stint in Salerno alone. The result was a phenomenally successful season, with a 3-0 win at Pescara on the final day of the campaign confirming their automatic promotion to Serie A.
After 23 troubled years away from the top flight, the last thing they needed was more off-the-field rancour, but there was a giant black cloud hanging over their promotion. Their owner, Claudio Lotito, also owned Lazio, and Italian football rules prohibit stakes in multiple clubs in the same division. Salernitana had 30 days to find a solution.
Soon after it was announced that Lotito was no longer on the scene at the Stadio Arechi, with a new sole director appointed to deal with the sale of the club and keep them on an even keel. Since then they have gone on a spending spree, snapping up 23 new players with Ribery the latest.
This might not be quite the swansong some would expect either, for his one-year deal worth around £1.2m also has the option of a second season, taking him up to the age of 40.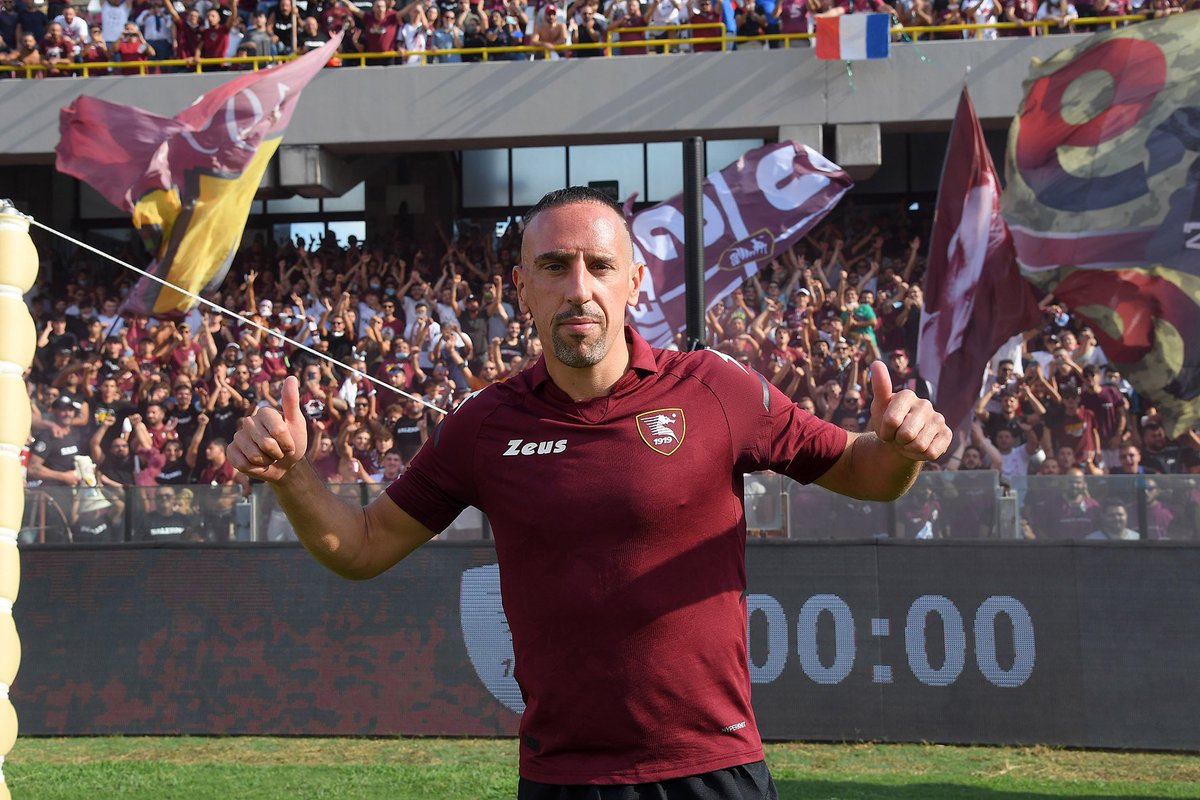 For some, a final farewell back at Bayern – who were reportedly interested in offering just that – may have been a more fitting end to Ribery's career. But in Salernitana, Ribery has found a club at which he may be able to once again play a key role for.
Given the career he's had and the lack of credit he has sometimes received, he deserves a fitting finale. And following the trials and tribulations Salernitana fans have been through, the thought of seeing Ribery working his magic for a couple of years might just make all the years of struggle worthwhile.