The computerised event is standing in for the Aintree spectacular
14:00, 03 Apr 2020
Perhaps the greatest tragedy of this extended break without any kind of sport (strictly from a sporting perspective, of course), is the fact that we could have been robbed of a once-in-a-generational event in racing - as Tiger Roll would have been bidding to become just the second horse in history to win the Grand National three times.
The fact that everybody still talks about the great Red Rum, the only horse to achieve the feat thus far, gives you some perspective as to why this feels like such a missed opportunity for racing - as it's now well over 40 years since the gelding wrote his name into sporting folklore.
Whether that feat was a realistic hope or merely a pipe-dream looks set to be answered by a computer this Saturday at 5pm on ITV, when 40 virtual horses will take to the racetrack to compete in the Virtual Grand National. The race is devised of the field which would most likely have taken part in the real-life equivalent, and the simulation will attempt to predict what could have happened had we not have been robbed of the spectacle by the current coronavirus pandemic.
Along with being moved to the broadcast slot that's typically reserved for the Grand National itself on Saturday evening, punters will be able to bet on the race online with major bookmakers, with stakes limited to £10 per horse, or £10 each-way. It will serve a noble purpose, too, with the gambling industry pledging all of its profits from the event to NHS charities.
A 'Grand National' is surely better than no Grand National as far as racing is concerned, particularly when you consider the fact that the sport is finding it harder and harder to break into the sporting mainstream these days. Indeed, organisations like the BBC continue to scale-back their coverage of racing, meaning that the Grand National, alongside Royal Ascot and the Cheltenham Festival, are the three remaining events that truly prompt the nation to sit up and take notice on an annual basis.
There will always be exceptions of course, such as the unbeaten superstar Frankel or the 'Hollywood' story behind the Welsh Grand National winner Dream Alliance which prompted a feature film, but nothing captures the imagination of the public quite like the Aintree spectacular.
Run over an extreme distance of four and a quarter miles, the Grand National is the toughest test in horse racing, and although they were scaled back for safety reasons in 2013, Aintree's unique fences provide an examination of jumping like no other. Indeed, merely getting a run is an achievement in itself for most yards, giving an insight into just how difficult this race is to win - never mind win twice.
🏇📺THE VIRTUAL GRAND NATIONAL 📺🏇
Watch the Virtual Grand National LIVE this weekend on
@ITV
!
As ever
@nickluck
will host the show and will be joined by
@aliceplunkett
and Richard Pitman on Saturday evening
Read more here:
📅 Saturday
⏰ 5PM
📺@ITV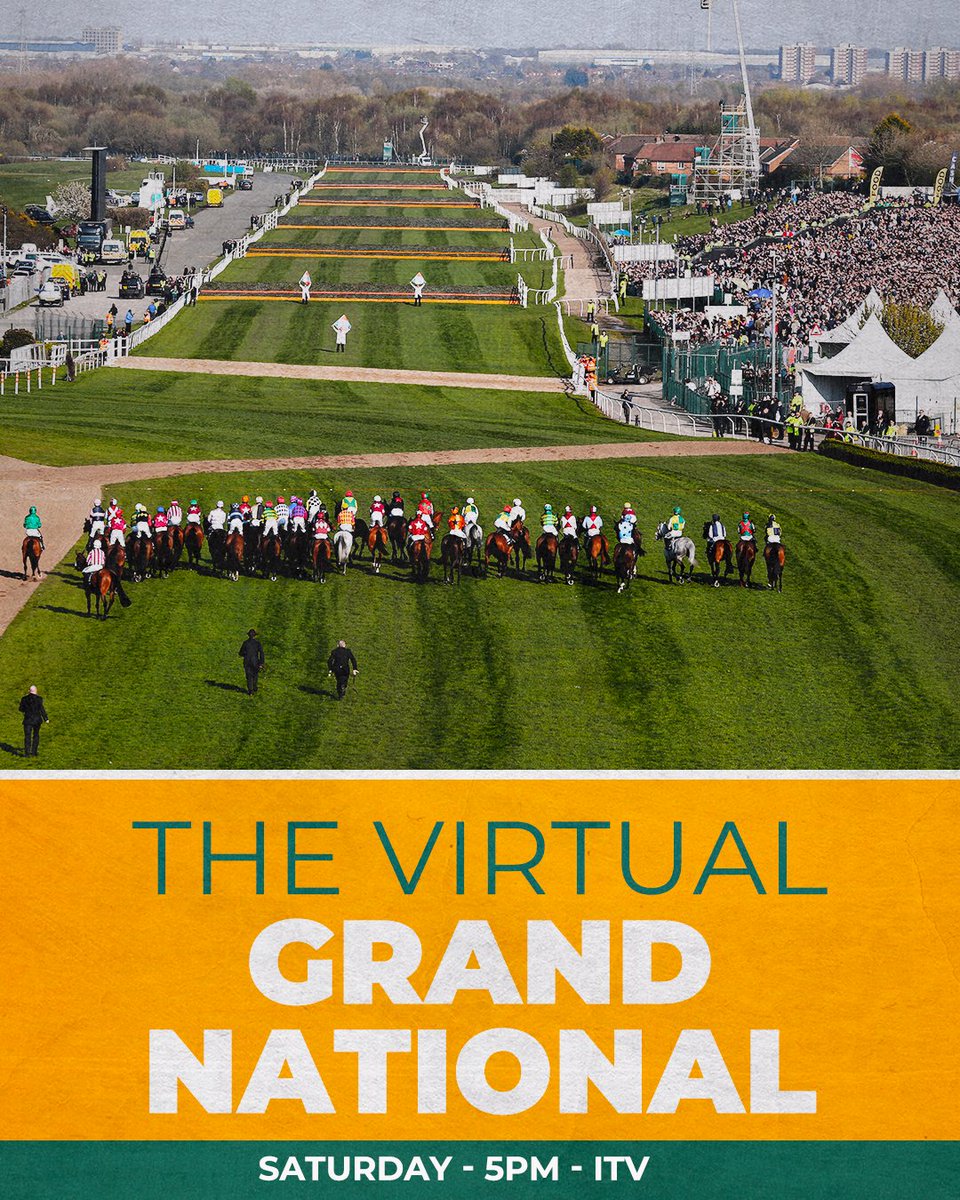 Tiger Roll is a total one-off; he was bred to race over much shorter distances on the Flat (races which are designed for speed over stamina, and don't require you to jump any fences), while he very publicly fell out of love with the game four years ago as a six-year-old, setting in motion a switch to this most unlikely of career paths. As with Dream Alliance, his origin story is fit for a Marvel comic, and he became the first horse since Red Rum to win back-to-back renewals of this race 12 months ago.
Saturday's race would have seen the rarest of attempts being made, and although it's not to say that Tiger Roll can't come back next year as an 11-year-old and try again - much like Red Rum did - he will be firmly in the veteran stage of his career by then, and this was his realistic chance at having a bite of that historic cherry.
It leaves us searching for closure, which is where the Virtual Grand National can potentially step into the void. Computerised horse racing has traditionally been shelved away as something only ever taken seriously by those consumed by the lures of gambling, but much like with expected goals in football, there is certainly a place for stats to take their place - particularly in such a data-driven sport like horse racing.
First televised in 2017, the race traditionally airs the night before the National, and serves as a warm-up to the big event, giving punters a rather unique prediction as to how the race may pan out. The computer takes into account all manner of details, including things like the horse's form, the weight he/she will be asked to carry, and the jockeys' respective records at Aintree.
It was originally scoffed at as no more than a sideshow, but the computer has proven to be remarkably accurate so far, first picking out a horse called Cause Of Causes in 2017 - who would go on to finish an honourable second in the race itself. The prediction was even more remarkable 12 months later, too, as not only did the computer correctly select Tiger Roll to come out on top, the animation of his victory played out in almost identical circumstances to his real-life triumph. The computer then backed that up by correctly selecting three of the first five finishers last year, and people are now really starting to sit up and take notice.
This year's event is already serving a wonderful purpose with its charitable contribution, but apart from offering the public some relief and familiarity in troubling times, this animated race could well be the best shot we'll get at getting a solution to a question which would otherwise go unanswered.