Why Jimmy Anderson Should Be A Contender For The BBC Sports Personality Of The Year
12:43, 15 Aug 2018
Jimmy Anderson should be a leading contender to claim the most coveted end-of-year prize on offer in British sport – the BBC Sport's Personality of the Year.
It has already been a successful eight months of 2018 for British sport, and with the Ryder Cup, David Cup and US Open tennis, the women's T20 World Cup and the conclusion of Formula 1 among the major events still to come, there are likely to be plenty of candidates for the top accolade. Certainly, cyclist Geraint Thomas could strengthen his cause considerably were he to follow Tour de France success with victories in either La Vuelta a Espana – should he pursue it – or Tour of Britain.
England's World Cup stars are likely to be given recognition after their run to the semi-finals – although it is perhaps manager Gareth Southgate who proved the country's most iconic figure in the summer – while there'll be plaudits for triple European champion Dina Asher-Smith, swimmer Adam Peaty and boxer Anthony Joshua, should he retain his belts next month.
However, it is time for one of the country's greatest ever sportsmen to be given the wider national recognition his career deserves. James Anderson has been doing amazing things with a cricket ball for more than a decade now and continues to defy expectations with his brilliance, despite his advancing years.
He is moving further and further ahead as England's leading Test wicket-taker and became the first cricketer other than Sri Lanka's Muttiah Muralitharan to claim 100 dismissals at a single venue during England's one-sided victory in the second Test against India earlier this week, at Lord's.
Anderson was once again imperious, dismantling the world's number one side with match figures of 9-43. His outstanding first innings spell of 5-20 – albeit in helpful conditions – was as masterful as you'll ever see from a swing bowler. He remains the best in his field across the world and is almost irreplaceable in the England side unless an outstanding pretender emerges from seemingly nowhere.
At 36-years-old, Anderson is showing no signs of diminishing. His 141st Test match was among his finest and the way he worked over opener Murali Vijay in both innings to dismiss him for a pair was as good as you'll ever see in English conditions.
Anderson's next challenge, as well as helping England to what looks a certain series victory with three to play, is to become the world's most lethal pace bowler ever. On 553 Test wickets, the Lancashire ace is just 10 behind the current leader – Australian legend Glenn McGrath. Only three spinners – Muralitharan as the leader (800), Shane Warne (708) and Anil Kumble (619) sit above him. With coach Trevor Bayliss insistent Anderson can go on playing for three-four more years yet, Kumble should be looking over his shoulder.
Most wickets by a fast bowler against India:
95 Jimmy Anderson
94 Imran Khan
76 Malcolm Marshall
67 Andy Roberts
🐐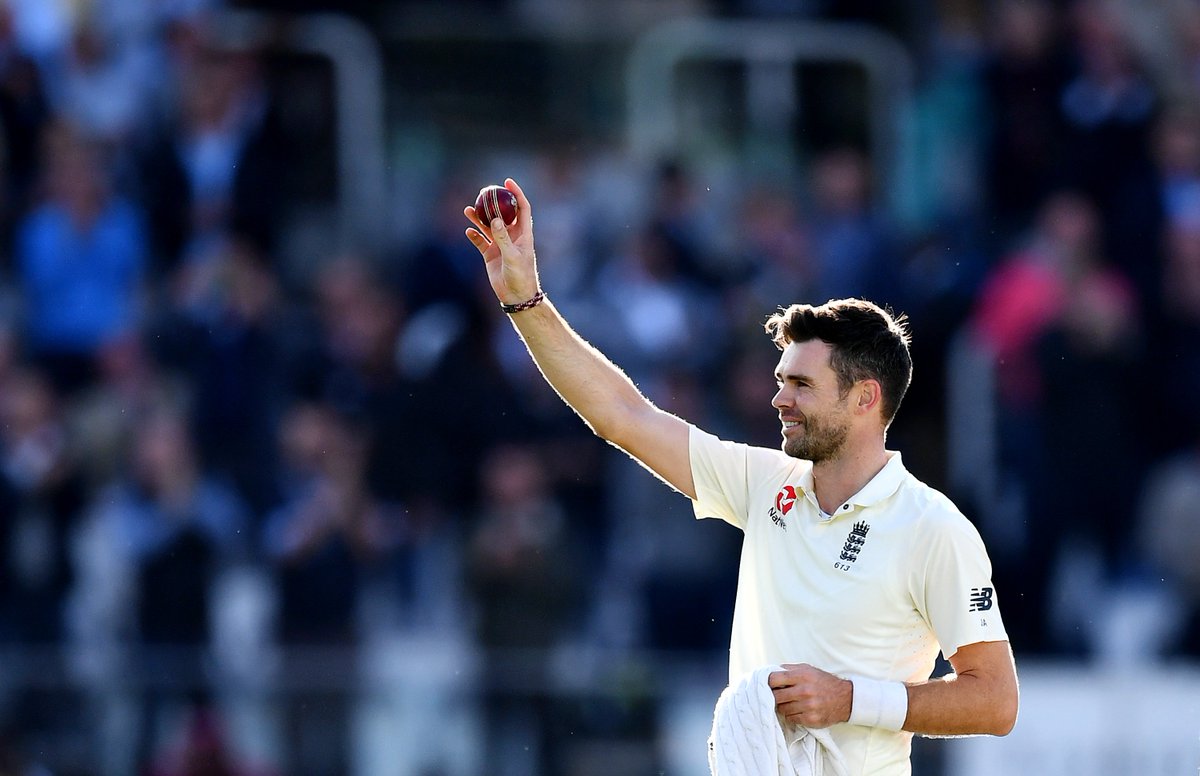 England's form over the year – with an Ashes defeat, a first series loss in New Zealand for many a year and a draw with Pakistan – might not help Anderson's cause. However, a victory over India, with Anderson as the inspiration, will get his country moving forwards again. Regardless of that, personally, the records keep breaking. He remains the leader of Joe Root's attack, around a decade since he assumed such a mantle. He is the bowler opposition batsmen most fear.
British sport has many talents, but across the board there aren't many who opposition respect as much. Andy Murray's powers have waned, the England football team still have much to learn and Rory McIlroy is struggling to win majors. Anderson stands out. He's a player that walks into any Test side in the world – arguably ever.
That's why he deserves to be in the shake-up for the BBC Sports Personality of the Year prize. Many will say it should be awarded on the basis of how it has gone for the previous 12 months. Yet if that is the case, Anderson is likely to finish the year as the world's best ever pace bowler in terms of wickets. That's some achievement alone.
But also, take a look at some of the previous winners. Ryan Giggs won it in 2009, his 18th year as a professional, despite just 12 starts and one Premier League goal. Aged 35, it was seen more of a reflection of his many years of great service to sport – more of a lifetime award then. And some others, while deserving respect, haven't achieved to the level Anderson has. Michael Owen won in 1998 principally on the back of his wonder World Cup goal against Argentina.
It has been 18 years since cricket was recognised at the BBC event. Andrew Flintoff's brilliance in England's thrilling 2005 Ashes victory saw him crowned the winner. But for all Flintoff gave that summer, Anderson's continued brilliance, consistency and drive to become the world's leading pace bowler of all time, means he is even more deserving.
And it is a scandal that, as of now, he doesn't even get a mention in bookies' odds for the prize. With Trent Bridge the next Test up – scene of one of his most prolific grounds – Anderson will keep running in regardless.