The former Spurs boss says he's keen to make a Premier League return
12:47, 12 Feb 2020
There are certain inevitabilities in life. It was inevitable that England's lead against Croatia would painfully disappear. It was inevitable that Boris Johnson would become prime minister. Now, it feels inevitable that Mauricio Pochettino will manage one of the two Manchester clubs in the not so distant future.
Speaking on the In The Pink podcast, the former Tottenham manager has said that, "I would love to work in the Premier League," before adding, "It's a moment of recovery, to think about yourself a little bit, and to be ready because in football always something can happen and you need to be ready.
"I'm ready and waiting for a new challenge. I have the belief and confidence that the next challenge will be fantastic."
With Manchester United still looking unsteady under Ole Gunnar Solskjaer and Pep Guardiola approaching the end of his standard four-year managerial tenure at Manchester City, both clubs could soon be on the hunt for a new manager. But which project would suit the charismatic Argentine manager more?
That word is key for Pochettino. Project. He is fiercely proud of the work he did at Tottenham, transforming them from a Tim Sherwood managed side content with finishing sixth in the Premier League into Champions League finalists who contended for the league title on two occasions. As well as that, he helped the club bridge the gap between White Hart Lane and the new Tottenham Hotspur Stadium, managing the team admirably through a difficult time at Wembley.
Consistently qualifying for the Champions League was something that Tottenham fans mocked Arsene Wenger for at Arsenal, but Pochettino brought the same consistency and stability to their club, and now they have a world-class sporting venue of their own. Although neither Manchester clubs will move stadium anytime soon, the projects on the pitch will still interest the Argentine.
The bigger challenge is clearly at Old Trafford, where the club look unlikely to finish in the top four and the squad looks some way off the standards that are expected at Manchester United. Seven years and counting without a Premier League title, the club must begin to challenge once again for major titles.
When he arrived at Tottenham, the club had a similar mish-mash of players. The club had sold Gareth Bale in the previous summer and replaced him with seven players, with the likes of Paulinho, Roberto Soldado and Nacer Chadli all coming through the door. However, over the years, we saw Pochettino transform Tottenham from a team of misfits to an entertaining side with an English core.
Massive quote from Pochettino who is eyeing up a return to the Premier League for his next job... wonder who he's hinting at 👀
Should Poch take over in the summer? 🤔🇾🇪
#MUFC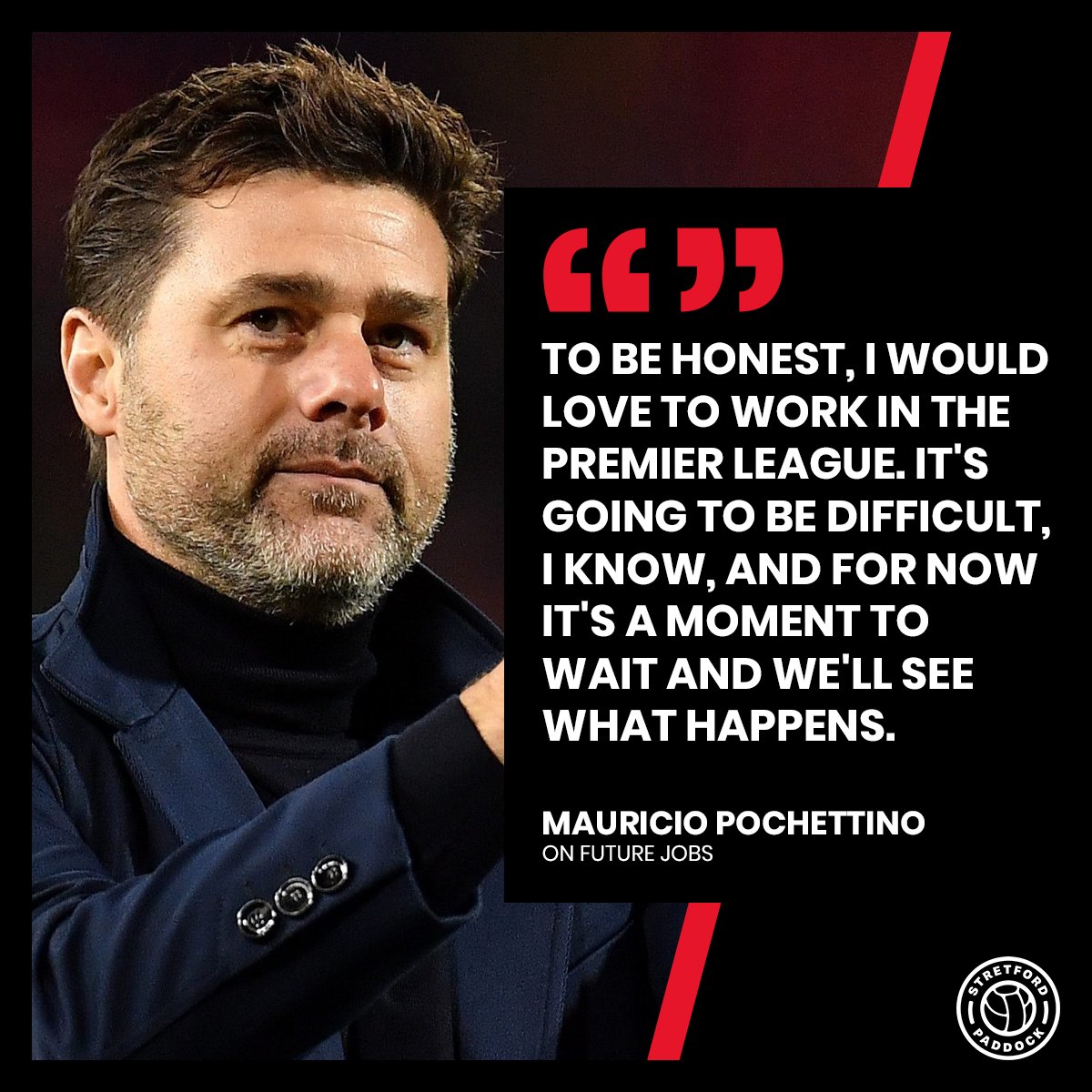 He did the same in his short spell at Southampton. Luke Shaw, Adam Lallana, Rickie Lambert and Jay Rodriguez were all involved in the England set-up while Pochettino was at Southampton and the same could be seen at Spurs.
Dele Alli, Harry Kane, Kieran Trippier and Harry Winks all owe a debt of gratitude to their former boss for the way he helped them develop their games. For Manchester United, this management and development of British players has to be seen as a big positive.
With the likes of Aaron Wan-Bissaka, Daniel James and Marcus Rashford all currently in the first team, Pochettino already has a core of players to work with. Meanwhile, the likes of Mason Greenwood and Brandon Williams would surely be encouraged by the players that have made the step up under Pochettino.
That British core is something United boast over their city rivals. Aside from Phil Foden, Man City lack young British talent, instead preferring to buy big-name players to bolster their squad. It is unlikely we'll see this changing too much under the current ownership, which may limit Pochettino rather than benefit him.
Another thing that has followed Pochettino throughout his career, and may be enough to put Manchester City off, is his lack of trophies. In England he is yet to win a trophy, finishing as a runner-up in the Premier League, Champions League and League Cup throughout his tenure at Tottenham. For City, the Champions League is the next target and although he reached the final, his lack of trophies may not give Man City the instant gratification they are after.
It is not to say that United's standards are lower, but they are likely to give Pochettino more time to implement his philosophy and their lack of recent success would ease the pressure on him. His win percentage of 54.3% at Spurs speaks for itself and the simple fact of the matter is that he is a more qualified football manager, with more experience, than the incumbent Solskjaer.
The Norwegian manager has done a fantastic job in terms of removing the deadwood at the club, but on the pitch it has been hit and miss. Despite having held the full-time position for almost a year now, the long-term plan still seems hazy. Pochettino would bring a safe pair of hands and a degree of success and certainty to Manchester United.
They may be behind City in terms of results and financial might, but the project of reinvigorating the biggest club in England may be just the very thing that tempts Pochettino to the red side of Manchester, rather than the blue.