Football /
Why Southampton Should Appoint Marco Silva, A Safer Option Than Mark Hughes
In their flustered search for a new manager, triggered by the all-too-late dismissal of Mauricio Pellegrino on Monday night, Southampton have managed to perfectly capture the essential dilemma in the modern Premier League boardroom. Mark Hughes and Marco Silva could hardly be more different, one representing the panic-stricken short-termism of a board that has lost confidence in its own project, the other the brave choice whose wide-eyed approach risks relegation for the gamble of long-term progress.
But beneath the panic and the angst, beneath the clichés of fire-fighters and foreign visionaries, neither manager quite follows the stereotype. And, more importantly, it is the conservative choice, Hughes, who represents the bigger risk. To appoint Marco Silva requires bravery and self-belief, exactly the mentality that needs to filter down to the players if they are to survive the drop this season.
Silva's aggressive attacking football is self-evidently more aesthetically pleasing, but for a club built on the progressive foundations laid down by Mauricio Pochettino (and a superb youth academy) it is also a safer tactical option. For Southampton, survival is simply a question of confidence, of rediscovering the self-belief needed to outwit and outmanoeuvre their Premier League rivals; what this talented squad needs is a manager with courage, a leader who instils attacking bravery by trusting the players to play an expansive game.
This is precisely what Silva did at Hull City, who despite lacking Southampton's technical ability nevertheless won 11 points from their first eight league games under the Portuguese (the same record at Saints would surely see them survive on 39 points). Conversely, Hughes's more defensive approach – the back-to-basics strategy traditionally thought to trigger a "manager boost" – could further the cycle of negativity and low self-esteem.
To hire Hughes is to grimly accept the long-term vision has failed; is to accept the club's new status as mere Premier League survivors. This is especially true considering the difficulty of Southampton's run-in. They cannot hope merely to grind out 1-0 wins with dull defensive football when the vast majority of their matches are against high-octane opposition. Silva's confrontational approach, on the other hand, has earned him shock wins against the top six as manager of both Hull and Watford.
What do you make of this Southampton fans...Marco Silva for Mauricio Pellegrino...?
#saintsfc
(@AdamBlackmore)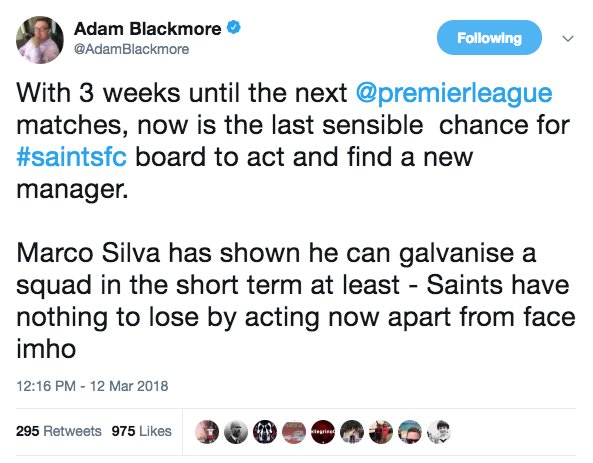 Labelling Hughes defensive is a tad unfair. He is a talented coach who has enjoyed moderate success throughout his career, including at Stoke City where he gradually evolved their playing style away from Pulis-ball with successive ninth-place finishes. However, in the midst of a crisis and with relegation looming, perception is more important than the truth. Even though both managers were sacked this season, Hughes is left looking like the stoic has-been while Silva's stock remains high, largely because the former's direct tactical approach is seen as outdated whereas Silva's is currently in vogue – particularly at Southampton.
Like Watford, they possess talented and intelligent midfielders who would clearly enjoy Silva's intricate tactical coaching. What's more, the Portuguese's more progressive tactics lend themselves to trusting in the fearlessness and energy of youth. 20-year-old Richarlison's excellent form in the first half of the campaign should excite fans hoping to see more of Josh Sims.
Survival will require a level of self-confidence, of risk-taking, that needs to emanate down from boardroom level to the players. On the surface, the choice is between pragmatism and idealism, but this is a wildly over-simplified way to interpret Southampton's unique predicament. To bring in Hughes is to send a message of nervousness, of battling against the tide. But with Silva at the helm the likes of Pierre-Emile Hojbjerg, Mario Lemina, and Nathan Redmond will be given the chance to prove why Southampton are a top-ten side merely suffering from the temporary effects of low self-esteem.