Why Stockport County Fans Finally Have Something To Sing About
19:15, 21 May 2019
May 26, 2008 may not seem that long in the past to many people, but for fans of Stockport County, that date seems like a lifetime ago. More than 35,000 fans saw the Hatters beat Rochdale in a 3-2 thriller at Wembley, victory in that League Two playoff final sending County up to League One.
In the 11 years since, the club has been to the depths of despair as they faced administration the following year, and a dramatic slide saw them lose their Football League status for the first time ever at the end of the 2010/11 campaign. That was not all, as Jim Gannon – the man who had taken County to that triumph in '08 after having already saved the club from relegation by that point – had been fired, re-hired and fired again in that tumultuous spell.
After years of mismanagement and an unbearable spell of careless owners, County were finally in the right hands when a group of like-minded individuals came together in 2015 to take over the club, making an ambitious five-year plan to restore this historic side back to the Football League. They made the astute decision to attempt to heal the hurt that had gone before by bringing Gannon back for a third spell in charge, and slowly but surely that has paid off.
The professional approach of the coach has improved the side – who by this point were stuck in the National League North – in each and every season since his re-introduction in January 2016. Himself a former player at Stockport, he is best placed to understand exactly how to piece this fractured club back together. Last term saw his team narrowly lose in the playoffs, but this season Gannon would make no mistake.
A victory at Nuneaton Borough on the final day of the season saw County promoted back to the National League as champions after six laborious, and at times miserable, seasons away. Their Edgeley Park home lies just nine miles from Old Trafford and seven from Manchester City's Etihad Stadium, yet there is certainly no shortage of passionate support in SK3.
Attendances repeatedly hit the headlines for reaching higher numbers than some League Two and even League One sides, as over 100,000 had gone through County's turnstiles by the end of the campaign. No less than 6,311 witnessed the crucial match versus Spennymoor on March 2, a figure which broke County's own record for the highest ever gate in the National League North or South. Away matches were no different as more than 1,000 supporters travelled to the likes of Altrincham, Chester and Chorley, singing "we're the County, the mighty County, we always win away" to the tune of The Lion Sleeps Tonight!
At Nuneaton on that aforementioned final day, the cash-strapped, already relegated Midlands club took the unprecedented step of making 85% of the total number of tickets available to the 3,500 travelling County fans, a figure that smashed the Liberty Way Ground's record by almost 600.
While many clubs such as Salford City achieved promotion this year through unsustainable means, Stockport have made a positive step on their gradual journey back to where they feel they belong in the Football League through careful financing, hard work and a real team effort.
This was reflected when the club organised a giant "team photo" with players, volunteers and club officials on the pitch against a backdrop of thousands of supporters who had packed into the Cheadle End stand behind the goal. Opening that (free!) event up to fans just days after sealing the title was a fitting celebration for their first season as champions in 52 years, and a chance for all involved to thank each other for the contributions they had made.
What a day 😍💙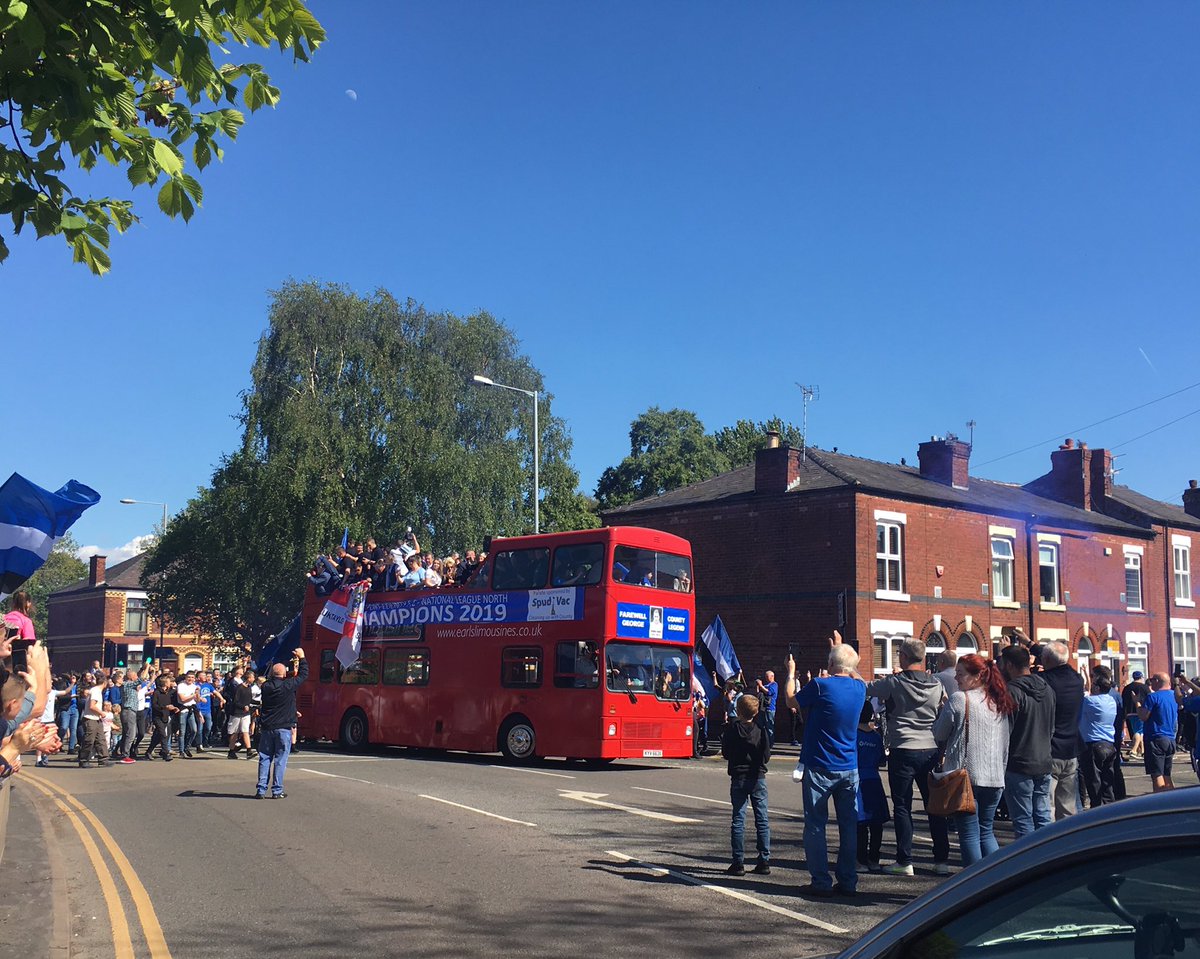 County will remain a part-time club next term, but their will to succeed must not be underestimated in the National League. Clubs in the division should be ready for an invasion of fans, waving flags and letting off blue flares, as the Blue and White Army cheer their side on to their next target.