The Argentine forward will equal Henry's all-time Premier League tally with another goal
13:01, 12 Jan 2020
We have waxed lyrical time after time about Manchester City's great Argentine striker Sergio Aguero as he has dominated England's top flight for almost a decade now. With four Premier League titles to his name and perhaps the most dramatic goal of all time under his belt, he has certainly made an impact on English football since joining in 2011.
Nine years on, he is just one goal away from equalling one of the true greats in terms of goals, Thierry Henry. He is likely to overtake the Frenchman this season and Chelsea's Frank Lampard in the list of all-time Premier League goals as the Argentine has hit the net 174 times at the time of writing, but it is comparisons with Henry that make us realise just how great he is.
We have had a look through Aguero's Premier League career by numbers.
1
Aguero's first Premier League goal came on his debut against Swansea. He didn't waste any time either as he bagged twice off the bench and introduced to English football in the best way possible.
2
One little duck. The number of times Aguero has appeared in PFA's team of the year. Up until 2017-18, he had savagely been excluded from every team, despite scoring a huge amount of goals.
4
Knock at the door. The number of Premier League titles Sergio Aguero has to his name with Manchester City. It is a truly remarkable achievement for a team that were trophyless in the modern era before his arrival. Along with the likes of Vincent Kompany and Yaya Toure, he has truly transformed the fortunes of the Citizens.
6
Half a dozen. The number of Premier League player of the month awards Aguero has won. That is the joint-most in the Premier League era, a record the shares with Steven Gerrard and Harry Kane

26
Pick and mix. His best-ever goalscoring return in a singular Premier League season came in 2014/15, as he hit a stonking 26 goals in 33 games. He has scored more than 20 goals in six of his Premier League seasons, including each of his last five. Bagsman.
174/254 - Before returning to Arsenal for a second spell in 2012, Thierry Henry departed the Premier League with a record of 174 goals in 254 games - this is the exact same record as Sergio Agüero currently has in the competition. Greats.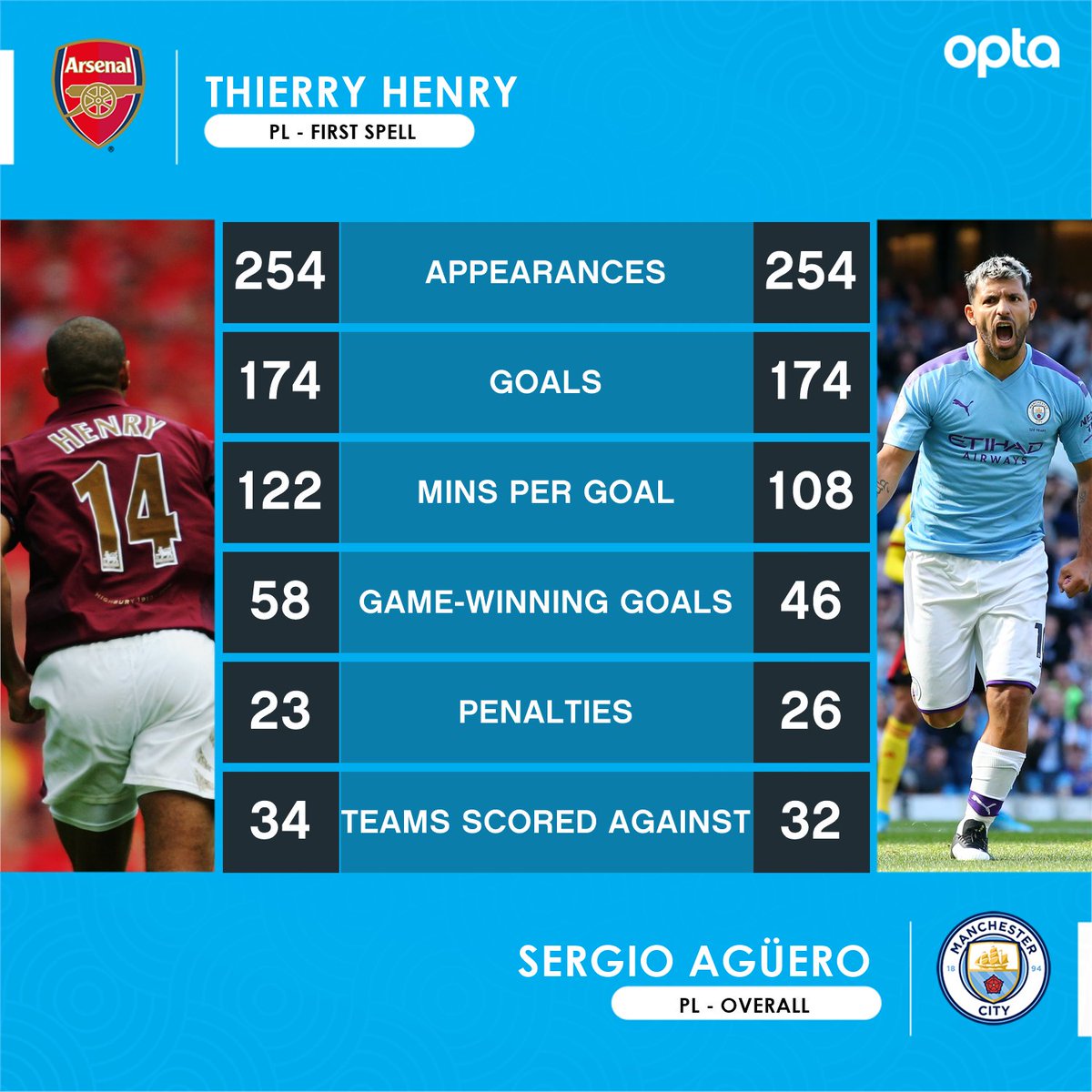 45
Aguero's number of Premier League assists. Not to downplay his achievements but that is less than Chris Brunt and Theo Walcott and the same number as Stuart Ripley. His selfishness in front of goal is what makes him such a deadly forward.
93:20
That famous time. With the clock at 93 minutes and 20 seconds on the final day of the 2011/12 season, Aguero hit the back of the net in a moment forever engrained into the memory of every Manchester City fan. It gave them their first title in the most dramatic of circumstances when their rivals looked to have done enough to have won it. AGUEROOOOOOOO!
254
The number of games Aguero has played in the Premier League. By comparison, Thierry Henry took 258 games to reach 175 goals in England's top flight. Remarkably close.
201,149
The amount Manchester City have paid for each Sergio Aguero Premier League goal, excluding his wage. This represents remarkable value for a player who originally cost them £35 million and was thought to be a risky signing at the time. He turned out to be a phenomenal bargain in the modern market.