A campaign that started so promisingly, with steady progress at home and abroad, is now faltering badly
09:11, 17 Feb 2020
Something about the pressure of a title race doesn't seem to sit well with Steven Gerrard. An excellent player for Liverpool, and a manager who's shown some promise by revitalising Rangers, albeit with the benefit of substantial investment, his lifelong pursuit of a first-ever championship medal looks set to continue after a damaging 2-1 defeat to Kilmarnock last Wednesday.
Gerrard's been here before. His side have gone from being within a single victory of Celtic at the winter break, after beating them away from home in what felt like a defining result, to ten points adrift, although they still have a game in hand on their Old Firm rivals. As well as losing to Hearts and Kilmarnock, Rangers were also held to a goalless draw against Aberdeen at Ibrox.
Many sense that they are now out of the running, with Gerrard's post-match interview revealing some underlying tensions. Although he started by saying that he was going to take responsibility for a lacklustre Rangers showing, capped by two late goals to secure the win for Killie, the emphasis soon shifted onto his players.
"I've got a lot of belief and faith in these players, but that second-half performance tonight alarmed me. It's not the first time since we've returned from the winter break. I'm going to have to try and solve a few problems that we've got at the moment," said Gerrard.
"We couldn't handle the pressure in the second half. We've done well in the first half and got ourselves in a real nice position. Controlling a lot of the play. Looking like a Rangers team. Looking like we did for the majority of the first six months.
"But in the second half we didn't go out like a team in our position, which is trying to sustain a title push. We didn't look like that second half; we looked all over the place. We couldn't handle a simple long ball. My leaders in the team couldn't clear our box with a simple cross. We've got some issues at the moment, but I'm responsible for them.
Asked if it was to do with mentality, and a failure to demonstrate resilience under pressure, he said: "Could be. I'm going to have to do some real analysing of some individuals and where we are because I thought we were in a better place than what we've shown over the last four to six weeks.
🏆 Ladbrokes Premiership table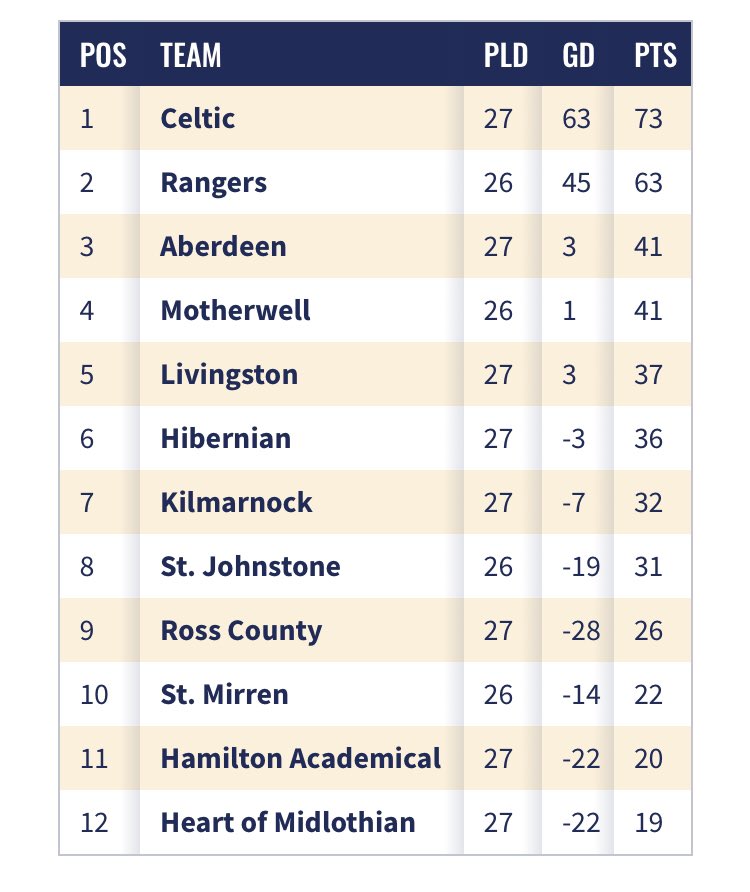 "In the winter break I'm looking at it. I'm looking around what I've got and what I had the chance to add to it with one or two signings maybe. I thought we had the mentality and the characters to sustain a push, but on the evidence of the last four or five weeks I'm getting proven wrong. But, having said that, it's me as well because I'm responsible for that group of players."
It was an interesting response. Protecting your players is an unspoken rule of management. There are very few circumstances where the man in charge isn't expected to shoulder the burden for poor results or performances. Players accept that they will come under fire in the changing room, but rarely, if ever, in public.
This isn't the first time that Gerrard has questioned the character and mental strength of his squad. It's a high-risk strategy and something that soon wears thin if it's done too often. Previously receptive players can start to switch off and feel that if a manager is willing to criticise them in the media, rather than shielding and supporting them, then perhaps he's looking after his own interests rather than theirs. Trust, which takes a long time to build up, can so easily be lost.
Managers have to walk a fine line in this respect. Finding new ways to provoke a reaction from their players without upsetting the delicate balance of the dressing room. Mixing constructive criticism with encouragement. Saying that his players might lack the staying power for a title fight could potentially backfire on Gerrard. It's a hurtful suggestion that may inspire some to prove him wrong, but could equally alienate others.
Right now, Rangers need everyone pulling in the right direction. A campaign that started so promisingly, with steady progress at home and abroad, is now faltering badly at a vital juncture. There's no time for infighting or split loyalties when Celtic are closing in on their ninth title in a row.
Gerrard will get to see what reaction, if any, that his words spark over the coming weeks. It's an important period for Rangers on several fronts, with another league game, a Europa League last 32 tie against Braga and a Scottish Cup quarter-final away to Hearts all to come before the end of the month. The fate of their entire season may well rest on it.