Nearly 63,000 fans were at the Super-League games across the weekend
12:01, 09 Sep 2019
All twelve teams were in action as the new Women's Super League season got underway in front of record attendances over the weekend.
Nearly 63,000 fans were at the games across the weekend. To put into comparison, in the 2018/19 season there was a total attendance of approximately 92,000 across the entire 110 game campaign.
Both Arsenal and Manchester City made statements of intent by picking up three points against West Ham and Manchester United respectively, while newly-promoted Spurs did themselves proud despite defeat away to Chelsea.
Bristol City 0-0 Brighton & Hove Albion
As might have been expected even before kick-off, Sophie Baggaley was the difference, saving a first-half penalty to ensure Bristol City kept a clean sheet against Hope Powell's Brighton. In spite of what the scoreline might suggest, both sides created plenty of chances and ought to be happy with a point.
🏟️👏 The Women's Super League reached record-breaking attendance figures in its opening weekend, with nearly 63,000 fans at the games.
In the 2018/19 season, there was a total attendance of approximately 92,000 across the entire 110 game campaign.
#WSL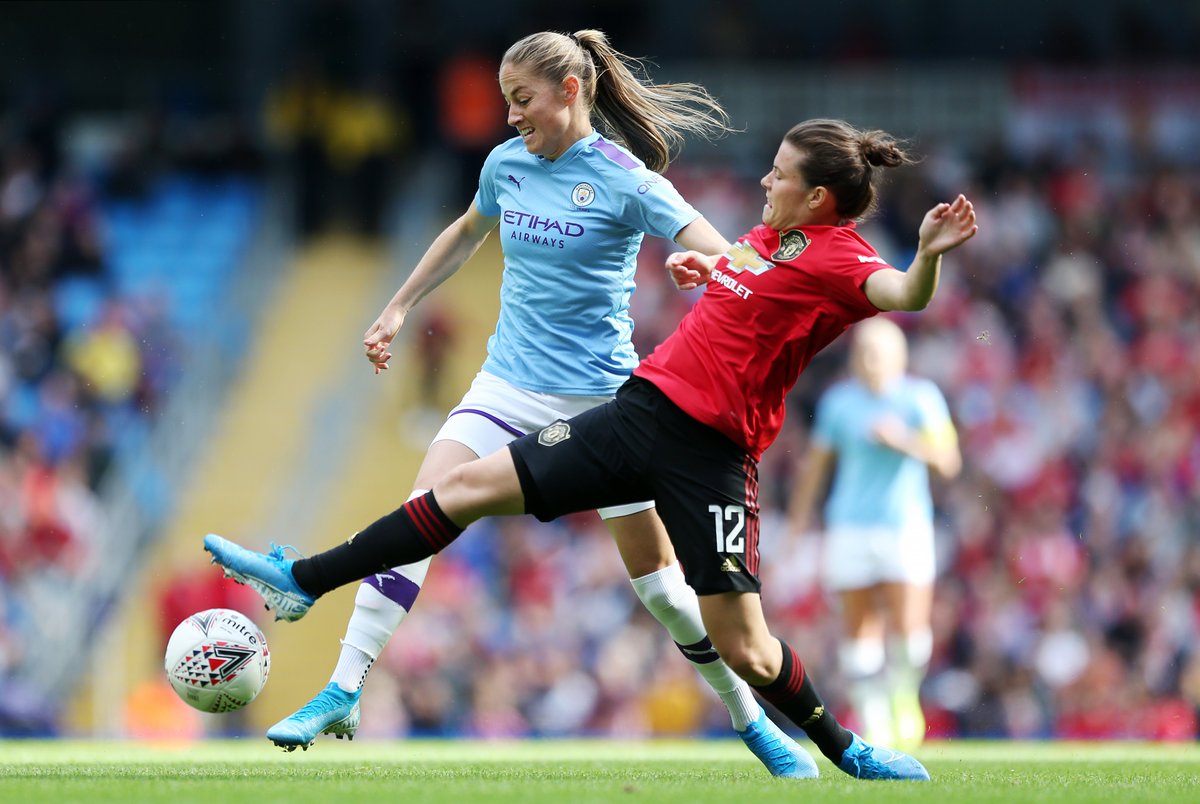 Manchester City 1-0 Manchester United
A packed Etihad witnessed the first derby of the season as Caroline Weir scored a fine winner. United had their fair share of chances at the other end, only to be denied by some spectacular heroics on the part of Ellie Roebuck. It was a baptism of fire for Casey Stoney's women but they didn't come off too badly.
Chelsea 1-0 Tottenham Hotspur
Beth England's long-range effort proved the only goal of a dominant Chelsea display in front of over 5x their previous record attendance. Spurs defended deep and were restricted to just one shot on target as they struggled to get out of their own half. It won't always be this difficult for Karen Hills' side and there were plenty of positives for them to take away from their first-ever game in the top flight, particularly the way Gemma Davison and Ashleigh Neville combined down the right.
Beth England's strike was all that separated Chelsea and Spurs
Birmingham City 0-1 Everton
Birmingham got their second half off to the worst possible start, with Kerys Harrop scoring an own goal. Hannah Cain put the crucial ball into the box and it was no less than she deserved as she put in a stellar performance down the wing. That goal would prove decisive as the Toffees beat Birmingham for the first time in seven years.
Liverpool 0-1 Reading
Farah Williams' free-kick hurtled into the top corner to give Reading the three points. There were no signs that Liverpool had written this one-off, however, and if they can play like that against Tottenham next time out, they will cause some serious problems.
Arsenal 2-1 West Ham
Arsenal made the ideal start to their title defence as they beat West Ham at home. That said, they still looked a little suspect defensively, particularly in the second half. Joe Montemurro will be delighted with the way they held off the Hammers' fightback.