This weekend, two former UFC Champions will headline WWE's most marquee of events, WrestleMania. On the Saturday night - the first leg of what has now become a two-night event - Ronda Rousey will challenge Charlotte Flair for the SmackDown Women's Title. The next night, Brock Lesnar goes head-to-head with Roman Reigns, with each man putting their WWE and Universal Titles on the line respectively in a gigantic title unification bout.
The pair are no strangers to participating at the 'Grandaddy of 'em All', obviously, having previously book ended WrestleMania 35 in 2019 with a pair of unsuccessful title defences. In 2018, Rousey debuted inside the squared circle after calling time on her storied MMA career, teaming with Olympic gold medalist and WWE Hall of Famer Kurt Angle to take down The Authority, Triple H and Stephanie McMahon. And while 'Rowdy' earned a plethora of plaudits for her performance in that electric mixed tag match, Lesnar was finishing the night hurling his Universal Title belt at Vince McMahon backstage, visibly and legitimately pissed off at how his victory over Reigns had panned out, with the capacity crowd inside the New Orleans Superdome booing the pair out of the stadium, despite their tremendous efforts.
Rousey's transition to WWE had been three years in the making, with the former UFC Women's Bantamweight Champion hopping the guardrail, with an assist from The Rock, at WrestleMania 31 in San Francisco in 2015. That night, in front of a 75,000 strong crowd inside Levi's Stadium, the Olympic bronze medalist kicked off her rivalry with the McMahon-Helmsley regime as her and The People's Champion sent them fleeing from the ring.
Lesnar, of course, began as a dominant NCAA amateur wrestler, winning the Division 1 National Championship in 2000 before making the transition to the wild world of Sports Entertainment in 2001. By 2002, in his rookie year, he was the then youngest WWE Champion of all time, felling The Rock at SummerSlam, only four months after his on screen debut. Only two years later, however, and 'The Next Big Thing' was seeking opportunities away from Vince McMahon's rule, which is how he eventually wound up inside the octagon, putting away the likes of Randy Couture, Frank Mir, Heath Herring and Shane Carwin, earning himself the UFC Heavyweight Championship and record PPV buyrates in the process (Lesnar was the first combat athlete since Mike Tyson to generate three consecutive million+ PPV buys, when he headlined UFC 91, 100 and 116).
After diverticulitis put a premature end to Lesnar's MMA career (although he did briefly return for a fight against Mark Hunt at UFC 200 in 2016), he made the journey back to Stamford, Connecticut in 2012, where he has remained ever since, appearing in main event level matches at all but one WrestleMania since.
But this crossover from the worlds of boxing and MMA is no recent phenomena. Practitioners of the sweet science and mixed martial arts have been turning up to throw down at WrestleMania since day one in various forms, whether it's enforcing the action inside the ring, or actively taking part themselves.
And while celebrity involvement looms largest at this year's event, with Jackass' stuntman-in-chief Johnny Knoxville facing off against Sami Zayn and Logan Paul teaming up with The Miz to take on Rey and Dominik Mysterio, it has been the legends from the other combat worlds who have drawn the biggest headlines over the last 38 years of WrestleMania.
So here's a little walk down memory lane to refresh memories and whet appetites ahead of a stupendous weekend of chaos in Dallas, Texas…
Muhammad Ali - WrestleMania I
Because who else are you going to mint WrestleMania with other than The Greatest?
The greatest of all-time Muhammad Ali,serving as the special guest referee (outside of the ring) during the main event of the first WrestleMania.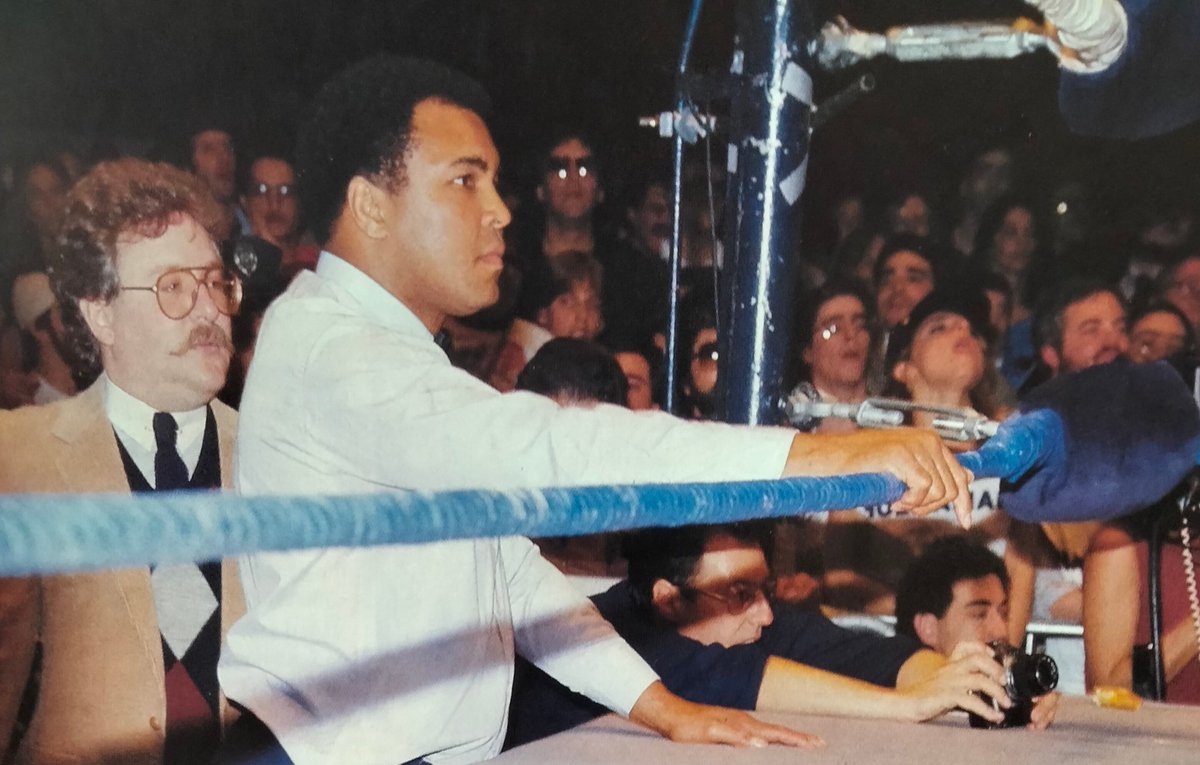 When Vince McMahon rolled the dice on his WrestleMania concept in 1985 he puts every last chip in his pocket on the table. Had the event been a bust, there is a very real possibility the then WWF would never have made it to 1986. The biggest selling point of the inaugural event, of course, was Hulk Hogan, who was reigning WWF Champion and slap bang in the middle of HulkaMania taking America by storm, with children across the United States being urged to take their vitamins, drink their milk and say their prayers as they supported the Hulkster taking down the likes of 'Rowdy' Roddy Piper and 'Mr.Wonderful' Paul Orndorff. And with the help of Mr.T, the Hulkster did just that inside Madison Square Garden, in a main event that was overseen by none other than the Louisville Lip himself, Muhammad Ali. The Greatest was at this point four years removed from his final fight, a 10 round decision loss to Trevor Birbeck in December, 1981, but was still a monumental figure in the worlds of sports and entertainment, making him a natural fit for Vinnie Mac's newest phenomenon.
However, Ali's involvement was altered at the eleventh hour, with the late Pat Patterson, Vince McMahon's long serving right hand man, noting at the time that Ali was so energised by the atmosphere inside the Garden that night, that he genuinely wanted to trade blows with Piper and Orndorff himself. Sensing that something may go awry if the original plan was adhered to, of Ali being the special guest referee, Patterson himself donned the powder blue official's shirt that evening, with Ali serving as the ringside ref. But even with all the action and box office talent in the ring, there were still plenty of eyes on The Greatest throughout the main event, especially when his authority was challenged during a pull apart brawl, leading to Roddy Piper earning a crack from that most famous of right hands.
Mike Tyson - WrestleMania XIV
In the intervening 13 years between Ali and 'The Baddest Man on the Planet' enforcing 'Mania main events, only one other name from the world of professional boxing had made their presence felt at the 'Show of Shows' (although UFC Hall of Famer Ken Shamrock did kickstart his career with the company as the referee of Bret Hart and Steve Austin's iconic submission match at WrestleMania 13 in Chicago) when the iconic 'Smokin' Joe Frazier managed Mr.T during his disastrous boxing match against Roddy Piper at WrestleMania II. The less said about that bout, the better, though
At WrestleMania XIV in Boston, the WWF was a very different environment to the one in which Ali had set foot in over a decade earlier. In 1998, McMahon was entrenched in television ratings warfare with Ted Turner's World Championship Wrestling, losing the Monday Night Wars on a weekly basis and losing even more of his top stars over the course of 1996 and 1997. But with this mass exodus of talent, which saw the likes of Kevin Nash, Scott Hall and eventually, infamously, Bret 'The Hitman' Hart trade Sports Entertainment for 'Wrasslin' (as McMahon dubbed WCW's product due to it's ties to the southern states), came fresh opportunities for new names to make themselves known, and Steve Austin did just that and in 1998, he got launched into the stratosphere popularity wise thanks to Iron Mike.
Tyson, full from filling his stomach with the outer chunks of Evander Holyfield's ears, was, for better or worse, one of the hottest properties on the planet at the time, having had his boxing license rescinded by the Nevada State Athletic Commission in the summer of 1997 (it would be restored in October, 1998). So when he showed up on an episode of Monday Night Raw on 19th January, 1998, fireworks were to be expected, only no one could have anticipated just how many were about to be set off.
The presentation of Tyson was interrupted by Austin, who launched into a tirade against the former Heavyweight Champion, citing the respect he had for what he had accomplished in the boxing world, but as far as the WWF went, Austin wasn't entertaining the idea that Tyson was the 'Baddest Man on the Planet', putting an exclamation mark on his rant with two middle fingers right in Tyson's face. From there, everything promptly exploded in scenes that have been replayed a million times since, Jim Ross screaming "TYSON AND AUSTIN! TYSON AND AUSTIN!" As the pair were pulled apart by Tyson's entourage and officials.
A couple of months later and the duo were once again up close and personal, with Tyson, now an honorary member of Shawn Michaels' D-Generation X stable, serving as the special guest enforcer for the WWF Title main event match between his newest friend and defending champion Michaels and the challenging Texas Rattlesnake. And while no blows were exchanged during the match, it was Tyson who threw his hand to the mat three times to count Austin's pinfall victory, ushering in the Attitude Era in all its blood and profanity soaked glory. An obviously unimpressed Michaels, though, was not as happy as Austin with Tyson's actions and, post-match, attempted to land a shot of his own on Iron Mike, only to be promptly sent back to the canvas by his now former friend.
The scene that would play out at the culmination of the event would be one of Tyson holding Austin's hand aloft, coronating him as the new champion and leader of a new generation for the WWF/WWE. The results were immediate, with the buyrate of that year's 'Mania trebling the previous year's effort. The Tyson experiment had been a resounding success and was one that has generated repeat visits from The Baddest Man on the Planet numerous times since.
Floyd Mayweather Jr, WrestleMania XXIV
It would be another decade until another pugilistic PPV powerhouse would grace the WWE ring at WrestleMania. While WrestleMania XV did indeed see cult hero Butterbean almost knock poor Bart Gunn's head clean off his shoulders in an ill-advised boxing match. Chuck Wepner and Vinny Pazienza's involvement at that event should also not go unnoticed, yet in terms of crossover traction, little was gathered. But in 2008, a decade on from Tyson and Austin, came Mayweather and Big Show. A bona fide David and Goliath encounter and one which has, remarkably, stood the test of time as a genuinely beloved WrestleMania match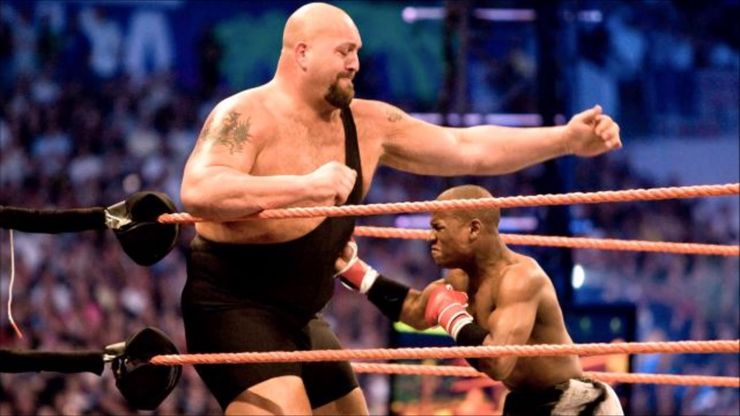 Setting the stage for a match by having one of the fighters legitimately break the other one's nose is always a safe bet for a large level of interest, and when Mayweather jumped the guardrail at WWE's No Way Out event in February 2008, coming to the aid of a Rey Mysterio who was being systematically dismantled by a returning Big Show, the hype levels could not have been higher.
Show, who had been training for a potential run as a boxer during his year long absence from WWE, dared 'Money' to land one on him and Mayweather obliged, sending a flurry of shots to the giant's dome, rearranging his face in the process.
In the lead up to the fight, which took place at the Citrus Bowl in Orlando, Florida, there were more than a few misgivings about it's suitability on the card. Not everyone was convinced by the follow up build following the initial flurry, with many suggesting the appearance was simply an easy payday for Mayweather.
Nothing could have been further from the truth. As the 5'8 undefeated Mayweather stood opposite the 7'0 Big Show, giving up somewhere in the region of over 300 pounds, as well as more than a foot in height, the visual alone was worth the price of admission.
What proceeded was 11 minutes of sheer anarchy, as Mayweather ducked and dodged and utilised his ever trusty entourage to run distraction, while he used steel chairs to his advantage to try and take down the giant in their no disqualification fight.
Eventually, with the help of a pair of brass knuckles, 'Money' reigned supreme, once again and, although the victory wouldn't go towards his professional boxing record, obviously, it would still be a performance that earned a ton of plaudits for its professionalism, effort and excitement levels. With over a million people buying that year's 'Mania on PPV, it was yet more proof that Mayweather equals money.
So, while this weekend's double header is featuring a pair of proven draws now firmly entrenched as WWE employees rather than guest stars, their headline statuses prove that the pulling power from the worlds of MMA and boxing is undeniable when it comes to WrestleMania.
Now, if we could just get Conor McGregor to bin off any hopes of a UFC comeback and focus on a WrestleMania 39 programme with a returning Great Khali, then we're talking REAL money…
Watch WrestleMania 38 emanating from Dallas on Saturday April 2nd and Sunday April 3rd live on WWE Network https://www.wwe.com/wwenetwork