Zhao Xintong continued his spectacular breakthrough season by chalking up a first ever win at the Betfred World Championship on Easter Sunday – breezing into the last 16 with a 10-2 drubbing of Jamie Clarke at the Crucible.
Zhao's emergence has been 10 years in the making, since he first started beating seasoned professionals as a teenage wild-card in tournaments in China. One 6-5 win as a 15-year-old against former world champion Ken Doherty at the International Championship in Chengdu springs to mind.
Given a sublime talent and a fluent, fast and instinctive style that gives the world No7 real box office appeal, it was perhaps a surprise that Zhao had not make a bigger impact before the current campaign – but he has more than made up for that in the last six months.
First there was the sensational run to the UK Championship title for a debut ranking-event success, and then a follow-up triumph at the German Masters to instantly confirm it had been no fluke in York.
Ronnie O'Sullivan is a huge admirer and has taken time to work with Zhao at his regular practice base in Sheffield, just a stone's throw away from the iconic home of the blue-riband event. And equally impressed with Zhao is record seven-time world champion Stephen Hendry.
Following the demolition job on Clarke, an admiring Hendry said: "We talked about Mark Selby's win on Saturday night, saying if it was pretty then that was a bonus – but that was very pretty to watch from Zhao.
"He dispelled all the myths that the first round can be a banana skin and you should be nervous, took care of his opponent and despatched him with ease. He was probably the last player Jamie Clarke wanted in the draw with their previous head to head.
"It was very impressive from Zhao Xintong. Scoring is the biggest asset you can have in your game in snooker, and he has got that.
"This season he has either been poor, or brilliant. I have not seen yet whether he has got an in-between game. And you do get bad sessions here in the long matches, and if you do it is how you get over it.
𝗪𝗢𝗪 𝗙𝗥𝗢𝗠 𝗭𝗛𝗔𝗢 🌀
Zhao Xintong 1️⃣0️⃣-2️⃣ Jamie Clarke
The 🇬🇧+🇩🇪 👑 wastes little time in sealing the deal and booking his place in round two. 👏
#ilovesnooker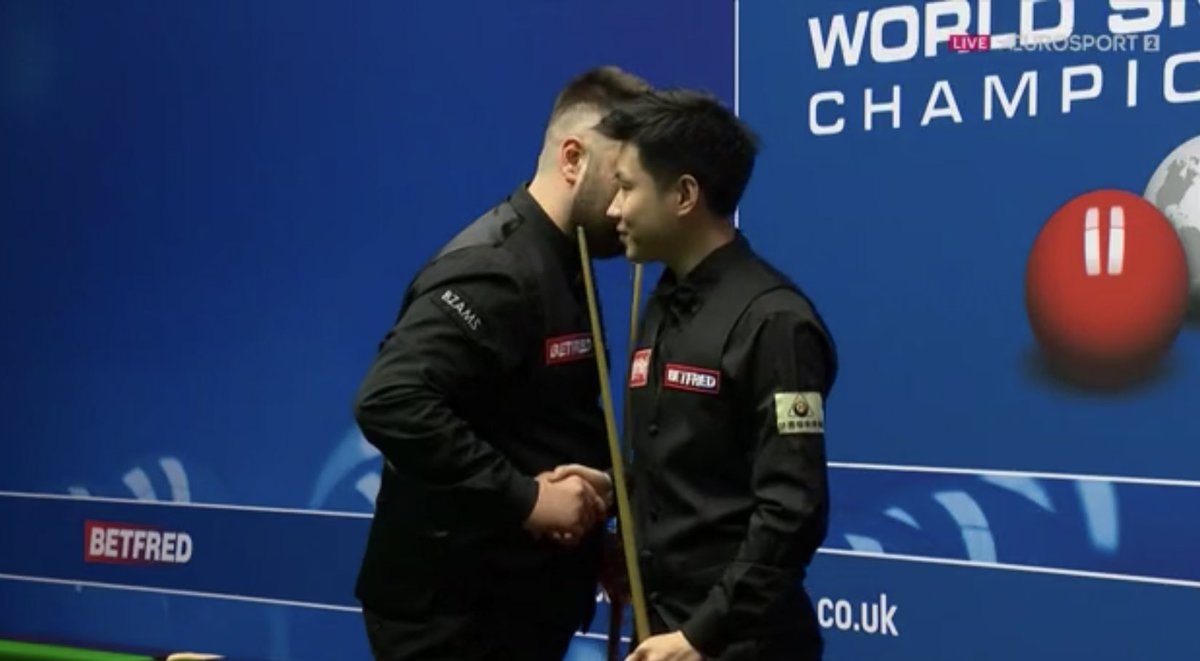 "He is definitely up there as a contender this year. He has the pedigree, having won two ranking tournaments including the UK Championship, one of the Triple Crown events. So playing like that he has sent out a message to the rest of the field.
"He just hasn't got the experience here at the Crucible of going the distance which is a big thing, it is a huge 17 days. The difference between say losing a session 5-3 or 6-2 can be important.
"And I don't think we can say quite yet he is at the level where we can say if he plays his best, he wins – up there with the O'Sullivans and the Robertsons."
O'Sullivan, speaking ahead of the event, said: "With Zhao, it's more about, 'Why have you ended up there, why are you struggling with that - you're so good, but you've ended up there, so figure out why you've ended up there.'
"He'd get it, and it actually taught me a lot. I didn't realise until I was watching him - I know how to get there but it's not until you watch someone do it, you think what you have to do. When you do it yourself you don't realise you're doing that.
'I think I've been able to help him navigate the table a bit better. I've realised my break-building and the breaks I've made over the years are because the way I go about my shots."
After his comfortable win, Zhao said: "It wasn't easy, but a hard match – Jamie Clarke is a very good player. I had a good lead from the first session, but I didn't want it to happen again like at the Tour Championship where I was 8-4 up against John Higgins and lost.
"I knew I had to win this match. There is some extra pressure from being the Chinese No1 now, but there is a lot of support and that makes me feel better.
"Ronnie is a very kind man and has really been helping me. Even two days ago we had a Chinese hotpot together, he helps me mentally and with my break-building. I try not to think about my snooker to much – my style is natural and I just be myself out there."