Zhao Xintong brought the house down in York – having almost been on the streets the night before his breakthrough success.
The 24-year-old from China claimed an extraordinary debut tournament victory by winning the UK Championship at the Barbican on Sunday night.
World No26 Zhao, whose raw talent has been compared to that of tennis's Roger Federer by Ronnie O'Sullivan, beat Belgium's Luca Brecel 10-5.
But only hours before emerging before the first session 'The Cyclone' was in a panic at midnight - in desperate need of a good night's sleep ahead of a first final.
After six hotels said 'No room at the inn' a bleary-eyed World Snooker official came to the rescue after being dragged out of bed to solve Zhao's nightmare.
And the much-hyped youngster, from Xi'an but based at an academy in Sheffield, duly shrugged off the poor preparation to stylishly walk away with the £200,000 prize.
Zhao said: "I am so happy, it has been a very exciting night and I love you all! It is then biggest match of my life and my first final, I knew I had to try and play my best.
"I have done it, and that means a lot to me. I don't know what else to say, really except winning the UK Championship is the biggest dream come true for me."
"I am going to celebrate by going to the karaoke bar with my friends - and after this I will have to sing 'We Are The Champions'. And maybe I will have some vodka to drink as well."
Brecel said: "Zhao didn't allow me to do my gameplan, he just kept potting everything. He had a bit of run of the ball, but just played unbelievably well.
"If I had a dream it was for 2022! So I'll be having another go then. It is the first time I have played in front of such a crowd, and I am back in the top 16 so it's been a good week."
O'Sullivan's career began with success at the UK Championship 28 years ago - and Zhao could easily now follow the same upward curve.
He has won a first title and one of the sport's three Majors – also won three times by his idol Ding Junhui.
But he is also into the Grand Prix, has snatched the last Masters place, is into the Champion of Champions, the Players Championship and almost certainly the Tour Championship – worth at least £90,000.
That moment when you realise you've just won the UK Championship 😝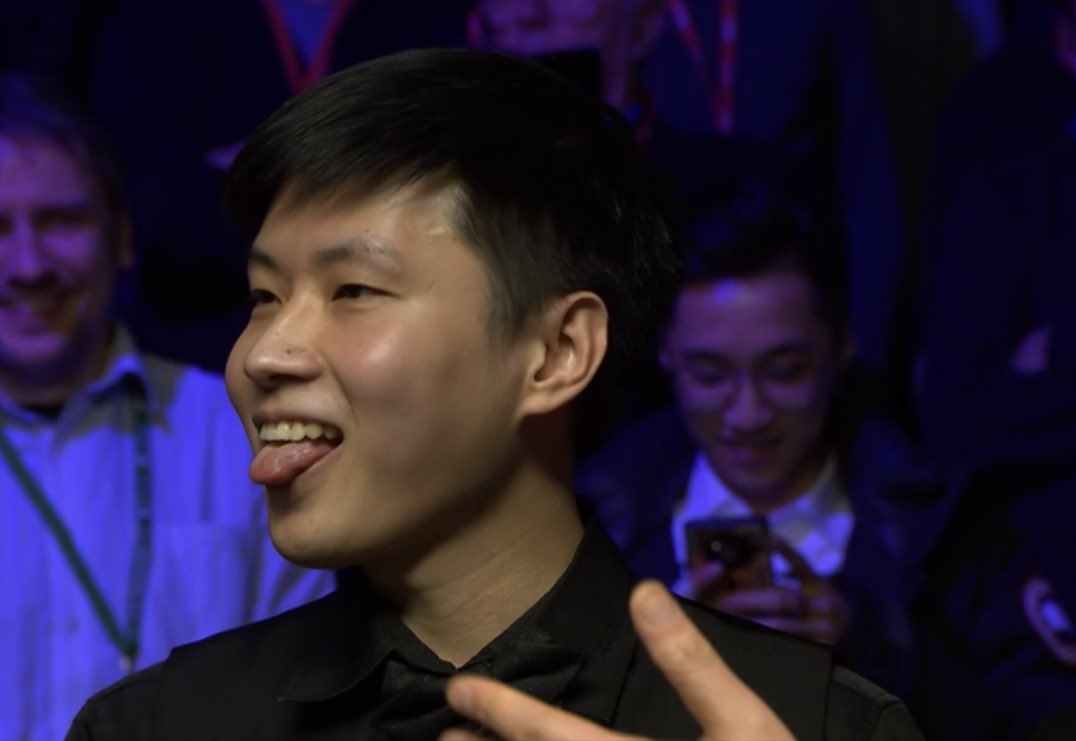 Zhao has been on the radar since beating Ken Doherty at 15 as a wildcard, and then Steve Davis 6-1 in the same Chengdu event a year later.
And China's new wave now currently hold two of three biggest prizes in the game with Yan Bingtao defending his Masters title next month.
Veteran former UK winner Jimmy White confirmed: "The events office got a phone call late last night trying to find a hotel for Zhao. His English is not that great, and he was panicking. Luckily they got him one, you need to be calm the night before a final."
But there was huge disappointment for Brecel. The 26-year-old was the first player from mainland Europe into a Triple Crown final and the former China Championship winner had been desperate to start fulfilling his own huge potential.
The final had a real 'new generation' feel about it, and the full house responded with a standing ovation ahead of both sessions.
World No2 Judd Trump, at the vanguard of trying to attract a younger audience to snooker, asked on Twitter: "Is this the start of a new era? Great to see some new faces in the final, two very natural players that are good for the game."
It is a rare thing for the combined ages of the players in a big final to be just 50. It was also the first UK final between two players not ranked in the top 16 at the start.
And this was also only the second UK final featuring two players from outside the UK – after Neil Robertson beat Liang Wenbo in 2015.
After fireworks in both semi-finals more were expected, and Brecel rattled in a 133 in between breaks of 79 and 61 from Zhao. The pace then slowed before Zhao made it 5-3 with a run of 78.
In the evening breaks of 87, 120 and 56 put Zhao 8-4 up – and there was no way back for Brecel.