Zhao beat Barry Hawkins 6-1 to book his place in the UK Championship final
21:40, 04 Dec 2021
Zhao Xintong of China will take on Belgium's Luca Brecel in the final of the Cazoo UK Championship on Sunday at the York Barbican in a showpiece that has a real freshness and 'next generation' feel about it with two young players chasing a huge career breakthrough.
Brecel, 26, performed spectacularly earlier on Saturday, making four century breaks and another of 97 to beat Ronnie O'Sullivan's quarter-final conqueror Kyren Wilson. And he was later joined by the 24-year-old Zhao, who confidently dispatched former World Championship runner-up Barry Hawkins 6-1 with a century and five other breaks over 70.
Every bit as talented and fluent as those viewed as the most attractive players to watch over the years such as Jimmy White, Ronnie O'Sullivan and Judd Trump, Zhao is in fact Brecel's favourite to watch if he is sitting in a hotel room killing time between his own matches. The aggression and attacking flair has always been there. It has been slightly reined in – but not much.
Of the next Chinese wave following on behind trailblazer and mentor Ding Junhui, Zhao who comes from Xi'an had become in some ways the forgotten man behind Masters champion Yan Bingtao and Zhou Yuelong. But the three really come as a package, also practising together at the same Sheffield Academy, and until not too long ago sharing accommodation.
After his win over Hawkins to propel him into a first career final of any kind, Zhao, who made a century and five other breaks over 70, said: "I am very happy right now, I don't have the words to describe it. I was nervous going out there at the start.
"Beating John Higgins earlier in the tournament was important, I could have lost that one and it gave me a lot of confidence and I played a lot better yesterday and today. It is good that legends are saying nice things about me – they are my teachers now! Luca played perfectly today and is a very good player, I think we can make a beautiful game."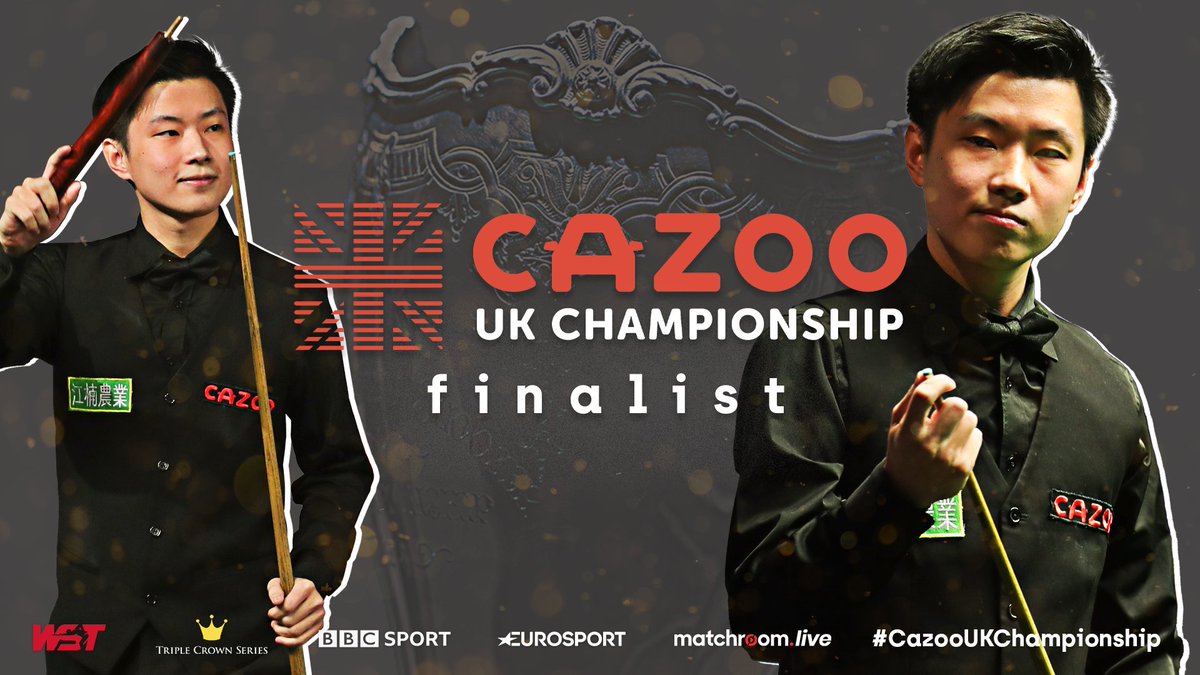 His win puts him provisionally just into the top 16 for January's elite Masters tournament, but Brecel lurks just a single place behind him. And should the Belgian win on Sunday, he would claim not only a first UK title but also the final Masters spot also at Zhao's expense.
Zhao first came to wider attention back in 2012 as a 15-year-old amateur, handed a wildcard for the International Championship in 'Panda country' in Chengdu where he held his nerve superbly to beat former world champion Ken Doherty 6-5 in a final-frame thriller.
And the signs that this was no fluke were there the following year in the same event, when Zhao beat both six-time world champion Steve Davis and Saturday night's UK opponent Hawkins by an emphatic 6-1 scoreline. Davis commented at the time: "This boy was astonishingly good, and better than anybody I have ever seen at that age - and that includes Ronnie O'Sullivan."
Zhao was rapidly acquiring the nickname of the 'Wildcard Menace', a player with no pressure but huge talent and ability that the professionals simply didn't want to meet in the first round having made a 10,000-mile round trip to China from the UK.
He did it again at the Shanghai Masters against Marco Fu in 2014. The wildcard system, occasionally controversial, was widely utilised in China to help foster interest and give opportunity to talented and promising young amateur players, and few made better use of it than Zhao. Of the first 11 chances he was given, he won his first match against a professional no fewer than seven times.
And having yet again knocked out professionals in the form of Jamie Jones and Kurt Maflin in Chengdu in 2014, Zhao admitted he was targeting a place in the professional ranks as soon as possible – something that may have come as a mild relief to a few of his embarrassed victims.
Speaking to this correspondent through an interpreter, Zhao said: "It shows I am heading towards my goal of joining them as a professional, something I would like to do as soon as possible.
"I am very satisfied with the progress that I have made over the past two years, since playing here in Chengdu as a 15-year-old. I am gaining experience all the time, and I feel I have grown as a player working very hard on my game at the Academy in Beijing.
"I was born in Xi'an but grew up mainly in Shenzhen before moving to Beijing which is my practice base now between tournaments. My dream is of course to win a world championship in the future. But for now the immediate goal is to get on to the man tour and be a professional snooker player.
"If that happens I will then move to Britain and be based there for at least some of the year, as many other Chinese players have done. My favourite player is Ronnie O'Sullivan, he is very successful and also plays snooker with a lot of style that I enjoy watching."
And the youngster eventually got his wish to join the tour in 2016 at the age of 19 – losing the World Amateur Championship but picking up the tour spot when winner Pankaj Advani declined to take up the place. And from then it has been a steady climb up the rankings up to his pre-UK position of No26 – though that will rise further on Monday.