Patriots Backed To Win In 6/1 NFL Fivefold
17:51, 16 Dec 2018
Things have changed since Week 1 and that won't be good news for Aaron Rodgers and the Packers this week. At halftime in that opening weekend clash with hated rivals Chicago, Rodgers was in the changing room receiving treatment for what looked like a serious knee injury with his side in a 17-0 hole.
His teammates were as surprised as the Lambeau Field crowd when he trotted out for the second half and shocked the Bears with three touchdown passes to edge the game 24-23.
"That's the GOAT man," Packers defensive tackle Kenny Clark said after the game." That's the GOAT. It just shows how much of a competitor he is and how much fight he has to come back, him hurting whatever he hurt, and him coming back and leading us to victory."
In that season opener, the Bears defense gave a glimpse of what was to come as the newly signed Khalil Mack ran an interception back for a touchdown, bagged a sack, forced and recovered a fumble. Since then the unit has gelled and is starting to resemble some of the fearsome Chicago units of old.
Mack is tied for the league lead in forced fumbles, cornerback Kyle Fuller is joint top of the interceptions table and safety Eddie Jackson has been a big play waiting to happen in his second season, returning two of his five picks and a fumble for touchdowns. End Akiem Hicks has six sacks and rookie linebacker Roquan Smith is closing in on 100 tackles for the year.
All this will pour snow on the feel-good factor brought on by last week's win under interim head coach Joe Philbin for the Pack. At Soldier Field, the Bears are allowing a league-low 64.1 rushing yards per game and lead the league in takeaways. They also won't let a healthy Rodgers burn them again knowing that a win gives them their first NFC North title since 2010.
Thank you
@drewbrees
and
@saints
for this token of appreciation. I'm at a loss for words and can only say that it was a privilege and honor to be your teammate. You're a class act brother and one of the greatest to ever do it!!!
#Thankful
🙏🏼
#Salute
⚜️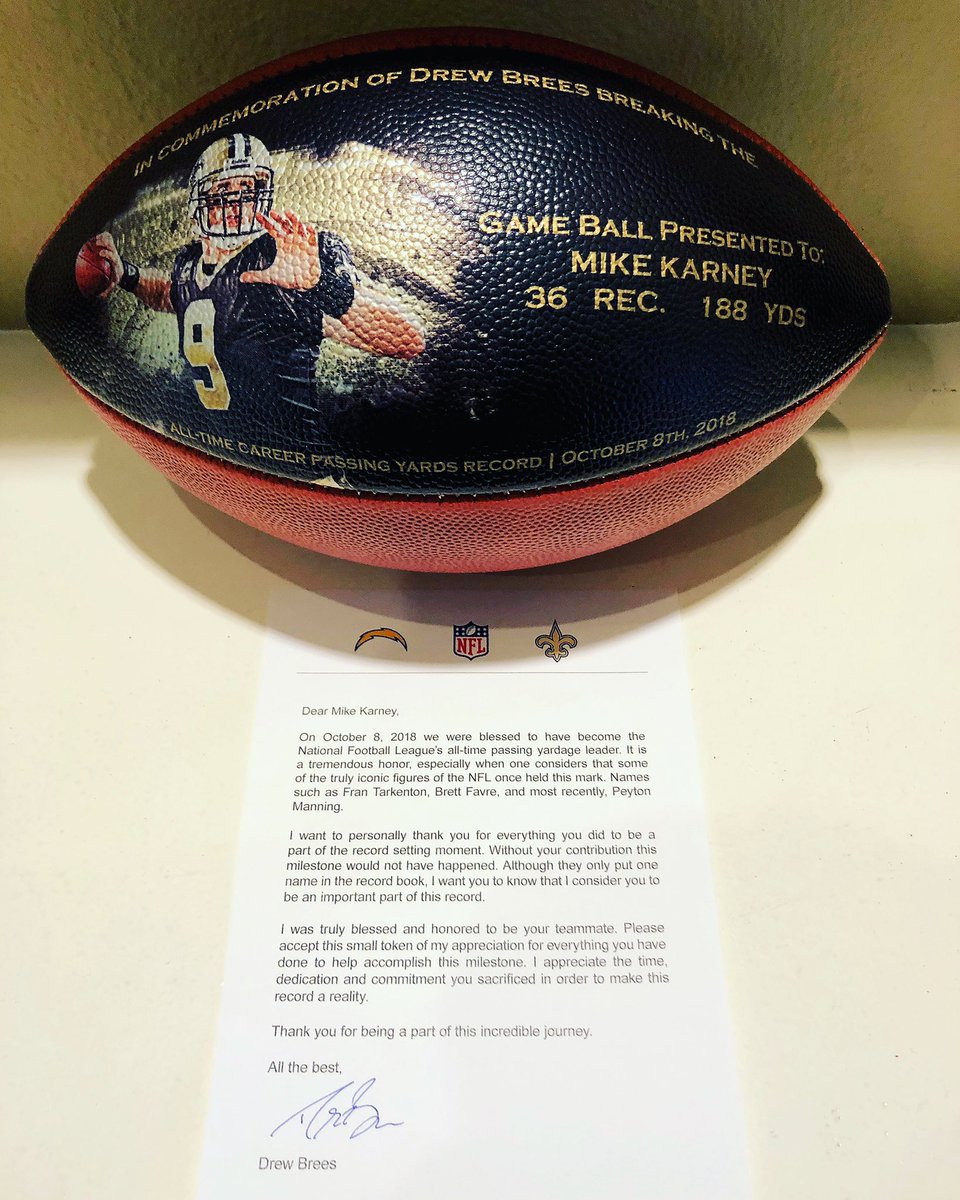 On the subject of GOATs, NFL all-time passing yardage leader Drew Brees did what Drew Brees does this week, posting out 174 custom-painted balls to coaches, linemen, receivers, running backs and anyone else he felt had helped him reach the milestone. Those on the list included the surgeon Dr James Andrews who fixed his throwing shoulder in 2006 and also his rookie-year offensive co-ordinator Norv Turner. Turner will be on the opposite sideline this weekend as OC of the Carolina Panthers, losers of five straight. The onus will be on the Saints defense though in the battle for the NFC's No1 seeding and in the last 11 weeks, they're the best at stopping the run, which means Cam Newton and co's bid for a Wild Card spot will take another dent this week.
The team above Carolina in the seedings, clinging on stubbornly, Minnesota have seen the wheels come off their season, losing three of the their last four and offensive co-ordinator John DeFilippo paid for that with his job in midweek. The team's ills are not by any means all down to him and he can rightly feel hard done by but he and head coach Mike Zimmer's philosophies clearly didn't mesh and it ended in divorce. DeFilippo was expected to get the best out of Kirk Cousins, the quarterback the Vikings made the highest-paid player in history upon signing him in the offseason but the unit has failed to top 300 yards in four of its last five games.
With their playoff hopes on a knife-edge, Minnesota welcome the Dolphins to town this week, fresh off their last-second 'Miami Miracle' victory over the division-rival Patriots. The Vikings are 10-2 in their last 12 games at home and should have too much for Adam Gase's Dolphins.
Pittsburgh aren't going to have a happy weekend as they face the victims of the 'Miracle', New England. Since 2001, when Tom Brady became Bill Belichick's starting quarterback, the Pats are 43-12 coming off a loss. Even worse news for the Steelers is that they're 3-11 in the Brady-Belichick era and just 2-6 at home. A win for the Patriots puts them one game off the top-seeded Chiefs with homefield advantage throughout the playoffs at stake.
Fighting to get into the Wild Card rankings in the AFC are Indianapolis, who have turned their season around from 1-5 to sit at 7-6 after an upset of division leaders Houston last week. They're in a dogfight with three other teams with the same record so this week's match-up with Dallas is vital. Last week, Dallas receiver Amari Cooper (40 catches for 642 and five TDs in six games since joining from the Raiders), singlehandedly beat the Eagles. Things will be different in Indy though, with the Colts averaging 33 points over their last five home games and head coach Frank Reich will have something special planned having spent the last two years plotting the Cowboys' downfall in Philly.
Patriots over Steelers
Bears over Packers
Colts over Cowboys
Vikings over Dolphins
Saints over Panthers
6/1 Bet365