Joshua And Klitschko Weigh In
The two heavyweights have weighed in ahead of their big fight tomorrow.
Klitschko weighed in at 17st 2lb, with Joshua 10lbs heavier at 17st 12lbs.
The weigh in went off without incident and as with the whole build up to this fight the two boxers have been respectful to one an other throughout.
Bring on tomorrow night!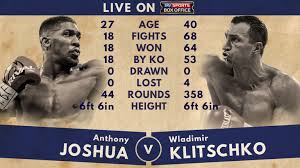 HEAVYWEIGHTS!
Anthony Joshua weighs in at 250.1 lb / 113.44KG
Wladimir Klitschko weighs in at 240.5 /// 109.08KG
#joshuaklitschko
RT!
https://t.co/FowBZEZGEP