Robins' winning goal propelled Alex Ferguson to his first trophy with the Red Devils
07:02, 04 Jan 2020
Sir Alex Ferguson at Manchester United.
Almost 27 years, 13 Premier League titles, five FA Cups, four League Cup triumphs, three double-winning seasons, a brace of Champions League trophies, and one historic, unequalled treble. There was even a stand in his name. And a knighthood.
Sir Alex Ferguson at Manchester United, without Mark Robins' goal against Nottingham Forest in the Third Round of the FA Cup on January 7th 1990?
Three years, two months. Silverware? Non-existent.
Alex Ferguson succeeded Ron Atkinson as Manchester United manager on 6 November 1986, just 10 weeks into the new season. Atkinson's era, which had begun in June 1981, had brought the FA Cup in 1983 and 1985, and consecutive top-four finishes in each of his five full seasons.
The return of the league title for the first time since the days of Sir Matt Busby in 1967, however, continued to remain little more than a pipe-dream. Despite a blistering start in 1985/86, winning 10 successive games, United trailed off dramatically to finish 12 points behind eventual champions Liverpool, and when the following season began poorly Atkinson was inevitably fired.
Ferguson's first full season was a relative success, with United finishing second, once again behind Liverpool and in their best position in nine years. But there was no real identity to the side yet, and there followed a drastic drop-off to 11th in 1988/89. There was a sense of regression rather than progression, and 1989/90 began tepidly before reaching a nadir with an Autumnal capitulation to recently-promoted Manchester City, 5-1, in the Maine Road Massacre.
"From boardroom to dressing room United are showing all the classic signs of a club cracking up," wrote Harry Harris in The Mirror and Fergie, who should have been celebrating his third anniversary at the club, was labelled a flop by the press. "3 Years Of Excuses And It's Still Crap, Ta Ra Fergie" read one infamous banner unveiled at the 2-1 defeat to Crystal Palace in December of 89.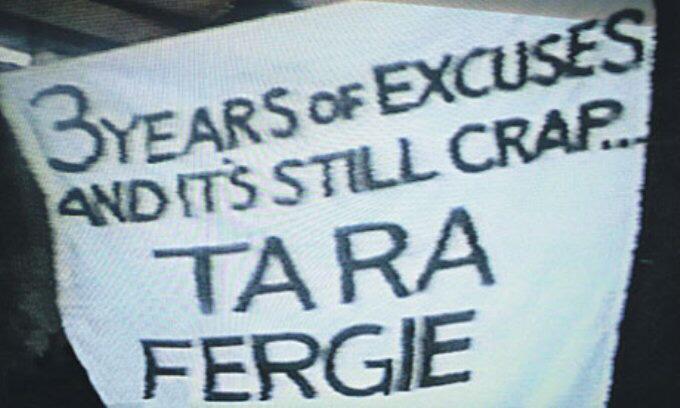 "I had no idea that goal against Nottingham Forest would become so important in the history of Manchester United," Mark Robins would later reflect in an interview with The Telegraph. "How could I at the time? Nobody knew it was a pivotal moment for Sir Alex Ferguson."
That goal at the City Ground is well-regarded as the moment that saved Ferguson's career at Manchester United. It was the only goal of a tie thought to have been identified by the club's board as pivotal to them sticking by the Scot.
The Red Devils marched on, defeating Hereford, Newcastle, Sheffield United and Oldham to reach the final. Robins scored other pivotal goals against the Magpies and Oldham, but it would be Lee Martin who would get the ultimate glory of bagging the only goal in the replay of the final to hand Fergie his first taste of silverware in England.
"If the manager was under intense pressure at the time, we had no idea," said Robins. "If he was, he kept it away from the players. He hid it really well, there was no sign he was feeling any strain or that we were under any extra pressure going into the game. He protected us. He was a terrific manager and thank God we got through."
Robins was one of the long list of academy graduates to come through the United system in a trend which the club continues to champion to this day, being granted his first-team debut at the age of 18 against Rotherham United in the League Cup in October 1988. He would have to wait a couple more years for his first league goal, scoring against Wimbledon the week before that FA Cup third-round fixture.
Manchester United were slap bang in the middle of a barren three months without a win in the First Division. They failed to win a single league game from November 25 until February 10. The FA Cup provided merciful salvation for the Red Devils and, vitally, for Alex Ferguson. Mark Robins did that.
Was this the goal that kickstarted it all? Mark Robins v Forest in the FA Cup 1990
#mufc
By the end of the season they had lifted the first of Ferguson's 38 trophies as Old Trafford boss. The man himself has attempted to dismiss the wide-held opinion that he would have been turfed out had he not won the FA Cup that season, somewhat diluting the moment that Robins flew to his rescue.
In his autobiography Managing my Life, the Scot claimed that he had assurance from the directors that he would have remained as manager either way. However, at the end of a challenging decade dictated by Liverpool, Everton and latterly Arsenal, it still remains in the eyes of many as a seminal moment in the history of Manchester United, and enjoys itself as the eternal proposal of what could have been.
If Sir Alex Ferguson was Manchester United's formidable colossus, Mark Robins was their incidental saviour.