Our Top Teams To Should Start A Career Mode With
12:04, 13 Sep 2019
It's that time of year again - when FIFA is on the lips of every football fan that can still abide the franchise, ready to call in sick on the day of release (27 September) just so they can get started on Ultimate Team, or Career Mode. If you prefer the latter, we've had a look at some of the best teams for you to get your teeth stuck into this year.
If you're not familiar, Career Mode allows you to act as manager of any club of your choosing on varying modes of difficulty, meaning you can compete at the bottom or the top the footballing world. It also allows you to create your manager from scratch - including details such as facial features to what type and colour of suit (or tracksuit if you're that way inclined) to wear.
Take charge of press conferences, control your team with tactics and let players grow into superstars as you manage your way to success, both for club and country.
Sheffield United
Chris Wilder's Sheffield United managed to claim an automatic promotion spot from the Championship last season, creating a squad made up of mainly British players with some visionary tactics from Wilder.
The Blades have made the jump up to the top division and are hindered by having the lowest transfer budget in the top-flight with just £17m at the start of the career. That kind of money could be reinvested in a few youth scouts to find the next Billy Sharp, or by buying a new centre-back to overlap the midfield, like Wilder himself has done while in charge.
The goal should be simple. Survive relegation. After a successful first season in charge of the Blades, look at a cup run to build up some money and go for a top-half finish to unlock a larger budget for the year after.
Atalanta
Atalanta, who've been grouped with a few of the big boys in Man City, Dinamo Zagreb and Shakhtar Donetsk, are a refreshing change in this year's Champions League. Take charge of the I Nezzazuri and see how far you can get them in their first-ever Champions League campaign. And you can focus on improving on a third-place finish in the Serie A, as competition for the top begins to stiffen with the revolution at Inter and Juventus's appointment of Maurizio Sarri.
The club has a budget of £16.2m this year and it should be interesting to see their team, with Duván Zapata, Luis Muriel and Papu Gomez leading the line again this season.
New features in
#FIFA20
Career Mode:
👨 👩 Manager Customization
😊 😡 Morale Management
📈 📉 Dynamic Player Potential
Check them all out ➡️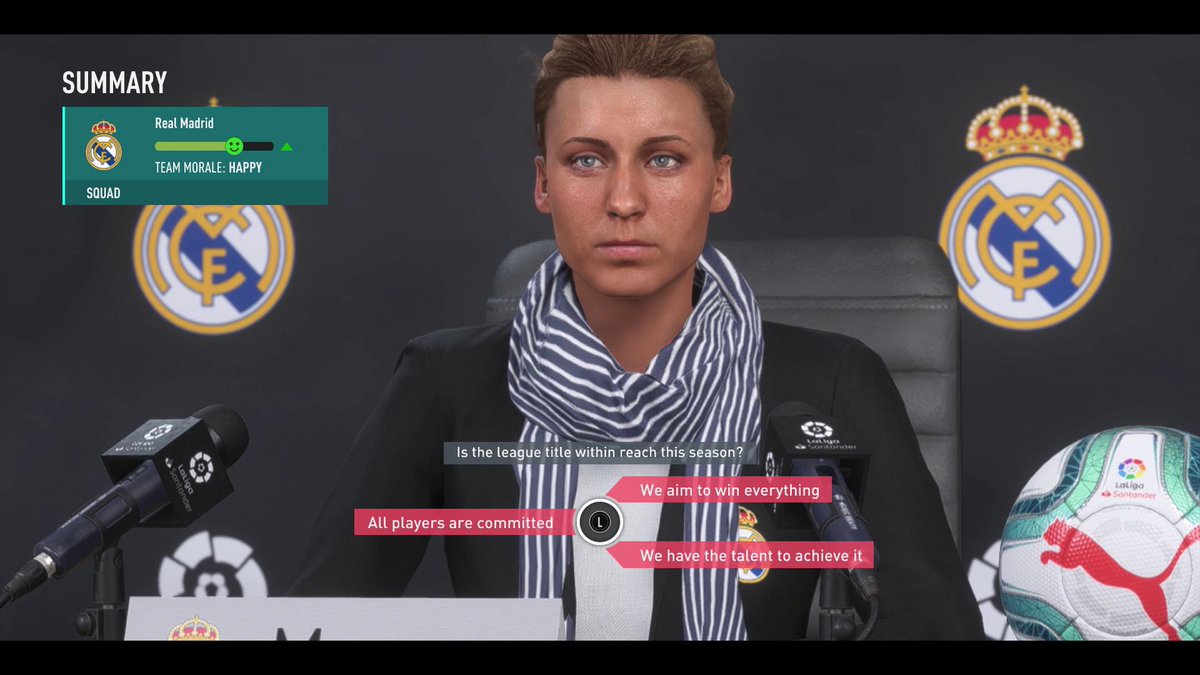 Salford City
Yes. We know. Salford bought their way into the league. Yes, they're on Sky more than your team. Yes, we've had three seasons of Class of '92 documentaries. We understand your frustration at Salford City having a wealthy benefactor so they've gained promotions like they're going out of fashion.
Besides that, they're a work in progress under Graham Alexander, who's looking to guide the Ammies to their highest-ever finish. You could take over the reigns at the Peninsula Stadium and create a dynasty from the bottom to the top of the English Football League.
We're guessing the objectives for the manager in-game will also be a challenge, with the Class of '92 likely to be involved with the team, and Peter Lim already proving he's a man who's quick to pull the trigger on a manager, as Marcelino recently found out at Valencia.
The club starts with £1.6m, the second-highest transfer budget in League Two behind only Bradford City. That should be enough to pick up a few players on loan or invest in some hidden talent from abroad.
Athletic Bilbao
As many Career Mode fans know, Athletic Bilbao is a club built on strict traditions and utilises the Basque region of Spain to produce all their players.
To fully experience the Career Mode, we recommend you work with youth players to keep the tradition alive as a challenge, as well as looking up Basque-born players who you can sign - a list including Kepa Arrizabalaga, Cesar Azpilicueta, Aymeric Laporte and Ander Herrera.
There's plenty of options to choose from and with a starting budget of £16.6m they can afford to set up an illustrious youth setup.
FIFA 20 Will be released on September 27
Union Berlin
Union Berlin are a brilliant team with a narrative that some clubs could only dream of. They're now in the Bundesliga for the first time ever and claimed their first Bundesliga win over Borussia Dortmund in a 3-1 thriller recently.
Take over at Stadion An der Alten Försterei (Translated as 'The Stadium at the Old Forester's House') and just enjoy a team finding its feet in the top-flight of German Football.
The club's stadium has been included in FIFA 20 for the first time, so you have something brilliant to look at while playing.
You'll begin with an £8m transfer budget, leaving you with the ability to bring in some good squad players for the first season before you can enjoy the Bundesliga TV rights money.
It's also nice to see a club from East Berlin enter the fray, as former East German teams has lacked success in the Bundesliga since it was formed.