Gareth Bull spent a portion of his £40m winnings on buying Sherwood Colliery F.C.
14:37, 21 Aug 2019
Great use of the second conditional for any English tutor: What would you do if you won the Lottery?
For former self-employed builder Gareth Bull, the answer was clear: buy his football club, Sherwood Colliery.
After that humongous win in 2012, Mr Bull got to the spending, with a substantial focus on footy. He purchased a box at Wembley Stadium as well as a £125,000 per year 16-seater box at Old Trafford to watch Manchester United.
Sherwood Colliery compete in the East Midlands Counties Football League, the tenth tier of the English football league system, where they play against such sides as Ashby Ivanhoe, Borrowash Victoria, and a nimiety of Miners Welfare clubs. They're around a decade old and celebrated their 10-years with a charity match against a Manchester United Legends XI (still can't shake off that affiliation).
Mansfield-born Gazza, for one, as the owner of the Colls hasn't acted like a bull in a china shop, provoking the envy of rival clubs by swamping the lower lower lower league with his £40+ millions at the time the seventh biggest win in the UK; "I might be (one of the wealthiest chairmen at this level), I don't know. I don't really look at it like that" (BBC).
This weekend they will play against Loughborough Dynamo in an FA Cup match, a step in trying to reach the 'proper' qualifying rounds. There will be more than 700 clubs competing in the world's oldest football tournament, with a smattering of clubs who have had a similar history to Sherwood Colliery in having a fan purchase a major stake.
Norwich City
Delia Smith became Norwich City's saviour after rescuing the Canaries from administration abyss in 1996. Both the TV cook and her husband Michael Wynn-Jones were season ticket-holders prior and have ploughed a rumoured £8million into the Carrow Road outfit, remaining as majority shareholders for close to a quarter of a century, a period that has seen sporadic spells in the top tier but also four separate relegations
Happy birthday, Delia!
#ncfc
Have a fantastic day! 💛💚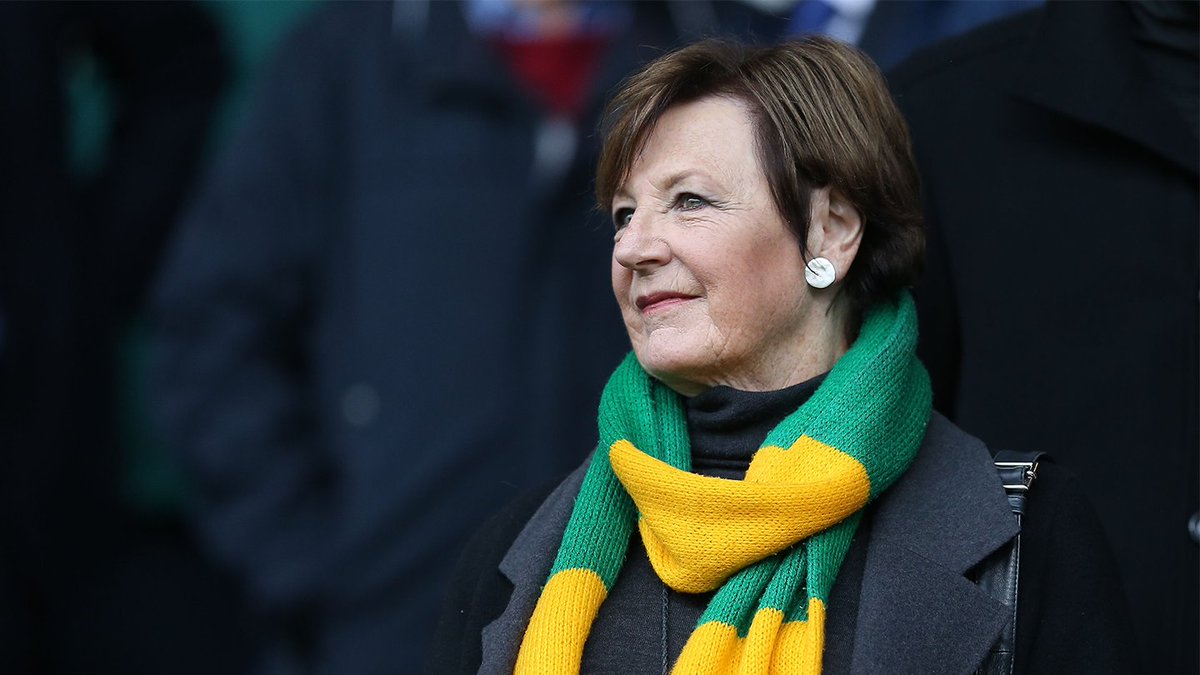 Huddersfield Town
2017 saw The Terriers enter the Premier League for the very first time, the zenith of Dean Hoyle's ownership. Remarkably, the Yorkshire-based club stayed up in their maiden season, and beat the likes of Watford, Newcastle, and Manchester United at the John Smith's Stadium.
Hoyle, who hails from Heckmondwike, West Yorkshire, is the founder and former owner of Card Factory. He passed the Huddersfield Town reins to fellow lifelong support Phil Hodgkinson in May 2019 but maintained a position on the Board of Directors.
Wycombe Wanderers
The Chairboys have been officially owned by the Wycombe Wanderers Trust since 2012, the club's 125th anniversary year. The Trust was a merger between the Supporters and Founders Trusts, the two uniting four years prior. In 2016 they finally cleared the debt to Wycombe's previous owner Steve Hayes, and in 2018 gained promotion back to League One.
Worthing FC
Former Worthing player George Dowell was paralysed from the waist down after a car crash in 2010. The compensation he received he ploughed into the cash-strapped club - a reputed five-figure investment - and they are now playing in the Isthmian League Premier Division, with crowd attendances going up and up and up (calculated at one point as a 164% increase). Until 2018, Dowell was also the chairman of the south-east side and now remains on the board as majority shareholder. Thanks to him, Worthing also now have a 25-year lease on their ground, Woodside Road.
Image courtesy of: BBC