The world title showdown is set to throw up some extraordinary sums and figures
06:55, 27 Nov 2019
Zero.
That is the number of pints of beer that will be consumed at the Diriyah Arena on December 7 when Anthony Joshua attempts to take back his World Heavyweight Championship titles from Andy Ruiz Jr.
Due to Saudi Arabian law banning alcohol, this will be one of those rare occasions when the entire crowd will be sober.
But there are plenty of other staggering numbers and figures involved in the rematch of June's initial contest which resulted in the first defeat of Joshua's professional career…
4 million - That's how many views there were of the host broadcaster DAZN's YouTube highlights in just 24 hours after the first fight. That's one view for every 2,000 people on the entire globe!
403,000 - The pay-per-view UK TV coverage of June's first clash supplied by Sky Sports Box Office was bought by over 400,000 customers. It might have been more had the fight not set a new record for piracy viewership, with 13 million people thought to have streamed the event illegally.
£83 million - The Saudi Arabian backers have had to fork out an eye-watering $100million (£83m) to secure the Ruiz-Joshua rematch, including a £33.3m hosting fee alone. It is quite the outlay, and it's not as though they can make the money back on booze, is it?
£7.5 million - Champion Ruiz snubbed a £7.5m deal for the rematch, demanding 'millions more' from the overall purse. Who can blame him? We wouldn't get out of bed for less than £10m, right?
£59 million - One of the reasons Ruiz wanted more was because his bigger-name opponent is set to pocket a massive £59m prize win, lose or draw. Not bad for a maximum 36-minute shift
£4,000 - They could make their money back on tickets given how highly sought-after a ringside seat will be such is the prestige of this bout. Right now you can find online box offices selling VVIP tickets for £4,000 a head. A bargain, right?
15,000 - There aren't too many seats to come by, to be fair. The newly-built open-air Diriyah Arena holds 15,000 seats. It is not the most gargantuan of venues but it certainly helps to provide a pleasing backdrop.
61 - Some people were fearing a delay to the fight when they saw pictures in early October of a barren spot where the Diriyah Arena was meant to be. But it was on October 7, just 61 days before the fight, that construction began on the new stadium and the swift operation has ensured completion on time.
175 - It is thanks to 175 construction staff who worked on the arena that everything is ready to go in Diriyah, while on the night itself there will be 2,000 staff on hand in total to ensure the smooth operation of the fight.
🇸🇦🏟️ Matchroom have announced that the 15,000 capacity Diriyah Arena is now ready for the Andy Ruiz Jr vs Anthony Joshua rematch a week on Saturday.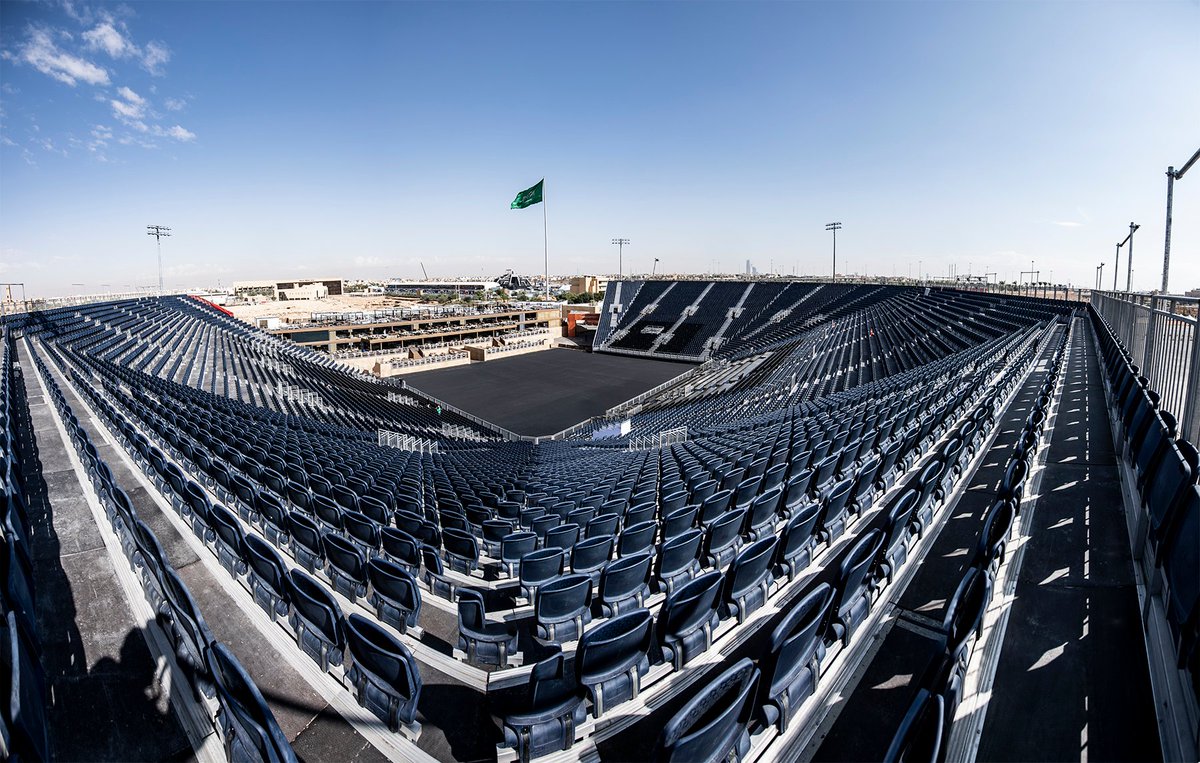 10,000 - The site of the Diriyah Arena measures 10,000 square metres in total. That's enough space to fit the White House… complete with 60% extension. Alternatively, you could fit a couple of football fields on there.
3,000 - That's the square meterage of scaffolding that has gone into the building of the stadium. Just attach it end on end and you have a handy sun-poking device, since that's about the distance between the earth and that great golden orb in the sky.
295 tonnes - There is 295 tonnes of steel in the building, which would stretch 57km. Just don't try picking it up, it's quite heavy.
42.4C - That's the average high temperature in Diriyah in July. Good job they've scheduled the Diriyah Season of sports and entertainment for December then really, isn't it? Then again, the average high in the run-up to Christmas is 21.6C so it's not exactly gloves and scarf weather either.