Paul Walmsley has been putting his charges through their paces ahead of the Olympic Games
06:55, 12 Feb 2020
"I've never felt anything like it in my life," beams Team GB coach Paul Walmsley as he recalls the London 2012 Olympic games in an exclusive interview with The Sportsman. "People ask me to describe it. Have you ever opened a hot oven? And the heat just hits you? Well that's what it was like, this noise just hits you. It wasn't once or twice but every single time.
"It was an absolute cauldron, the atmosphere was unbelievable. The end of that tunnel into the arena itself, the noise... the hairs on my legs now, as I'm talking to you, are standing up. It was like coming out of prison; to see the normal people in the crowd again, then back to prison in that Olympic village."
Walmsley has amazing memories of Anthony Joshua's victory over Roberto Cammarelle eight years ago and will be hoping for more of the same in Japan this summer as he guides the next generation of boxing hopefuls. Out to help Team GB's talented fighters experience medal glory, the renowned boxing coach was in AJ's corner as he won gold before setting off on his path to heavyweight domination.
And it was Walmsley who aided Joe Joyce to achieve silver four years later in Rio. So, who is the next great hope for Tokyo 2020?
"Weight for weight, we've got the super heavyweight now, Frazer Clark, who has been on the programme for 10 years," he tells us. Towering at 6ft 6in, the Burton-born boxer has won gold at the Commonwealth Games and European Championships and there are hopes he will be on the podium again this year. It's been a long journey to this point.
"He was there before Big Josh and he was there before Joe Joyce but unfortunately he's just been pipped by both of them for the last two Olympics," explained Walmsley. "This time though, fingers crossed, he should make his way through because he's a great talent." Whoever does make the grade for Team GB ahead of this summer's games will have passed a gruelling test to get there. Don't be fooled either, it's not just about being the biggest and most powerful fighter.
"We get the national champions from England, Scotland, Wales and they then go on to box at the Great Britain Championships, which is a decider if you like between the nations," explains Walmsley. "Anyone around that level, they're usually invited down to Sheffield for a couple of assessment camps for three days and coaches will assess them on skill and fitness.
"It's not just ability but attitude as well, because you could be a world beater but an absolute pain in the a***. That's no good to us if we take you to a tournament and you're causing havoc and we have to fly you home because it doesn't look good on the programme. All those things are taken into consideration."
Preparations are going well. At the start of February, Walmsley and the team are in Debrecen, Hungary for the Bocskai tournament. In January, Great Britain's best were put through their paces further afield.
"It's been great so far," he tells us. "We had the World and European games last year, we also had multinational training camps in August and this year the number one squad flew to Kazakhstan for a training camp which isn't easy; Kazakhstan is brutal.
"The boxers are a really high level, some of the best in the world, and some of the training camps can be a bit spartan. The sparring is absolutely top rate but it's brutal. It's really not for the faint-hearted. That will stand them in good stead and we've then got the qualifier in March in London, so fingers crossed all the preparation is done."
Walmsley is confident his lads can impress ahead of the Games.
"Oh yeah, I think it's a great bonus that the qualifiers are actually based in England because sometimes it's not the greatest when boxing abroad and you're on foreign territory. I'm confident we'll get a good number of the lads qualified. If they don't qualify, there is the second qualifier."
When the victors finally make it to Tokyo, the hopes and dreams of a nation will be on their shoulders. However, in the goldfish bowl of the Olympics, it's not so hard to switch off to outside noise.
"It's a bit strange in one respect," admits Walmsley. "I remember in London, family were texting me and I thought 'Oh I didn't know that, I didn't know that,' because you're in this Olympic bubble. You're at the Olympic village, transported to the venue, you box, then transported back to the village and that's all you do for weeks."
The build-up to fight night is meticulous but calm. It has to be that way. A standard day at the Games follows the same routine.
"We check the weight an hour and a half before the official weigh-in in case there's any problems and we need to get weight off them at 7am," says Walmsley as he talks us through things. "Then it's breakfast and back to the flats, where we get the performance analyst to come in and set up the screen to go through video analysis of the opponent. We look at tactics, styles and then put a plan together on how we're going to box.
"By that time, near lunch, we take the boxer out for a walk to destress, get a bit of air into them, get them to relax. Then it's a bit of lunch and rest in the afternoon before we take them down to the venue. Then it's the warm-up and the nerves start."
2020 Bocskai Tournament winner.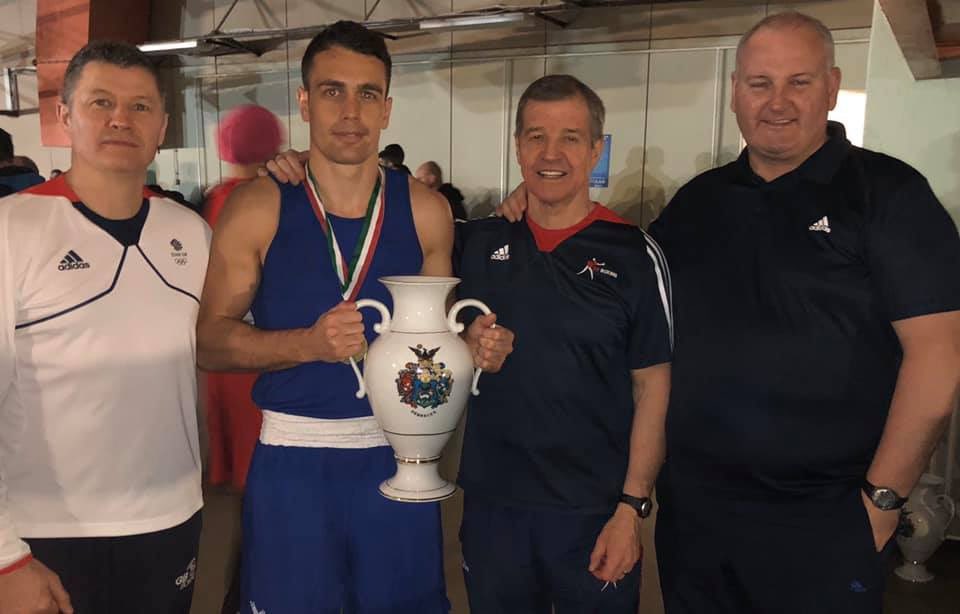 Working at the famed Rotunda in his home city of Liverpool for 27 years, initially invited along having been away at sea, Walmsley worked his way up to be an advanced coach with England, turning full-time in 2010. He admits, thanks to funding, the step up differs greatly to the amateur circuit which he still respects greatly.
"Ah, it's massive," he says. "From club level, with no disrespect to any amateur club, it's just completely different. The set-up now, it's so professional, there are psychologists, physiologists, everything you can think of...doctors, dieticians, nutritionists.
"It's just an unbelievable set-up whereas the average club is made up of volunteer coaches and committee people. It is chalk and cheese, this is an elite programme and because of the lottery funding, the best in the business are brought in. Our nutritionist is Manchester United's nutritionist. Our team doctor is a Harley Street specialist. That's the level. We can afford to bring those people in."
Having helped AJ reach the pinnacle of the sport, we had to know what the aftermath of such a victory is like? What could be in store for Great Britain's next hopeful? "Everyone who goes to the Olympics gets a medal in a box. Mine are in the loft.
"You're invited to the Queen's party. I didn't go but it never went down well," he admits with a chuckle. "'What do you mean you're not going?' After Rio it was the same reaction: 'Is it a waste of time asking are you going?' Not a chance! The boxers, they're the ones who did the hard work, not us."
He may not attend but here's hoping Walmsley and his fighters have reason to receive another royal invite.