It is nine years since Babel became the first player fined by the FA for conduct online
06:55, 17 Jan 2020
On January 17th 2011, Liverpool winger Ryan Babel created a little piece of history by becoming the first professional footballer ever to be censured by the Football Association for comments made on Twitter.
The FA fined the Dutch international £10,000 for posting a mocked-up picture of referee Howard Webb wearing a Manchester United shirt along with the words: "And they call him one of the best referees? That's a joke," following Liverpool's 1-0 defeat at Old Trafford in the FA Cup third round.
Whereas at one time the nearest someone could get to gauging a player's mood was if they ran into them in the pub or at a petrol station, the digital age has broken the barrier between supporters and superstars.
But Babel's online rant wasn't the first and was far from the last when it comes to footballers getting into hot water for making their feelings plain on social media, with a raft of big names often finding the temptation of a global outlet for their frustrations too much to resist.
And since that seemingly harmless jibe at Howard Webb back in 2011, the FA has taken in more than £350,000 in fines to players and officials for posts they have deemed to be offensive, controversial or just downright wrong. And clubs have dished out their own punishments, from fines to bans and even sackings.
So here is a look at some of the most criticised, not to mention costly, social media outbursts from down the years which have had players from around the world desperately hitting the delete button.
Ashley Cole - Fined £90,000
Just 12 months after Ryan Babel felt the full force of the law for his social media meltdown, Ashley Cole was fined £90,000 for using an expletive on Twitter to describe the Football Association following the John Terry racism case in 2012.
Responding to the FA's judgement in the case which saw the Chelsea defender found guilty of racially insulting Anton Ferdinand during a match between Chelsea and QPR, Cole tweeted: "Hahahahaa, well done #fa I lied did I, #BUNCHOFT***S" He quickly deleted the tweet and issued an unreserved apology for the message, which was retweeted more than 19,000 times.
It was the largest fine ever given out by the FA in relation to social media but Cole escaped a ban after personally apologising to FA chairman David Bernstein.
Darren Bent - Fined £80,000
Some three years prior to Ryan Babel's Photoshop faux pas, and seemingly frustrated with how long it was taking to complete his move to Sunderland, Darren Bent sent a foul-mouthed message to the Tottenham chairman Daniel Levy via Twitter.
Taking to the social media platform to make his feelings clear, the striker wrote: "Do I wanna go Hull City NO. Do I wanna go Stoke NO do I wanna go Sunderland YES so stop f****** around, Levy. Sunderland are not the problem in the slightest."
Bent later claimed: "I allowed my emotions to get in the way of my better judgment. I regret my actions and did not intend to offend Daniel Levy or anyone with the nature or the content of my posting," and finally got his "dream" move in 2009 but not before being issued with an £80,000 fine from the club for his outburst.
Adrian Mutu - Never played for Romania again
The career of Romanian striker Adrian Mutu had plenty of ups and downs, as his talent on the pitch was often counteracted by controversy off it, most notably when his Chelsea career ended in 2004 after he was sacked for cocaine use and banned for seven months.
But it was an angry Facebook post which all but brought the curtain down on what had been a pretty impressive international career too when, following Romania's failure to qualify for the 2014 World Cup, Mutu posted a picture to Facebook of national coach Victor Piţurcă with Mr Bean's face Photoshopped in.
His bosses didn't see the funny side, and the response from the powers that be in Romania was as harsh as it was swift, with Mutu being banned from ever representing Romania again; meaning he never added to his 77 international caps and ended his playing days just one goal short of Gheorghe Hagi's record haul of 35.
Adrian Mutu banned from international football for calling his manager Mr Bean for not picking him,and posting this😂
http://t.co/rjkEq4Vf3F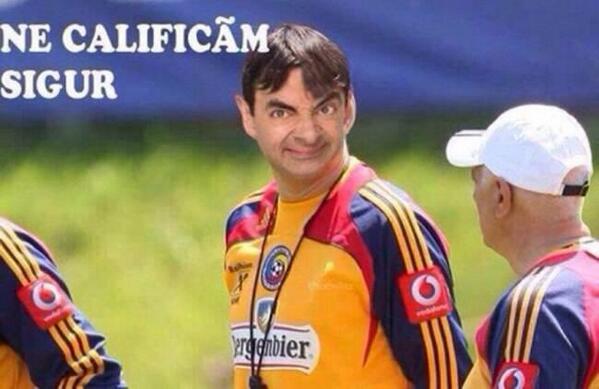 Carlton Cole – Fined £20,000
An ill-advised immigration joke about Ghana fans at Wembley from West Ham striker Carlton Cole didn't just go down like a lead balloon, but what he thought were harmless comments would ultimately see him landed with a £20,000 fine from the Football Association.
Cole posted several comments during England's 1-1 draw with Ghana in 2011 including: "Immigration has surrounded the Wembley premises! I knew it was a trap! Hahahaha.' Followed by: "The only way to get out safely is to wear an England jersey and paint your face with the St. George's' flag!"
Realising that his comments were causing offence, Cole tweeted: "To my Ghanaian brothers don't take it so seriously, it's just jokes! You've played well! Done Africa proud!" While responding to complaints from fellow Twitter users, he then posted: "Why are there so many sensitive people out there! It was a joke & it's not even racist!"
That'll be 20 grand please, Carlton.
Sergi Guardiola - Sacked within hours
Within hours of signing for Barcelona's reserve team in 2015, forward Sergi Guardiola was sacked by the club after officials were alerted to "offensive tweets" he had posted two years previously about Barca and Catalonia.
The 24-year old, and no relation to Pep, had joined Barcelona B on the morning but his contract was terminated just a few hours later when they became aware of pro-Real Madrid tweets dating back to 2013, including offensive language about Catalans.
The tweets included several uses of the "Hala Madrid" rallying cry favoured by fans of Barcelona's eternal rivals Real Madrid, and if that sat uncomfortably with some Barca supporters, Guardiola's "f*** Catalonia" comment all but cemented his early departure from Camp Nou.
And it's official. Barcelona have terminated the contract of Sergi Guardiola.