United have named at least one academy graduate in every matchday squad since 1937
06:55, 18 Dec 2019
October 30th, 1937. Semi-blissful days before the outbreak of World War II, the Golden Gate Bridge had just opened, and people were just starting to think: "Where the hell is Amelia Earhart?"
It was also the date that saw Manchester United field academy graduates Tom Manley and Jackie Wassall for a First Division game against Fulham, beginning a 4000-game run which continues to this day. Who would have thought all those 82 years ago that Manchester United would remain a bastion of promoting youth products in 2019?
While United have not been shy in spending similar amounts to those splashed out elsewhere, imports have been supplemented at every turn by academy products, a model of which current manager Ole Gunnar Solskjaer remains a refreshingly strong proponent.
Here are the best players, the creme de la creme, who epitomise the greatness of Manchester United's stunningly successful academy.
Ryan Giggs
Was there any other place to start? How different Ryan Wilson's career could have been had he elected to stay with Manchester City at the start of his footballing days, aged 14. The Cityzens possessed the young Wilson for two years, but as he would lose the surname and become Ryan Giggs at age 16, so too would City lose the man who would become the most decorated British player of all time.
Across a career spanning close to a quarter of a century and 963 games, Giggs tore players apart again and again. He also won 34 trophies including 13 Premier League titles, four FA Cups, and a brace of Champions League titles to boot. Say no more.
Paul Scholes
Scholes was possessed with seemingly otherworldly passing ability and the eye (and foot) for a good thronker. Just ask Barcelona legend Xavi.
"In the last 15 to 20 years, the best central midfielder that I have seen - the most complete - is Scholes," said the Spaniard. "I have spoken with Xabi Alonso about this many times. Scholes is a spectacular player who has everything.
"He can play the final pass, he can score, he is strong, he never gets knocked off the ball and he doesn't give possession away. If he had been Spanish then maybe he would have been valued more."
8 July, 1991: Beckham, G.Neville, Scholes and Butt all joined
#mufc
as trainees. The rest is history...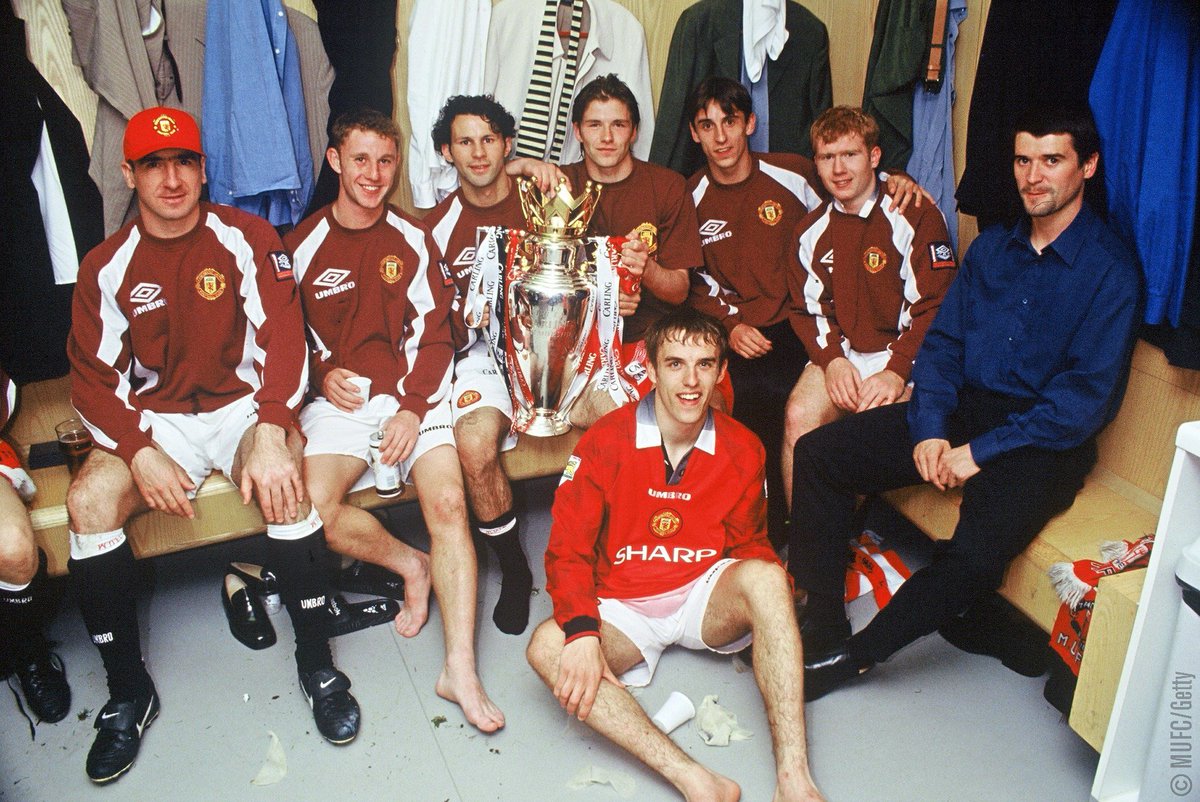 David Beckham
Fashionista, philanthropist, People's Sexiest Man 2015, global icon and not a half-bad footballer. A boyhood fan of the club, Beckham made his maiden first-team appearance for Manchester United at the age of 17 and would go on to captain England 58 times in a career which was never far from the headlines.
Self-determined and enviably hard-working, Becks became perhaps the most influential and recognisable footballer of his age, setting a template, for better or worse, for the generations to follow and how footballers are perceived today. Has the United academy ever known a better right foot?
Bobby Charlton
Northumberland-born Charlton moved to Manchester at the age of just 15 and became the defining star of the Sir Matt Busby era. Charlton scored a brace on his debut (with a sprained ankle) and went on to become Manchester United's record goalscorer in his 17-year career as a player, netting 249 goals in his 758 games for the club.
A Ballon d'Or winner in 1966, he even has the South Stand at Old Trafford named after him so huge was his impact, and but for Wayne Rooney would still be the record goalscorer for both United and England.
George Best
Another Ballon d'Or winner in 1968 - following in the footsteps of teammates Charlton and Denis Law in the Holy Trinity - the inimitable Best can stake a claim to be Manchester United's most legendary player. The Belfast Boy swapped Northern Ireland for Manchester as a teenager after scout Bob Bishop told Busby: "I think I've found you a genius."
On his day, Best was simply unplayable, with ethereal feet that dribbled, dazzled and dazed in equal measure. His trophy cabinet may not be as jam-packed as others on this list but few footballers in history have been possessed with such blistering, magnetic talent. He was arguably the icon of his generation, sporting or otherwise.
Gerard Piqué
Gerard Piqué joined Manchester United's academy in 2004 and was part of the Double-winning squad of 2008. But, as we all know, it is his longevity in the Barcelona set-up - the club at which he started - that has qualified him to be considered one of the best defenders of all time.
In his debut season at senior level for Barca, Pep Guardiola was a fundamental force in driving the Blaugrana to a historic treble and the subsequent domestic dominance that has defined Spanish football has been played out with Piqué at its heart.
That's not even mentioning the fact he's the only player on this list to become both a World Cup and European Championship winner.
Duncan Edwards
Have we saved the best until last on our list? Quite possibly. Those who saw him, and played alongside him, have said Black Country boy Edwards could quite rightly claim to be the best player the club has ever seen.
"He was so good," said teammate Bobby Charlton, who survived the 1958 Munich air disaster that claimed Edwards' life at the age of 21. "When he was around you thought anything was possible.
"He was more than a great player – sometimes he seemed like some bright light in the sky. He was a giant."
Everybody who saw him play believes he would have gone on to become one of football's all-time greats.
Duncan Edwards was born 1 October 1936. A phenomenal player, he died aged 21, 15 days after the Munich air crash.
http://t.co/p6HF5Xzh02