Eat, drink and be merry in the incredibly affordable Bundesliga
08:38, 16 Aug 2019
Yeah, in Germany you can watch Bayern Munich for a tenner, travel to the ground for free and drink as much as you want on a standing terrace!
The clichés surrounding cheap, affordable football in Germany are well-known and attracts thousands of British fans every season.
And they're not untrue. The average cost of a standing season ticket at a Bundesliga club this season is €186.25, up one euro on last season but still working out at just €10.96 per game.
Unreserved standing sections with cheaper tickets are a key feature of every Bundesliga ground and local transport to and from the stadium is included in the price of every match-ticket. (Inter-city travel on high-speed ICE or IC trains however is not, so don't get caught out.)
Alcohol is also permitted and you are technically free to drink as much Pilsner, Helles, Alt or Kölsch beer as you want – even in view of the pitch. Although The Sportsman takes absolutely no responsibility for the consequences of over-indulgence …
And yes, you really can theoretically watch Bayern Munich for a tenner. Less, in fact: at just €145 (£130), the perennial German champions are offering the joint-cheapest standing season tickets in the Bundesliga this season, working out at just €8.53 (£7.65) per game, an increase of 30 cents on last season.
However, with the 6,800 standing places in the north and south stands mainly season tickets, many in the hands of the ultras, good luck getting your hands on one of those.
Over 15,000 Borussia Dortmund away at KFC Uerdingen (in Düsseldorf) this evening.
#KFCBVB
#BVB
#DFBPokal
🇩🇪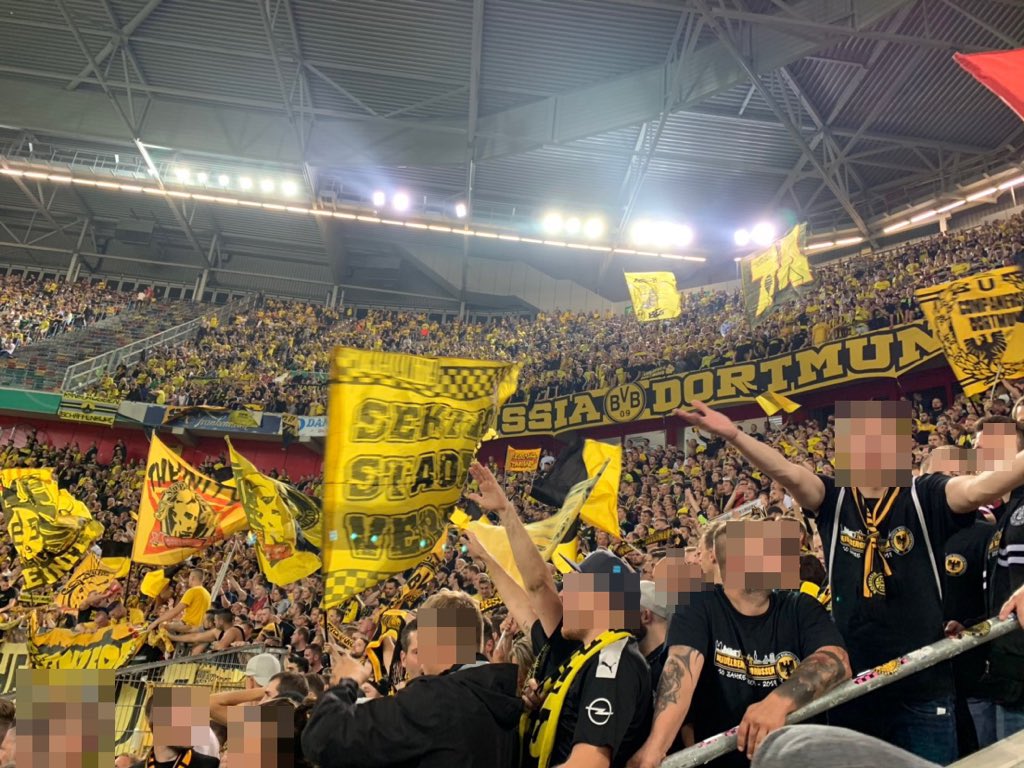 Equally as cheap as Bayern are the standing season tickets at Wolfsburg, despite a €15 increase that has been justified by qualification for the Europa League after two years of relegation battles. The Wolves' improvement on the pitch means that the one-hour train journey from Berlin to the Autostadt (inter-city, so not included in your match ticket!) may now be a slightly more attractive proposition for visitors. And with the Volkswagen-Arena rarely selling out, tickets are readily available.
Which is not the case at Borussia Dortmund, arguably the most popular destination for foreign fans who want to experience the Westfalenstadion's famous atmosphere for themselves.
The 24,000 fans on the towering Südtribüne (south stand) will be paying €219 for their season tickets this season, a €4 increase which, at €12.88 per game, makes standing tickets at Dortmund the second-most expensive in the league, behind newly promoted Paderborn.
BVB's 55,000-strong waiting list is currently closed until further notice, although a small number of standing tickets do go on sale to members for each home game. However, at €17.40 plus service and postage charges, one-off tickets (in Dortmund and elsewhere) can be almost twice as expensive.
In Union Berlin, the Bundesliga has gained another club which enjoys something of a cult status in Germany and abroad. At the 22,012-capacity Stadion an der Alten Försterei (stadium at the old forester's house), 18,395 of the tickets are for standing places on one of the three terraces which surround the pitch.
Sources at the club estimate that between 100 and 200 British fans attended each Union home game in the second division last season, while over 40 Brits are paid-up club members. True to their supporter-friendly ethos, the club have frozen ticket prices despite promotion, meaning that a terrace season ticket in Köpenick costs just €187, working out at just €11 per game.
Unfortunately, most Bundesliga stadiums are not over 83 percent terracing and standing sections quickly sell out, meaning most visitors will likely have to settle for one-off match tickets, or Tageskarten. In addition to Wolfsburg, standing tickets are often readily available at Augsburg, Mainz, Hertha Berlin and Fortuna Düsseldorf.
Given their location and handy transport links, the latter are a popular destination for UK-based fans – as are local rivals FC Cologne. And this season, the two are in the same division together for the first time since 2013.
Despite offering the third-cheapest seated season tickets in the league at €255 (just €15 per game), Fortuna only sold out the Merkur Spiel-Arena on four occasions last season, and tickets are generally easy to come by, unless Bayern or Dortmund are in town. Or, at the start of October this season, Cologne.
45 kilometres down the Rhine, "FC" sold out 11 of their 17 home games in the second division last season and the huge demand is reflected in the pricing. At €165, standing season tickets at the RheinEnergie-Stadion may be among the cheapest in the league, but with seats ranging from €349 to €795, the Billy Goats also offer the some of the most expensive tickets, the top seats working out at €46.76 per game.
Elsewhere, seated season tickets at Bundesliga grounds next season range from €220 at Wolfsburg (€12.94 per game) to €827 in Frankfurt (€48.65 per game), the higher end of the scale not differing hugely from the Premier League.
You can still have a pint, though.