Mercedes have enjoyed plenty of success on this track in recent years
06:55, 28 Aug 2021
Sometimes Formula One manufacturers are just able to get things right at certain tracks. For Mercedes, success, or at least consistent performance, has been something they have nailed at Spa over the past few years. Now, with the summer break that has felt like it lasted a lifetime over, once again we can turn our attention to the track as the Belgium Grand Prix takes centre stage.
For Mercedes, and Lewis Hamilton, this has been a fruitful location since 2013. In qualifying, barring Charles Leclerc's pole in 2019, Mercedes have been at the front of the grid every single season since 2013. Hamilton in particular has thrived at this circuit, with six poles in total and five in the last eight years, while Nico Rosberg has two to his name.
Due their dominance in qualifying, Mercedes have won three of the last five races at this track as Ferrari nicked two impressive wins, but the importance of pole can be seen in one stat. In five of the last six season, with Sebastien Vettel's win in 2018 the only exception, the pole sitter has won the race.
And Mercedes also come into this one in good fettle when it comes to qualifying form. Hamilton, in his continuing duel with Max Verstappen, has actually recorded the fastest time in qualifying in the last two Grands Prix, despite the new F1 Sprint denying him pole at Silverstone.
Now, at the longest track on the F1 circuit, Hamilton should be targeting maximum points again, given their car seems to be more competitive after upgrades were put on the car ahead of that British Grand Prix. Mercedes have bagged more podiums in the last five years (8) and more points in total (181) than any other constructor at this track, so history is certainly on their side heading into this one.
Red Bull ⚔️ Mercedes
The story of the season so far...
#BelgianGP
🇧🇪
#F1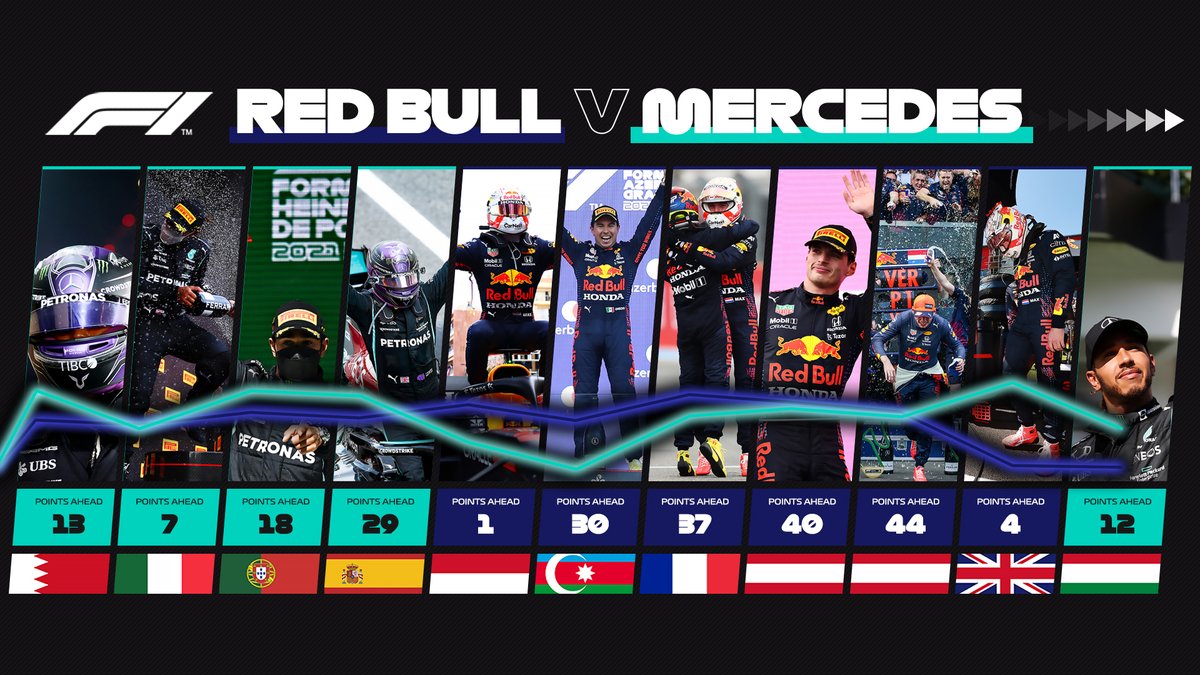 But this is not a foregone conclusion. Max Verstappen and Red Bull have upset the applecart already this term and although they had a disastrous couple of races ahead of the break which saw them give up their championship lead to Hamilton, they will look to drag back that lead this weekend.
Verstappen has taken pole at four of the last five Grands Prix and if he can do it here, Christian Horner's team will be well on their way to landing a hammer blow to Mercedes title hopes. This is also, along with the following race at Zandvoort, a home race for Verstappen, so the 75,000 fans in attendance will be fully behind the 23-year-old who over the first half of the season thrilled us all.
Mercedes have history on their side, and pole position is so important on this track. But Verstappen and his Red Bull team don't care for history and would love nothing more than to return to winning ways on 'home' soil. Every race feels vital this season, but if Red Bull can win at a track where their title rivals have enjoyed so much consistent success, it could be a psychological blow that could hand the title to Verstappen.