April 19, 2020 marks ten years since the death of the Venezuelan two-weight champion
10:00, 19 Apr 2020
The early hours of a Sunday morning. In the lobby of the Hotel Intercontinental in Valencia, Venezuela, the night clerk is working behind the desk. A 5' 6" man from Mérida walks across the quiet, empty room.
The man informs the clerk that he has murdered his own wife. Her lifeless body is upstairs in the room the couple checked into just the day before. While the clerk frantically rings the police, the man makes himself a cup of coffee, sits down on the floor, and waits to be arrested.
The man is the southpaw who kayoed 27 straight opponents inside the ring. A world record. The man they call 'El Dinamita'.
Hours after his confession to the murder of 24-year-old Jennifer Carolina Viera, on April 19 2010, her husband, the boxer Edwin Valero, himself was dead.
Valero was born in 1981. Not yet reaching his teens, Valero would find himself homeless, a school drop-out, begging and brawling on the streets in an unforgiving city. At the time, Mérida reportedly had a poverty rate as high as 65%. He eventually got a job in a bicycle shop whose owner was a former boxer. Perhaps seeing the talent, seeing the potential, or seeing the rage in the young boy, the bike shop owner encouraged Valero to take up boxing.
Valero had found his calling.

Don Stradley, author of Berserk: The Shocking Life and Death of Edwin Valero, was one of the first American journalists to write about the boxer, for the magazine, The Ring.
"He was an interesting character," Don tells The Sportsman, "He was never a huge name but he was an upcoming fighter who had a cult following amongst boxing fans, known for his aggressive style and dynamite punch: an all-out knockout artist."
EL DINAMITA!-
Venezuela's Edwin Valero is remembered fondly as one of the most concussive punchers in recent times to ply his trade in the lightweight division! He showcased his animalistic side when he dispatched Antonio Pitalúa inside two rounds, in 2009.
#boxing
#history
Valero won the Venezuelan amateur championship three times and the Central & South American amateur championships in 2000. The problem initially curtailing him however, stemmed from a motorcycle accident he had experienced as a young man, resulting in a cerebral hemorrhage and a fractured skull. For his boxing career, this subsequently meant he couldn't clear his medical exam, would therefore be unable to be granted a licence, and ultimately wouldn't be allowed to fight in the United States.
"This made him something of a road warrior," Don explains, "He could fight almost anywhere apart from the U.S. He fought in Japan, France, Mexico, and his native Venezuela."
And Valero started winning titles, and winning them mercilessly, demolishing his opponents in prize fights. The first 18 he faced of his 27-0 didn't even reach the second round.
"As a boxer he was a joyous character," says Don, "He was fun to watch, he was dynamic. He came out swinging. He was everything a boxing fan wanted.
"At the time he emerged, boxing was dominated by people like Oscar De La Hoya, Roy Jones and Manny Pacquiao and all of them seemed to have a second career; singers, rap artists, promoters, politicians.
"You looked at Valero and he was purely there to fight. He was a pure fighter."
How far could Edwin Valero, the only champion in the history of the WBC to win every fight in his career by knockout, have gone?
"One expert I know even compared him to Floyd Mayweather," Don says, "He was that slick. Unfortunately we never got to see that side of his game because he just loved going for the kayos.
"It's interesting to think that had he not died we may well have seen those different styles and attributes he had in his armoury."
What Edwin Valero also had in his armoury was a serious substance and alcohol addiction.
CONCUSSIVE -
A photo of Mexico's Hector Velasquez feeling the full force of Edwin Valero's heavy hands, back in December 2009. This fight was Valero's first defence of his WBC Lightweight Title.
#boxing
#history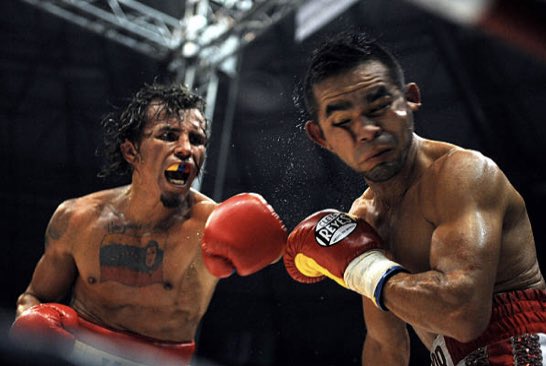 A victory over Mexico's Antonio DeMarco (23-2-1, 17 KOs) in a ninth-round TKO in Monterrey would be the pinnacle of his short career.
"It was a step up in competition, DeMarco was a good fighter," Don explains, "Valero was never going to knock him out in the first round, like he had done to the majority of his other opponents. He had to use all of his abilities and wear DeMarco down."
In the middle of the fight, Valero suffered a nasty cut on his forehead and started bleeding profusely, covering his eyes. He was practically blinded by his own blood. But Valero remained composed.
The impressive performance promised exciting things to the boxing fan that they would ultimately never get to see. Ringside, the celebrated boxing commentator, Al Bernstein, believed he was witnessing another Pacquiao.
It teased things that would never come to pass. Taking place in February 2010, it would prove to be Valero's last fight.
Two months later, his wife had been brutally murdered in her hotel room in Valencia and whilst he was in custody having confessed to the crime, Valero hung himself from the ceiling of his police cell on April 19.
Any finality his death could have provided, didn't.
"There's Edwin Valero the monster, the killer. The instinct is just to forget him," Don says.
"However, in his homeland, Venezuela, you have Edwin Valero, the hero, the icon.
"A lot of people even thought he had been framed or murdered in prison. His family thinks that he was set up by drug dealers or the government. There are a lot of mysterious angles.
"A lot of Venezuelans don't want to just bury him under the carpet. They looked at it as a tragedy. A great man with a tragic downfall."
But is the story of Edwin Valero indeed one of tragedy? How does this talented boxer deserve to be treated by history? How do you marry the dual characters of the tortured murderer and the exceptional athlete, the difficulty in treating such a controversial character whose inflicting of pain wasn't limited onto himself, but possessed unquestionable talent for imposing it within the ring?
"I have spoken to some people who watched him training and sparring in his young days. One fighter described him as 'supernatural'," states Don.
"But I don't know whether he'd be an all-time great as he was abusing himself to such a degree. The alcohol and cocaine starts to catch up. When you abuse yourself you're not destined for a long career.
"The story is really about mental issues. His mental health was deteriorating and a few doctors even suggested he was schizophrenic.
"His managers and promoters however, just wanted to get him another fight. That was their cure.
"He needed to be helped and that never happened."
"His life was quick. Like a comet, it burnt out."
'The comet' Edwin Valero was more asteroid, an object of an immeasurable amount of energy, always ready to reap destruction on whatever crosses its path.
The fate of Jennifer Carolina Viera de Valero, the footnote in the preferred eternal tale of the Aristotelian doomed warrior, is where the real tragedy lies.
Berserk: The Shocking Life and Death of Edwin Valero by Don Stradley, Hamilcar Noir, £7.99