Frank Mir began his career in UFC all the way back in 2001
06:56, 14 Mar 2020
Few heavyweights have ever made more Ultimate Fighting Championship appearances than that man from Las Vegas, Nevada, Mr. Francisco Santos "Frank" Mir III. Now 40 years old, mixed martial artist Mir made his UFC debut in 2001 at age 22. He went on to produce the longest uninterrupted tenure of any fighter in the championship's history.
Mir's entry into UFC began all the way back on November 2 2001, when the sport was in its relative infancy. His first fight was against Roberto Traven at UFC 34: High Voltage, achieving victory less than a minute into the first round with a submission the grappler would become well-versed in and well-known for. Nine of his 19 wins are from submission.
The armbar he used on Traven would be somewhat replicated at UFC 48, when he broke Tim Sylvia's arm in four places.
Frank Mir went on to create one hell of a career, with the win over Sylvia crowning him UFC Heavyweight Champion. He's fought most of the legends of the sport at some stage of his career or another. His battles with Brock Lesnar, who transitioned from World Wrestling Entertainment Inc. that gained considerable attention.
Lesnar was an NCAA Division-I champion and moved under the umbrella of UFC in 2007. The pair first fought in 2008, Lesnar's debut seeing him locked in a kneebar by Mir in the second round. A rematch 17 months later saw Lesnar take the bragging rights, despite Mir trained with legendary submission grappler Robert Drysdale. A third fight to round up the trilogy after over a decade and produce a decisive winner remains mooted.
In 2004, Mir rode his motorcycle into a car breaking his femur in two places and tore all of the ligaments in his knee. Mir was now a 24-year-old heavyweight champion who could quite realistically never fight again. Problems with drugs and alcohol started to emerge.
It took him around 18 months, the support of his wife Jennifer and the incentive of his family to do so, almost starting from scratch inside the Octagon after an ominous doctor's prediction that his career was over, a prognosis that Mir wholeheartedly believed.
"Mentally it broke me, the only reason a bit of me survived is that I had children that I wanted to be able to look up to me and respect me, and a wife that constantly reminded me of that and pushed me in the right direction," Mir tells The Sportsman. "I mentally broke.
"There were people around me, that was my wife specifically that really got a hold of me. 'No, you can give up, I'm not giving up.' That sucks, y'know? It sucks when you want to quit and there's someone who loves you and you love them and they're holding on and I can't leave them with the bag.
"It's almost as if you're going down with the ship and you're not going to swim away and I'm gonna go down with you, and actually we treaded enough water that we got the ship back on course."
Feb2.2008
12 years ago today,
Frank Mir spoiled the UFC debut of Brock Lesnar.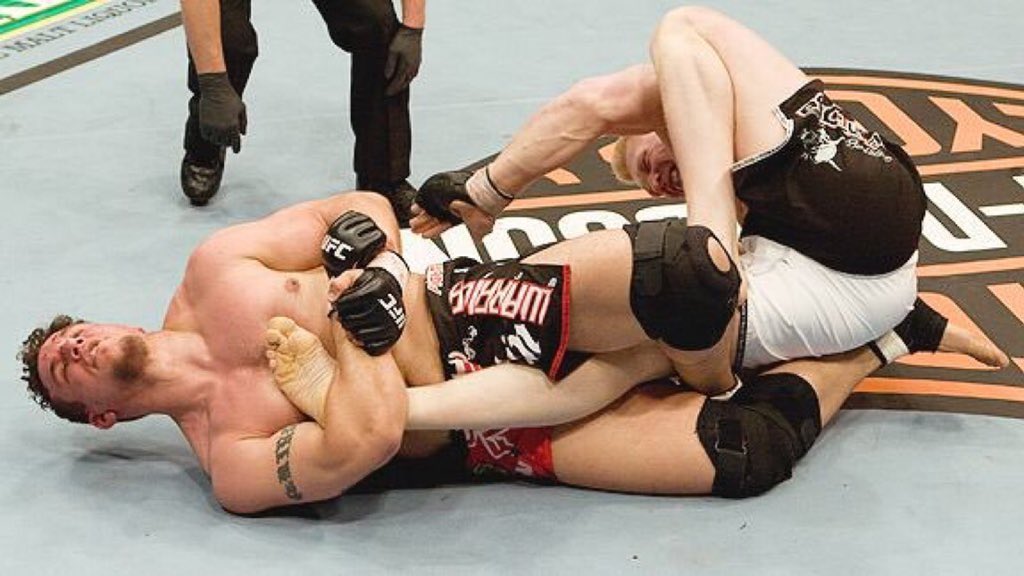 His comeback fight however showed that nothing had changed as he produced yet another first round submission win over Antoni Hardonk at UFC 74. It was a victory that Mir owed a great deal to Jennifer, who used what the fighter called 'smart love'.
"She booked me fights when I wasn't ready," Mir explains, "Hernán Cortés was an explorer. He went down to explore South America and found the Aztec empire. But his men wanted to leave. So Cortés burnt all the boats and said 'now there's only one way to go now guys and that's forward, we're going to go through the heart of the Aztec Empire and we're going to come back as Kings.'
"And that's what they did, they had no choice, they had no retreat, no surrender. And that's what my wife did for me, she put me in a situation where I couldn't retreat."
The question of whether he was in actuality 100% fully fit to be getting back into the cage remained. "I was a shell of what was to come and what I was. It wasn't until the Hardonk fight until I really felt back, and that was when [UFC President] Dana White burnt the ships for me. He told me that "if you don't win convincingly, you're done."
Immediately after utilizing the Kimura (the reverse ude-garami arm lock) on Hardonk on the canvas, Mir walked to the edge of the Octagon victorious. There was just one direction he needed to go towards, the camera subsequently focusing on his wife who was visibly hysterical in the ground, her excitement and pride in her husband unquenchable.
"She knew that was a very pivotal moment for me," Mir elucidates, "That my martial arts was my identity. because she saw what it was like when it was taken away from me by the car accident. She saw the depths and depravity that I was sinking into through drugs and alcohol.
"She knew if I had that completely taken away from me by being taken out of the UFC and possibly not fighting anymore, she was afraid of what I would become. That win enabled me to stay in the UFC and become the martial artist because that was my job. So that was what saved me."
The resurgence led into what would become the biggest and most identifiable rivalry in his career: Brock Lesnar. Mir was facing a bonafide WWE superstar and in the eyes of many was defending MMA's honour against a sportsman whose job had been to entertain, not compete. Mir, however, had a different perspective on his opponent.
"I looked at him because I knew him as a college wrestler from Minnesota before he was in pro wrestling. He was the college wrestler that went pro. A lot of people that I didn't understand saw him as the pro wrestler getting into MMA.
"One of the other fighters put his hand on my shoulder and said to me, 'Alright man you're representing us, this is us versus pro wrestling'."
Mir refused to put that burden on himself in this regard, respecting Lesmar as the athlete that he in fact was. "He wasn't a fake wrestler for his whole career, this guy actually was an amateur high-level collegiate. Had he not gone under professional wrestling, he would've gone under high-level Olympic wrestling.
"When I realised that, then it added pressure. It'd be like fighting Donald 'Cowboy' Cerrone, now that he's done a movie, if someone said to another fighter 'how does it feel to fight an actor?'
"'Whoa buddy this is a fighter that just acted!'"
Of course, Mir has unfinished business against Lesnar and thinks that the third fight could well go ahead, despite the two battlers' advancing years, in the right conditions. "Money talks especially for everybody right? If both of us can look good and be healthy and strong and it causes intrigue then why not."
It is almost twenty years since Mir first entered the Octagon. The exposure UFC has gained in the subsequent two decades has been nothing short of monumental. It is a universal phenomenon, UFC a nonpareil in the MMA world. In the early days in which Mir emerged, what can be referred to as the baptism of the sport when it was at the time a mere eight years old, figures such as Randy Couture and Chuck Liddell were headlining.
The past decade however has been dominated by Conor McGregor.
It is McGregor's fight at UFC 205 against Eddie Alvarez in November 2016 that sold the largest live gate in company history at $17.7 million. The result made McGregor the first fighter in the promotion's history to hold titles in two divisions simultaneously, and also the only one to earn eight consecutive fight-night bonuses with his bout at UFC 205 in November 2016.
His brawl with Khabib Nurmagomedov in November 2018 holds a record 2.4million pay-per-view buys, and though the past few years has shrouded the Notorious in controversy, for Mir, McGregor has been nothing but a benefit to the MMA, the UFC, and most importantly, its participants.
"Conor McGregor's done a lot of great things," Mir states, "He's gotten a lot more eyes to the sport and brought a lot more attention to it. He's given a lot of credibility to a lot of European fighters.
"I was in Ireland a few weeks ago and I got to see it. It's of great testament to him that the gyms now can open up. He's also pushed the fighters' pay up. There's people paying attention to what he's doing and saying 'wait a minute, he's good for all of us'.
"He does disrespect his fighters but I would say to those who take offence 'thicken up your skin a little bit. At the end of the day, you get to do what you love because of him'. He pushed the bar up and everybody went a little bit up with him.
"Everybody's making a little bit more because of Conor McGregor."
The Irishman's defeat to Khabib produced a 14-month hiatus. His return to inflict a loss in 40 seconds on Donald Cerrone in January 2020 added another record to McGregor's collection, as the first fighter in the promotion's history to record knockout victories at featherweight, lightweight and welterweight level.
If anyone has the authority to pay him such a compliment, and knows one or two things about a comeback, it is Frank Mir, the reformed sinner from Sin City.