It was a night when Dorking Wanderers saw their dreams dashed by Hayes and Yeading, Stratford made some club history, and Buxton reached the first round proper for the first time in 59 years.
And even the 12 FA Cup 4th round qualifier replays contested on Tuesday evening may have been eclipsed for drama by the one that wasn't – but more on the floodlight fiasco at the Yate Town v Dover Athletic tie later.
If you haven't been to watch two non-league teams bidding to make it into the draw where the League One and Two clubs enter the fray in the most famous domestic club knockout competition in the world recently, put it in the diary for next season.
At the SkyEx Community Stadium, Hayes and Yeading and upwardly mobile Dorking produced a second 2-2 thriller in four days, this time after 120 minutes. Following a tremendous exhibition of skill, determination and fitness in foul monsoon conditions neither side deserved to miss out on the prize of a home tie with Sutton United, and certainly not via a penalty shootout.
In a breathless game where both teams went 100 per cent for the win the goals for Hayes came from talented 18-year-old Tyler Goodrham, on loan from Oxford, and Francis Amartey while Alfie Rutherford and Barry Fuller twice levelled the scores for Dorking.
But the penalty heroes for Hayes were Tyla Dickinson, brought in on an emergency loan from Wycombe Wanderers after three Hayes keepers were out through injury or self-isolation - who came up with a big save when it mattered most, and then sub Scott Shulton who cracked home the winning kick.
At the end the Hayes players celebrated wildly with the majority of the crowd of 468 as the rain continued to lash down and the chant went up:
We're the famous Hayes and Yeading and we're going to Wembley.
It meant a lot to be back in the first round proper, just as it did to the devastated visitors to miss out as they dispiritedly trooped off to the dressing room.
The story of Dorking with their rapid ascent from park football and 12 promotions in 19 completed seasons had captured the imagination. But they and manager, chairman and founder Marc White must wait a little longer for that FA Cup first-round debut.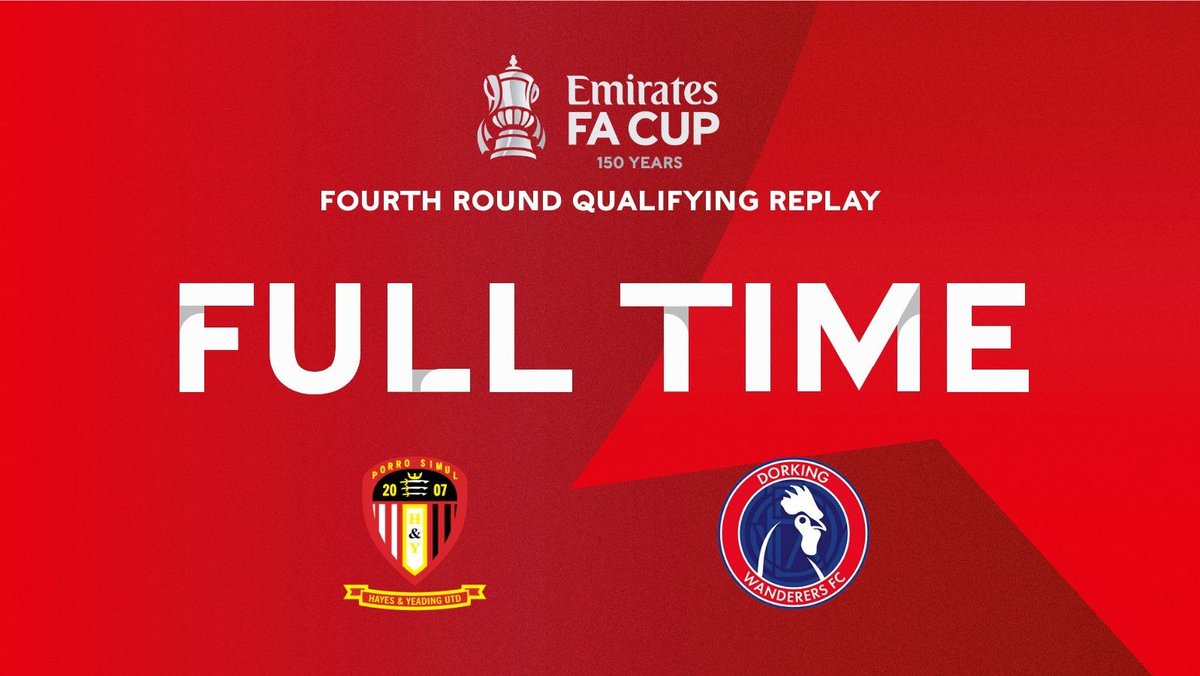 And it is Paul Hughes, manager of Southern League Premier Division South Hayes - whose playing career saw him a highly-rated youngster at Chelsea squeezed out by the arrivals of Gus Poyet, Didier Deschamps and Roberto Di Matteo – whose team are into the first round, the first side ever from Step Three to do that three years in a row.
The big history-makers were Stratford Town, of the Southern League Premier Division Central, breaking their duck and finally getting through to the first round with a thrilling 3-2 upset victory over National League North outfit Boston United.
Any team hailing from the birthplace of William Shakespeare should be able to pull out a performance on the big stage and The Bards, with Jaanai Gordon bagging a brace, recovered from seeing a two-goal lead disappear against their more illustrious opponents to snatch a 77th minute winner through Will Dawes at Knights Lane - earning a home tie with Shrewsbury Town.
And Buxton, of the Northern Premier League Premier Division, and who had a floodlight failure scare of their own in extra time, came through 3-1 against Kettering Town of the higher National League North to get to the first round for the first time since 1962.
It may not exactly confer the sort of altitude advantages enjoyed by international teams in Peru and Bolivia, but nevertheless the Silverlands ground in the Derbyshire spa town famed for its spring water from the Peaks is the highest in England at 1,000 feet above sea level. And whether it was that or something else, Kettering folded in the additional 30 minutes – succumbing to two goals from Italian forward Diego De Girolamo for the ecstatic Bucks.
Bucks through to face York City in the 1st round proper on November 6th
58 years of hurt come to an end.
Just as Dorking could not lay down a new marker for FA Cup progress, the same fate befell Marske, Pontefract Collieries and Morpeth. They all lost at the final hurdle to Gateshead, FC Halifax and York – the 1955 semi-finalists who now host Buxton - respectively.
In the two other ties decided on penalties Yeovil Town prevailed over Weymouth, and St Albans saw off Corinthian Casuals and next host Forest Green Rovers. Notts County, former winners of the competition albeit two centuries ago in 1894, thumped Tamworth 4-0 and now travel to Rochdale.
National League Wrexham have had their FA Cup moments notably three quarter-finals and also the famous 2-1 win over Arsenal in 1992 with goals from Steve Watkin and Micky Thomas. And they got through with a 2-0 win over Marine, who got to the third round last season before losing 5-0 to Tottenham. There were also wins for Eastleigh at Folkestone Invicta, and Guiseley against Brackley.
But there was controversy, anger, frustration and recrimination at Lodge Road where Yate Town of Gloucestershire were due to take on Dover Athletic. Failure in two of the floodlights saw the kick-off delayed, and as the minutes ticked by the problem became ever graver. The responsibility to have the stadium in working order at the specified time, even given the inclement weather and chance of water in the electrics, would clearly seem to be with the home side – a view implied in Dover's later statement.
It will certainly be interesting to see what action if any the FA decide to take. Dover will not welcome having to come back another night, and you certainly had to feel for the 40-50 of their fans who made the 400-mile round trip.
A Dover statement read: "We were warming up for tonight's FA Cup tie when the referee questioned why some of the floodlights were not working. We stood in the pouring rain for two hours while he set three deadlines, all of which were missed. The referee called the game off at 8.30pm."
However a Yate Town statement attempted to put the blame on the visitors, saying their own team was ready to play. It read: "At 8.34pm the lights were fixed, however Dover stated that it was past the 8.30pm deadline and therefore they were not prepared to play."